1.Video Tutorial
2.What is DigiFinex Encrypted Red Packet?
DigiFinex Encrypted Red Packet is a reward that you can receive high-valued candies by entering a password. At present, we have dropped dozens of crypto-currencies such as ETH/USDT/TUSD.
Click here to find the latest Red Packet Password
3.How to redeem?
The Encrypted Red Packet only supports to the APP Users,
Click here to get how to download the app
Step: Click " Red Packet" on the APP homepage
-> Enter the password obtained, and click "Open"
-> Then you can get the Rewards and share to friends!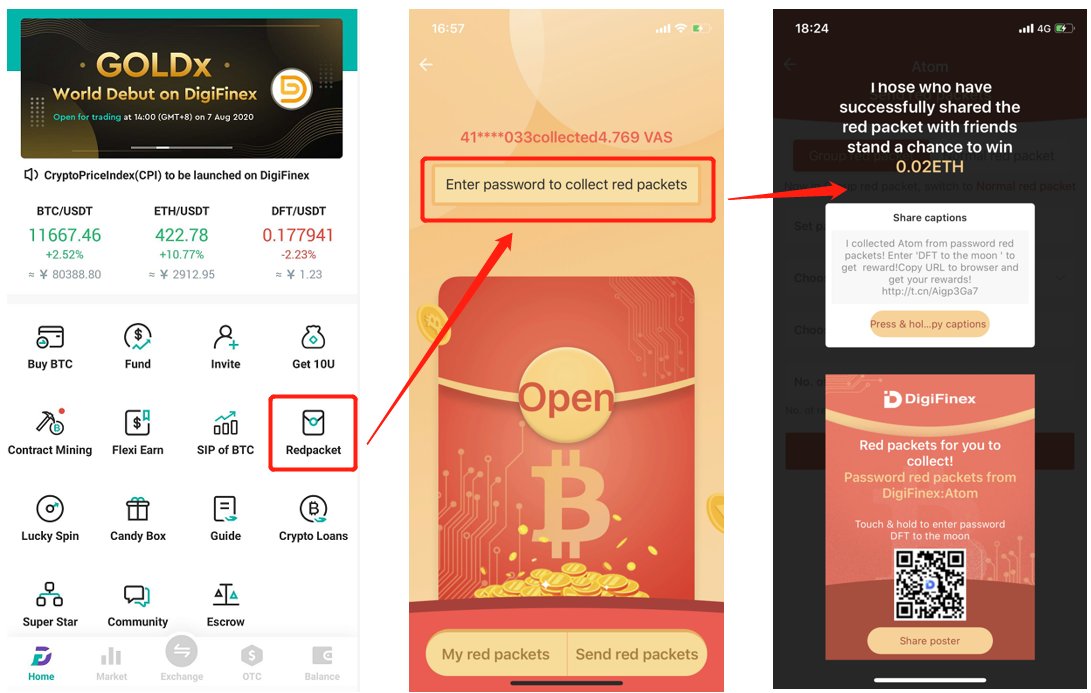 4.How to check the redemption record?
Enter Encrypted Red Packet and click "My Red Packet" in the upper left corner to view redemption record.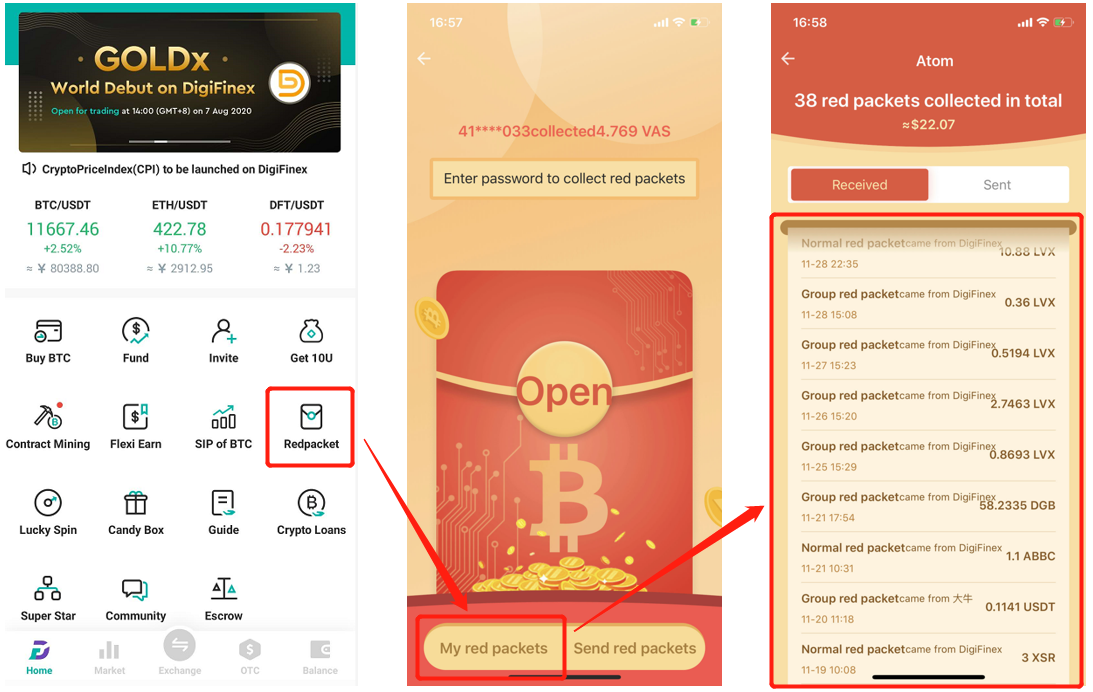 5.How to send a Red Packet to friends?
At present, DigiFinex added a new function. You can send the password red packet by the APP and share the Red Packet Password to your friends to let them receive the red pocket by entering your password.
Step 1: Enter Encrypted Red Packet
-> click "Send Red Packet" in the upper right corner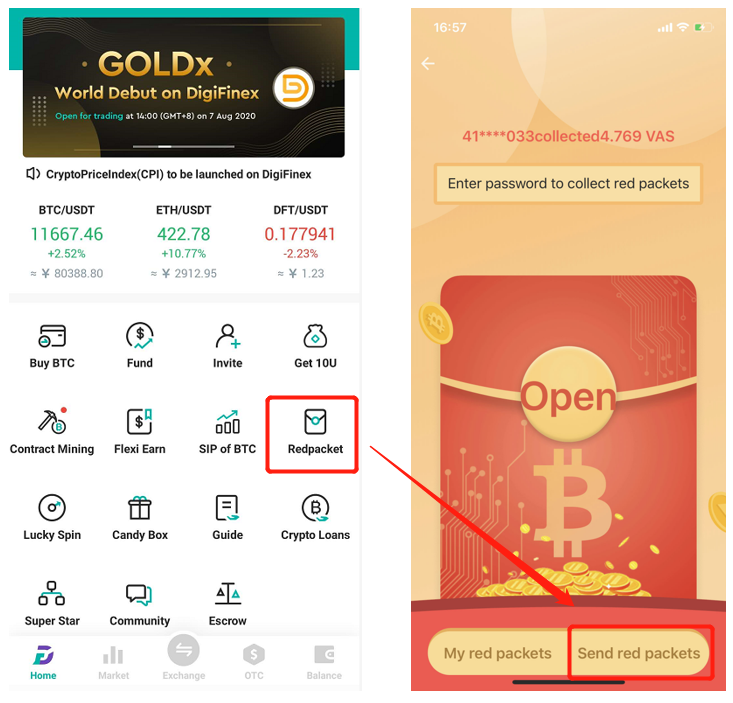 Step 2: Choose the red packet type that you want to send
->Set your Password, Choose the currency type that your account have, set the currency amount and the red packet amount, then click"Send red packet"
-> Type the 2FA code in the pop-up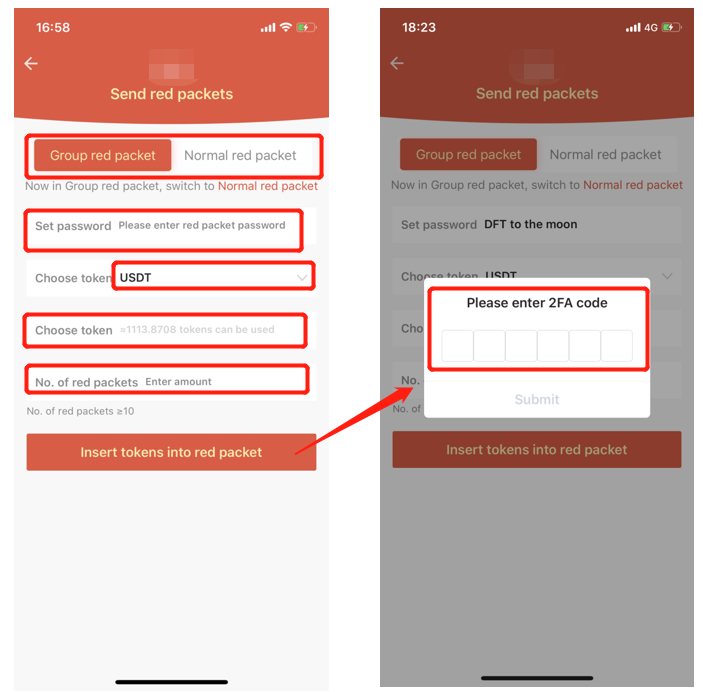 Step 3: Click "Share"
-> Copy your Password or the QR Code to your friends, So that they can receive the red packet by entering your password.
(After share to your friends,If they register or deposit to the DigiFinex by your sharing, the refferal rewards will upon to 0.02ETH, The more you share, the more rewards you get!!)
Click here to know the details of friends invitation rewards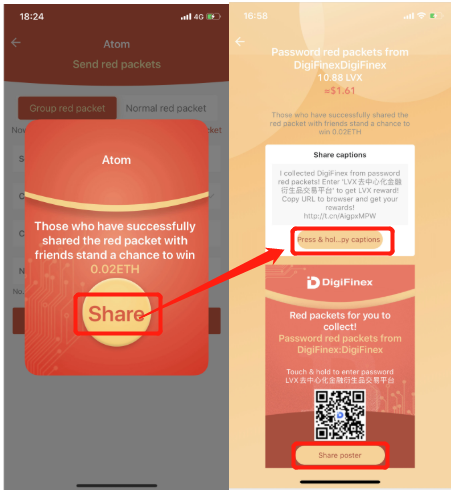 How to ask for help:
Click Here to Get How to Contact Customer Service
Tips, beware of false customer service:
1). Do not provide account password, SMS, Google verification code, WeChat and bank card password to anyone including DigiFinex Exchange Customer Service
2). Please look for the official website: Digifinex.vip & DigiFinex.com
3). Don't click on the unofficial link, beware of computer poisoning information leaks.
4). The DigiFinex exchange staff will not ask you to transfer the payment.
Join our groups!
English Telegram Group: https://t.me/DigiFinexEN
Chinese Telegram Group: https://t.me/DigiFinexcn
Follow us!
Official Twitter: @DigiFinex
Official Facebook: @digifinex.global
Official Instagram: @digifinex.global
Check us out ;)
Official Blog: https://blog.digifinex.com/
Official Medium: https://medium.com/@digifinex
Official Reddit: https://www.reddit.com/user/DigiFinex/
Official Kakao: https://open.kakao.com/o/giKpLDsb