1.What is Lucky Draw?
Lucky Draw is the extra Rewards after users traded on DigiFinex, Get up to a maximum of 1 Bitcoin (BTC) !!!
2.How to start the Lucky Draw?
The Lucky Draw rewards only supports to the APP Users,
Click here to get how to download the app
Step: Go to the DigiFinex APP homepage and click on "Lucky Draw"
-> Click "Draw now" to participate in the draw.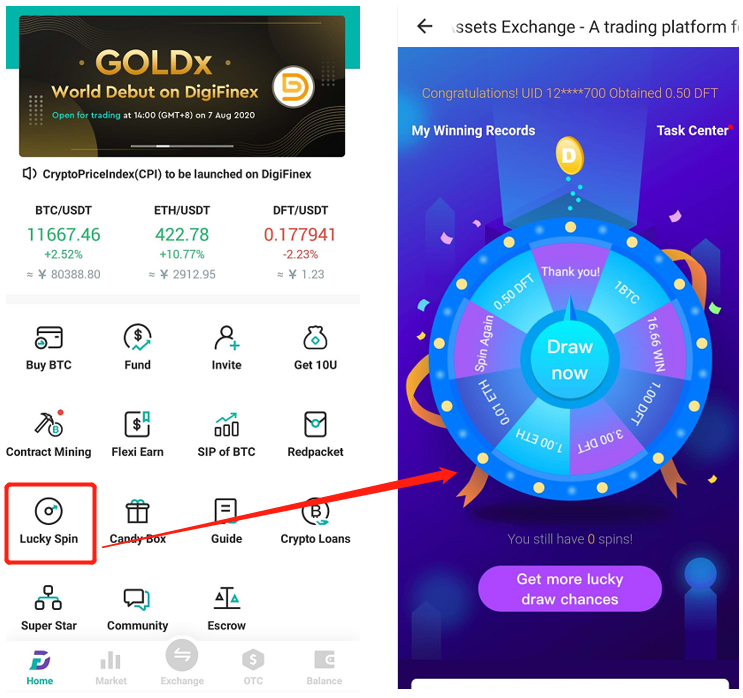 3.How to get the opportunity of draws?
Click "Get more draw chances" and choose the redemption method.
There has two Method can increase the Lucky Draw opportunity.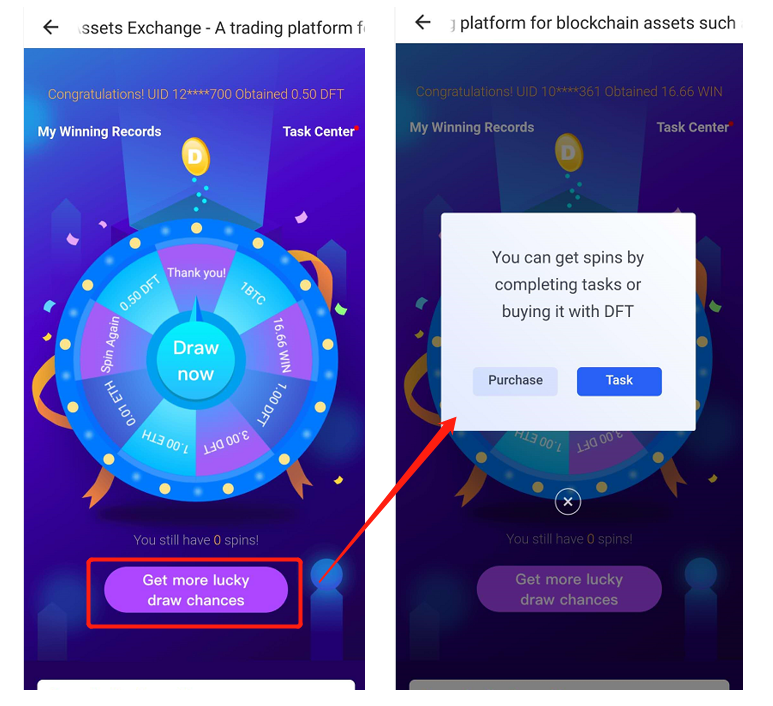 1)Purchase with DFT: Get a lucky spin chance once by DFT
(The maximum purchase limited is 10times/Day,And it won't be Expired)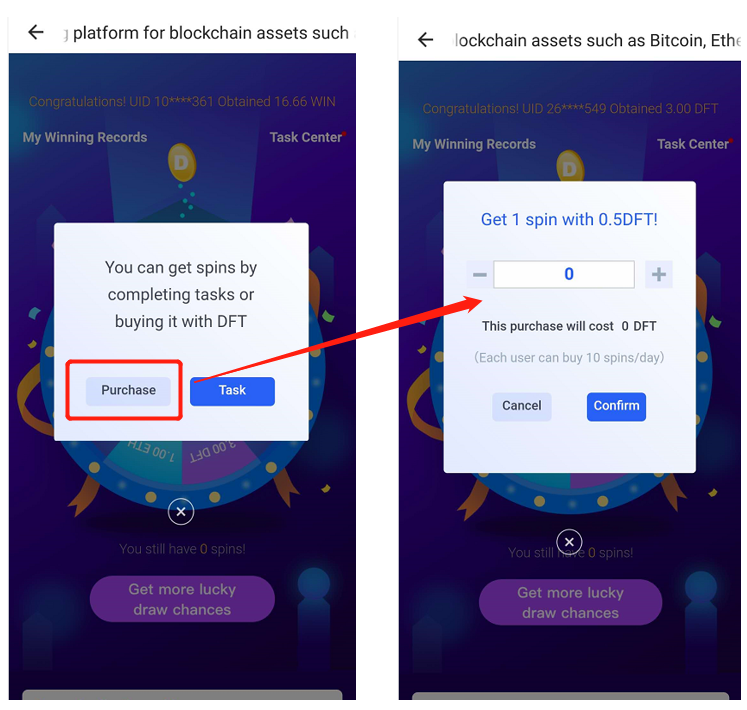 2)Completing Task:
Task 1): Get a lucky spin chance once every transaction of 1000 USDT or equivalent.
Daily tasks: Also we can pay attention to the daily tasks at the top of the activity page. Every time your accumulated transaction amount reaches the number specified in the progress bar, you can get additional rewards.
For example, the first task indicator of my day is 1000USDT, that is, when my transaction amount reaches 1000USDT, I can not only get a chance to draw a lottery, but also get extra rewards for daily tasks.
However, the extra reward is not necessarily the opportunity times of draws. It may also be the reward of getting some tokens.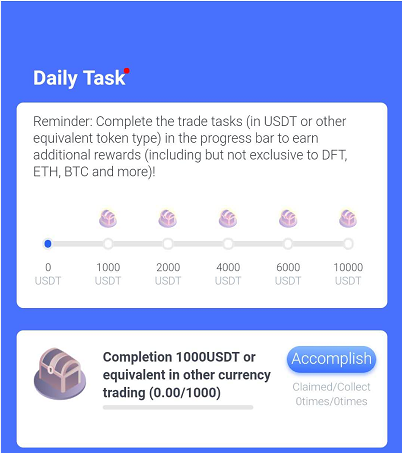 Task 2): Get 1 chance when completion 100USDT or its equivalent in other currencies into gold OTC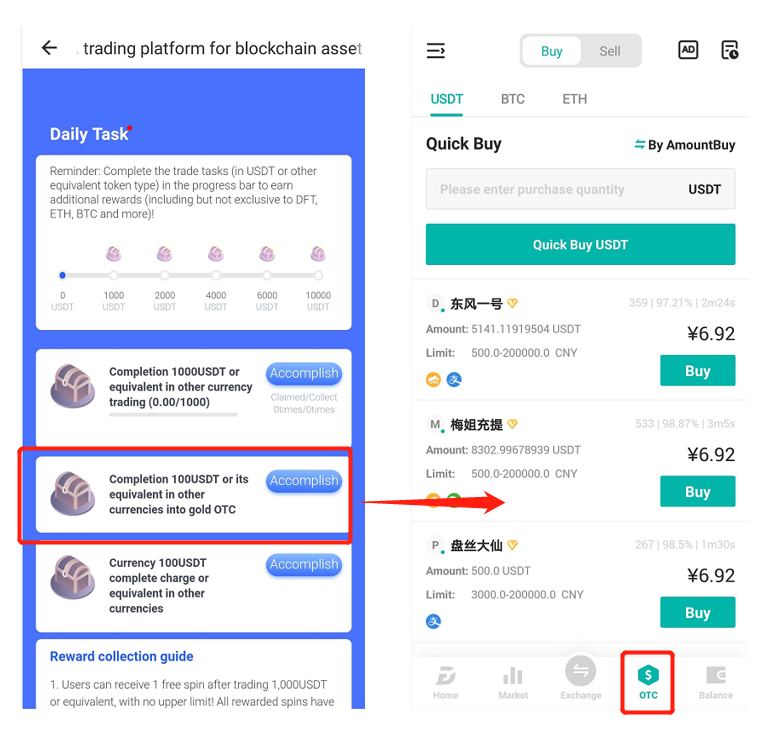 Task 3): get 1 lucky spin chance when currency 100USDT complete charge or equivalent in other currencies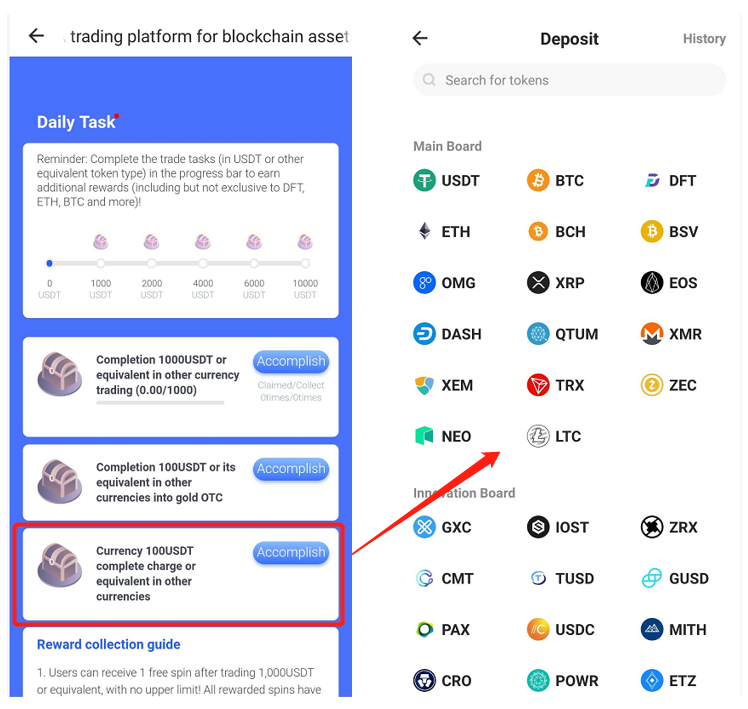 How to ask for help:
Click Here to Get How to Contact Customer Service
Tips, beware of false customer service:
1). Do not provide account password, SMS, Google verification code, WeChat and bank card password to anyone including DigiFinex Exchange Customer Service
2). Please look for the official website: Digifinex.vip & DigiFinex.com
3). Don't click on the unofficial link, beware of computer poisoning information leaks.
4). The DigiFinex exchange staff will not ask you to transfer the payment.
Join our groups!
English Telegram Group: https://t.me/DigiFinexEN
Chinese Telegram Group: https://t.me/DigiFinexcn
Follow us!
Official Twitter: @DigiFinex
Official Facebook: @digifinex.global
Official Instagram: @digifinex.global
Check us out ;)
Official Blog: https://blog.digifinex.com/
Official Medium: https://medium.com/@digifinex
Official Reddit: https://www.reddit.com/user/DigiFinex/
Official Kakao: https://open.kakao.com/o/giKpLDsb