Dear users,
"YFIX.finance(YFIX) listing Activity" hosted by DigiFinex during 30 Sep 11:00 - 6 Oct 11:00 (GMT+8) has ended. The rewards have been deposited to users' account. Please log in DigiFinex account to check out.
Trading competition rankings: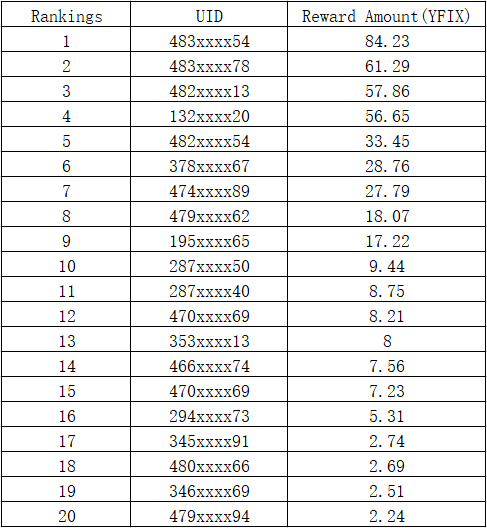 Details: https://digifinex.zendesk.com/hc/en-us/articles/900002973846
Thank you for your support!
DigiFinex Team
14th Oct 2020
DigiFinex communities:
Telegram Group:https://t.me/DigiFinexcn
Telegram Official Community:https://t.me/DigiFinexEN
Official twitter:https://twitter.com/digifinex
Official Medium:https://medium.com/@digifinex
Official Reddit:https://www.reddit.com/user/DigiFinex/
Official Kakaotalk Group: https://open.kakao.com/o/gEGFa7uc
DigiFinex (digifinex.com)DIGIFINEX LIMITED. reserves all rights of this event, including but not limited to adjustment, explanation and termination at any time.