Dear users,

DigiFinex will list YFIII and open trading and deposit at 17:00 (GMT+8) on 28 Sep 2020. Withdrawal service will be opened at 17:00 (GMT+8) on 29 Sep 2020. We will launch following events to celebrate YFIII world debut:
Event period: 28 Sep 17:00 - 4 Oct 17:00 (GMT+8)
Rewards distribution: rewards will be distributed in 7 days after this event ends
1. Zero fee for trading
During this campaign, users can trade YFIII with zero transaction fee. Fee rate will resume the original level after this event ends.
2. Share poster
During this event, you can share event poster to Twitter or Facebook and @DigiFinex. You can get 1 USDT if you submit screenshot of sharing poster to collection form. Total rewards are capped at 500 USDT which will be distributed in a first come, first served basis.
YFIII trading pair: YFIII/USDT
YFIII official website: https://dify.finance/
YFIII telegram: https://t.me/difyfinance
YFIII twitter: https://twitter.com/difyfinance
Event poster: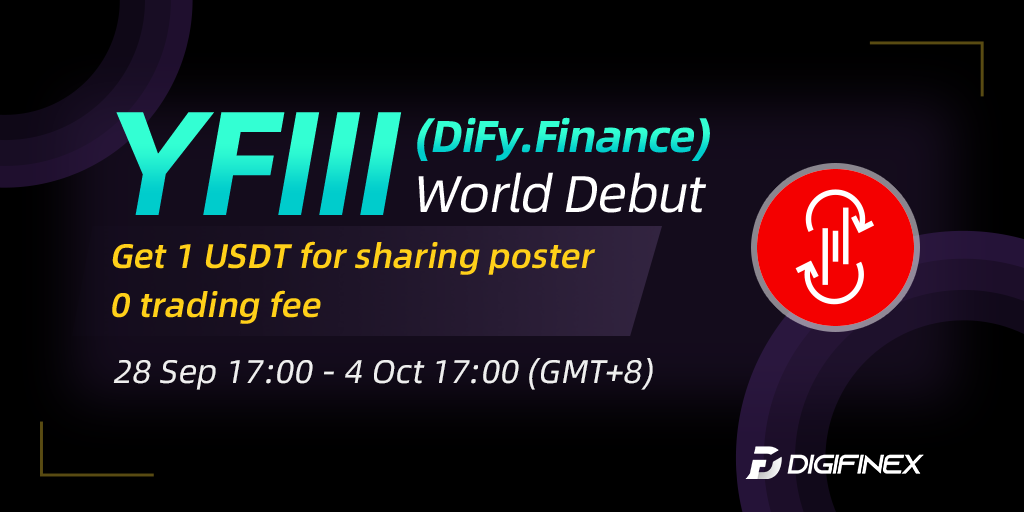 Risk Alert: This is a new token project that poses higher risk than other tokens, which will face potential high price volatility. Please ensure you have done your own research in regards to the fundamental concepts and fully understand this project before opting to trade. DigiFinex will make the best efforts to list high-quality token projects, but will not be responsible for any of your trading losses.
Thank you for your support!
DigiFinex Team
24th Sep 2020
DigiFinex communities:
Telegram Group:https://t.me/DigiFinexcn
Telegram Official Community:https://t.me/DigiFinexEN
Official twitter:https://twitter.com/digifinex
Official Medium:https://medium.com/@digifinex
Official Reddit:https://www.reddit.com/user/DigiFinex/
Official Kakao:https://open.kakao.com/o/gEGFa7uc
DigiFinex (digifinex.com)DIGIFINEX LIMITED. reserves all rights of this event, including but not limited to adjustment, explanation and termination at any time.