Dear users,
DigiFinex will list DAWN and open it's deposit service at 19:00 (GMT+8) on 15 Sep 2020. Trading and withdrawal service will be opened at 19 Sep 2020 19:00 (GMT+8).
To celebrate the launch of Dawn Protocol (DAWN) on DigiFinex, we will give away 50,000 DAWN($12,000) to DAWN traders. Specific rules are as follows:
Event period: 22nd Sep 20:00 - 1st Oct 20:00 (GMT+8)
Rewards distribution: rewards will be distributed in 7 days after this event ends
1.Rewards for new users
Users who registered during this event can get 20 DAWN at a first come(Total rewards is capped at 3,000 DAWN).first served basis, if meeting any of the following requirements
Trading volume of DAWN ≥ 100 USDT
Net deposits of DAWN (deposit amount - withdrawal amount) ≥ 500 DAWN
2.Trading competition(Click here to fill in from)
During this event, users can trade DAWN with Coin919 grid trading software. Users whose trading volume is greater than 1,000 USDT and ranks among the top 20 will be rewarded as below: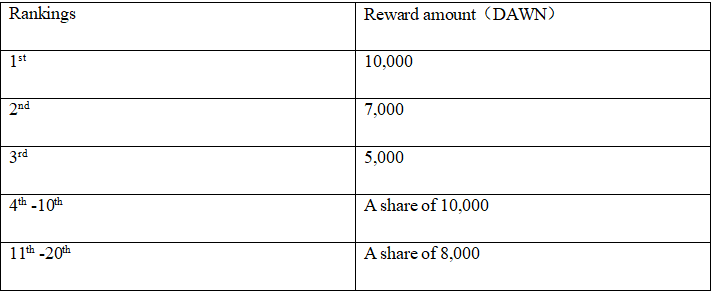 Besides, users who use Coin919 grid trading software to trade DAWN and whose trading volume reaches 1,000 USDT but fails to rank among the top 20 can share 5,000 DAWN.
3.Consolation rewards(Please fill at the beginning of the event)
The first 100 users who sign for this event and trade DAWN with Coin919 grid trading software can get 20 DAWN if your trading volume reaches 100 USDT.
4.Official invitation
During this event, users who register in Coin919 with DigiFinex invitation link will get 200,000 Coin919 points.
How to use Coin919 grid trading software>>>
Step 1: get a DigiFinex account: click here to register (skip this if you have one)
Step 2: Submit registration form to participate: Click here to fill in from(Please fill at the beginning of the event)
Step 3: Register in Coin919 with DigiFinex invitation link: Click here to register
Step 4: Download and configure DigiFinex quant trading software according to the tutorial
Step 5: Create your strategy and start grid trading after this events starts

About Coin919:Coin919, founded in June 2017 and registered in Seychelles, is a company focusing on
management of digital assets and quantitative trading. The company aims to serve digital asset investors,and is committed to building a first-class platform for digital asset management. it will dive into the market of digital currency and TOKEN, and position itself as a platform designed for digital asset broker of securities or crypto, so as to serve the digital currency investment and asset management, and build a bridge between users, exchanges and project parties.
DAWN trading pair: DAWN/USDT, DAWN/ETH
DAWN official website: https://dawn.org/
Dawn is the world's first Esports token, focused on creating career opportunities for world gamers with decentralized rewarding and matchmaking technologies. Created to reward gamers on the FirstBlood platform, players can challenge the field and earn Dawn for excelling at the world's most popular esports games, and facilitate blockchain adoption into the world of competitive gaming.
Risk Alert: This project is a new token that poses higher than normal risk, and as such will likely be subject to high price volatility. Please ensure that you have done your own research in regards to fundamentals and fully understand this project before opting to trade. DigiFinex will make best efforts to choose high-quality coins, but will not be responsible for your trading losses.
Thank you for your support!
DigiFinex Team
15th Sep 2020
DigiFinex communities:
Telegram Group:https://t.me/DigiFinexcn
Telegram Official Community:https://t.me/DigiFinexEN
Official twitter:https://twitter.com/digifinex
Official Medium:https://medium.com/@digifinex
Official Reddit:https://www.reddit.com/user/DigiFinex/
Official Kakao:https://open.kakao.com/o/gEGFa7uc
DigiFinex (digifinex.com)DIGIFINEX LIMITED. reserves all rights of this event, including but not limited to adjustment, explanation and termination at any time.