Dear users,
DigiFinex will list STA and open deposit at 16:00 (GMT+8) on 1st Sep 2020. Trading will be opened at 16:00 (GMT+8) on 2nd Sep 2020. Withdrawal will be opened at 16:00 (GMT+8) on 3rd Sep 2020. STA Airdrops will be initiated at 16:00 (GMT+8) on 1nd Sep 2020. Specific rules are as follows:
Event period: 1st Sep 2020 16:00 -- 11th Sep 2020 16:00 (GMT+8)
Reward distribution: rewards will be distributed in 5 working days after this event ends
1.STA official invitation
a.During this event, new users who register with STA official referral code: pZyiIU, complete KYC and trade more than 100 USDT can get a bonus of 20 STA. Total rewards is capped at 2,000 STA which will be distributed in a first come, first served basis. (Users caught cheating will get all rewards canceled and account banned)
Official referral link: https://www.digifinex.io/en-ww/from/pZyiIU
b.Users who invite friends to register can get a tier 2 rebate of 10%
Download and log in App -- Click profile photo in the upper left corner -- Invite friends
2.Share event post
During this event, Users who forward event poster of STA launch to crypto-related communities and submit screenshot to collection form can share 2,000 STA
3.Rank top 20 in terms of trading volume
During this event, Users whose STA trading volume ranks top 20 and reaches 1,000 USDT can share 6,000 STA according to trading volumes.
Event poster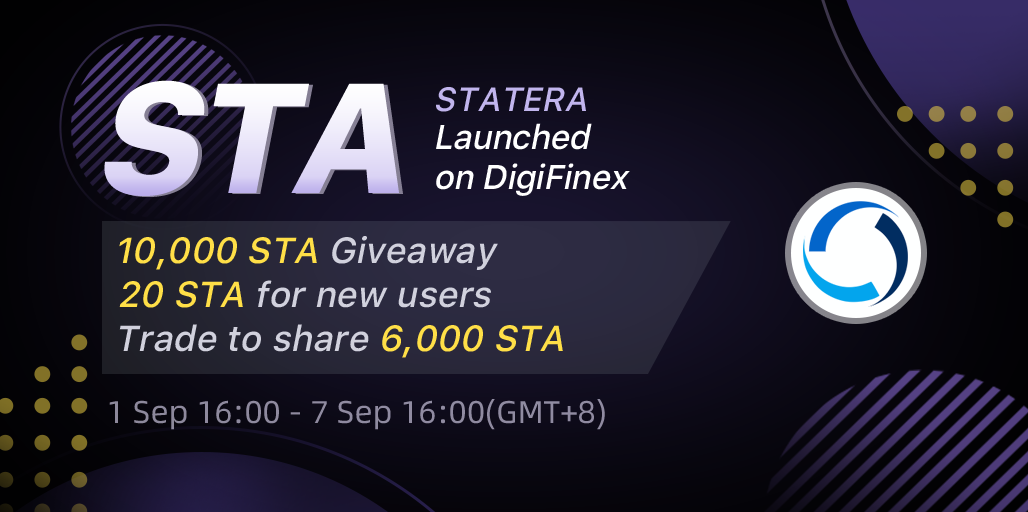 Open trading pair: STA/BTC
STA official website: https://stateratoken.com/
Statera (STA) is a smart contract powered Indexed Deflationary Token (IDT), which synergizes with a trustless and community driven portfolio of class-leading cryptocurrencies.
Thank you for your support!
DigiFinex Team
31th Aug 2020
DigiFinex communities:
Telegram Group:https://t.me/DigiFinexcn
Telegram Official Community:https://t.me/DigiFinexEN
Official twitter:https://twitter.com/digifinex
Official Medium:https://medium.com/@digifinex
Official Reddit:https://www.reddit.com/user/DigiFinex/
Official Kakao:https://open.kakao.com/o/gEGFa7uc
DigiFinex (digifinex.com)DIGIFINEX LIMITED. reserves all rights of this event, including but not limited to adjustment, explanation and termination at any time.