Dear users,

DigiFinex will list LIKE and open it's deposit service at 11:00 (GMT+8) on 11 Aug 2020, the same time that we will be airdropping LIKE. Trading and withdrawal service will be opened at 12 Aug 2020 11:00 (GMT+8). Specific rules are as follows:
Event period: 11 Aug 2020 11:00 (GMT+8) - 21 Aug 2020 11:00 (GMT+8)
Reward distribution: Rewards will be distributed in 5 working days after this event ends
1.Rewards for new users
Users that register during this event period can get 1,000 LIKE if you meet any one of the requirements below. Only the first 100 users can be rewarded according to the time of registration.
Trading volume of LIKE is greater than 100 USDT
Deposit amount is greater than 5,000 LIKE
2.Share event poster
During this event, users can forward event poster to crypto-related communities and submit the screenshot to the collection form. Users that complete this process can share 50,000 LIKE. Your share amount can be doubled if your trading volume of LIKE reaches 100 USDT.
Event poster
Facebook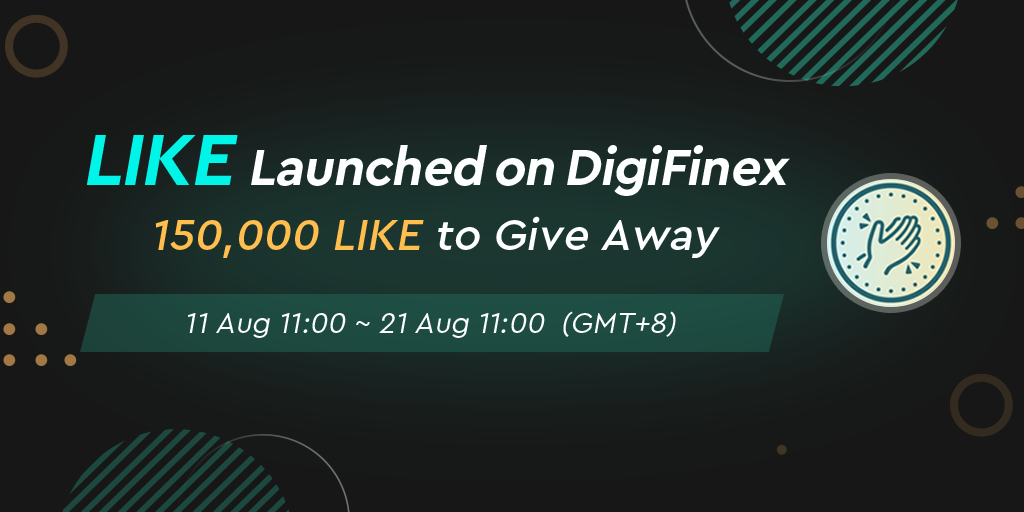 Twitter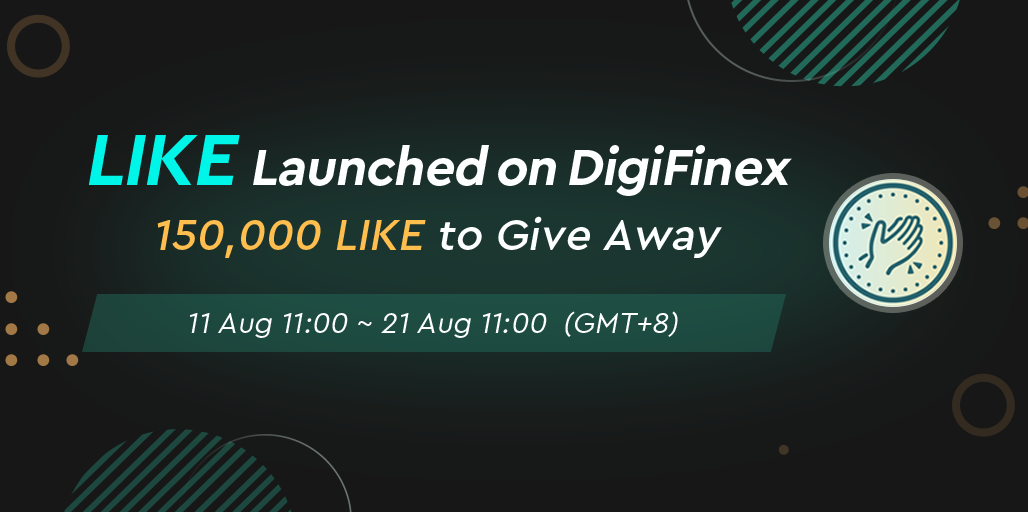 LIKE trading pair: LIKE / USDT
LIKE official website: https://bit.ly/33L6g7k
LikeCoin APP download: https://play.google.com/store/apps/details?id=com.oice&hl=en
LikeCoin is a public blockchain for content monetization, attribution, and distribution. Thrive to support creators and publishers through the formation of a decentralized autonomous organization (DAO).
Thanks for your support!
DigiFinex team
10th Aug 2020
DigiFinex communities:
Telegram Group:https://t.me/DigiFinexcn
Telegram Official Community:https://t.me/DigiFinexEN
Official twitter:https://twitter.com/digifinex
Official Instagram:https://www.instagram.com/digifinex.global/
Official Facebook:https://www.facebook.com/digifinex.global/
Official Medium:https://medium.com/@digifinex
Official Reddit:https://www.reddit.com/user/DigiFinex/
Official Kakao:https://open.kakao.com/o/giKpLDsb
DigiFinex (digifinex.com)DIGIFINEX LIMITED. reserves all rights of this event, including but not limited to adjustment, explanation, and termination at any time.