Dear users,
DigiFinex will be listing DEP on its exchange platform and open its deposit service on 27th July 2020 16:00 (GMT+8). Trading service will be opened on 28th July 2020 16:00 (GMT+8), and withdrawal service will be available on 29th July 2020 16:00 (GMT+8).
Activity period: 27th Jul 2020 16:00 - 5th Aug 2020 16:00 (GMT+8)
Reward distribution: rewards will be distributed in 5 working days after this activity ends.
1.Forward event poster
Users who forward event poster to crypto-related communities(Remember @DigiFinex) and submit screenshot to collection form can share 200,000 DEP. Shared amount will be doubled if your trading volume reaches 100 USDT.
2.Candy airdrop
During this event, Users whose trading volume (crypto-crypto trading) ranks the top 500 and reaches 1000 USDT can share 300,000 DEP airdrop according to individual trading amounts.
3.Deposit DEP
During this event, users who deposit DEP to DigiFinex with net deposit amount ≥ 1000 DEP can share 100,000 DEP according to individual net deposit amounts.
Event poster
Facebok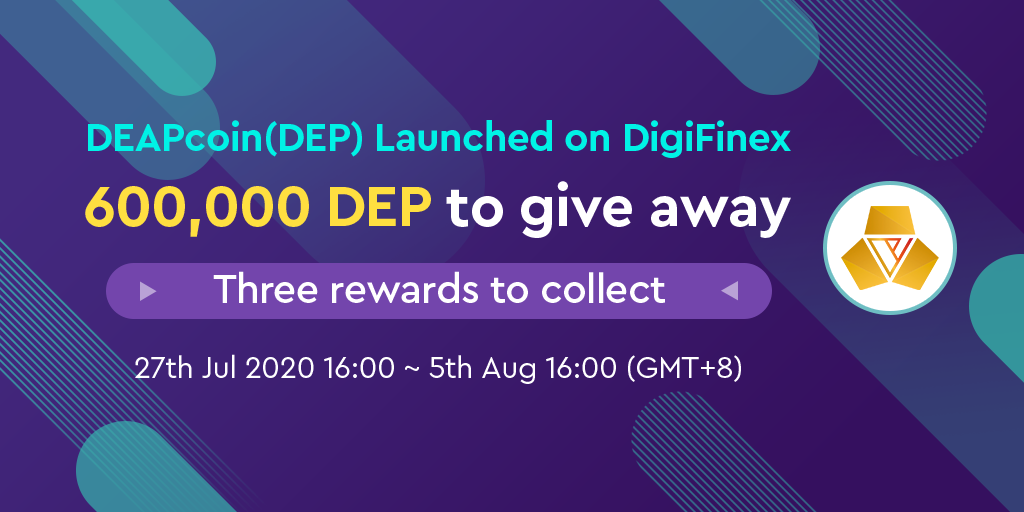 Twitter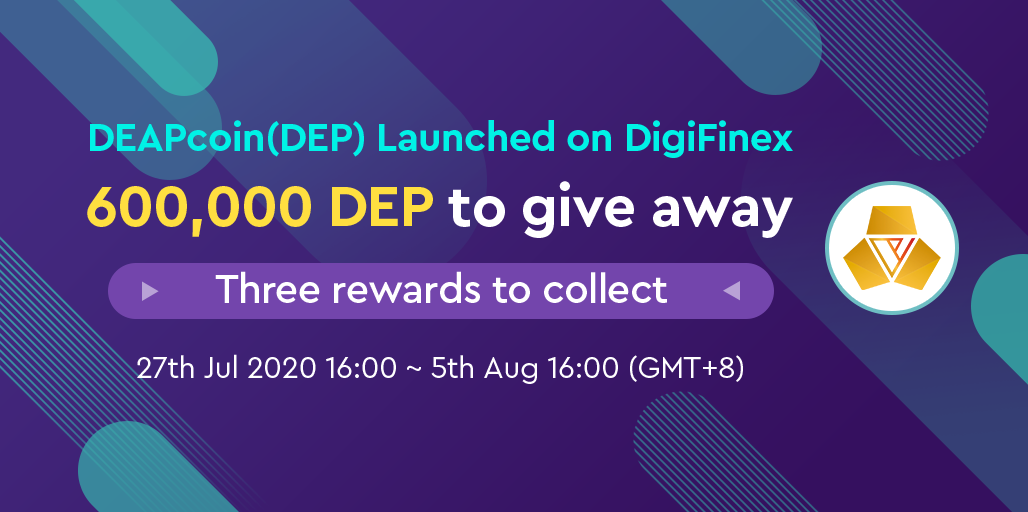 DEP trading pair: DEP / USDT , DEP / BTC
DEP official website: https://dea.sg/
The entertainment platform "PlayMining" allows users to acquire cryptocurrency rewards through the free gaming platform while enjoying games and cartoons. Characters and goods that showed up in the games will be sold as "digital asset", and will be traded in Digital Art Auction that is used for second transaction among users. Digital Art Auction adopts ERC721 private blockchain to manage users' cryptocurrency securely. The ERC20-based token DEP that is used for transaction will also return part of its income to the creators. The concept of distributing cryptocurrency to users worldwide is expected to attract a massive group of new audience, and thereby building an ecosystem that belongs to DEP.
Thanks for your support!
DigiFinex team
20 July 2020
DigiFinex communities:
Telegram Group:https://t.me/DigiFinexcn
Telegram Official Community:https://t.me/DigiFinexEN
Official twitter:https://twitter.com/digifinex
Official Medium:https://medium.com/@digifinex
Official Reddit:https://www.reddit.com/user/DigiFinex/
Official Kakao:https://open.kakao.com/o/giKpLDsb
DigiFinex (digifinex.com)DIGIFINEX LIMITED. reserves all rights of this event, including but not limited to adjustment, explanation and termination at any time.