Dear users,

DigiFinex will launch ZLW and open it's deposit service simultaneously on 17th July 2020 17:00 (GMT+8).At the same time, We will also initiate the trading activity of Sharing 1288 ZLW to celebrate the launch of Zelwin(ZLW) on DigiFinex.Trading and withdrawal services will be opened on 20th July 2020 17:00 (GMT+8). Activity rules are as follows:
Activity period: 17th July 2020 17:00 - 26th July 2020 17:00 (GMT+8)
Reward distribution: rewards will be distributed in 5 working days after this activity ends.
1. Register in DigiFinex
a. During this event,new users can get 0.5 ZLW for registering in DigiFinex using ZLW official invitation code: I62E8m and completing KYC. Total reward supply is 500 ZLW and will be distributed on a first come, first served basis (users who are engaged in dishonest conduct to gain rewards will have account banned and rewards canceled).
Official invitation link: https://www.digifinex.com/en-ww/from/I62E8m?channelCode=ljaUPp
b. Users who invite friends to register can get a 10% rebate of transaction fees.
Download and log in DigiFinex > Click avatar in the upper left corner > Invite friends
2. Share and tag: During this event,share the event post and @Zelwinofficial on Facebook and Twitter. Submit your screenshots to collection form to share 288 ZLW.
3. During this event, users whose trading volume rank the top 20 with trading volume≥ 1,000 ZLW can share 500 ZLW according to individual trading volume.
ZLW trading pair: ZLW / USDT , ZLW / BTC , ZLW / ETH
ZLW official website:https://zelwin.com/
Online trading platform ZELWIN combined digital assets and e-commerce. A huge advantage of this platform that for every purchase, customers get guaranteed cashback in ZLW tokens. They instantly be able to exchange these tokens for various cryptocurrencies, USD/EUR, send them to VISA/MasterCard or save them up. In addition, it's ready-made product with a clear business model and with a mass adoption.
Event poster:
Facebook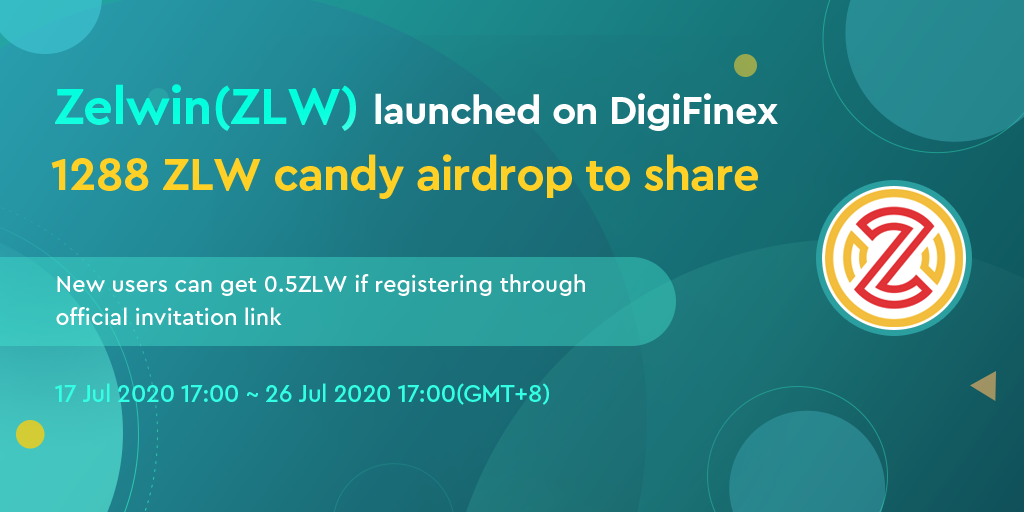 Twitter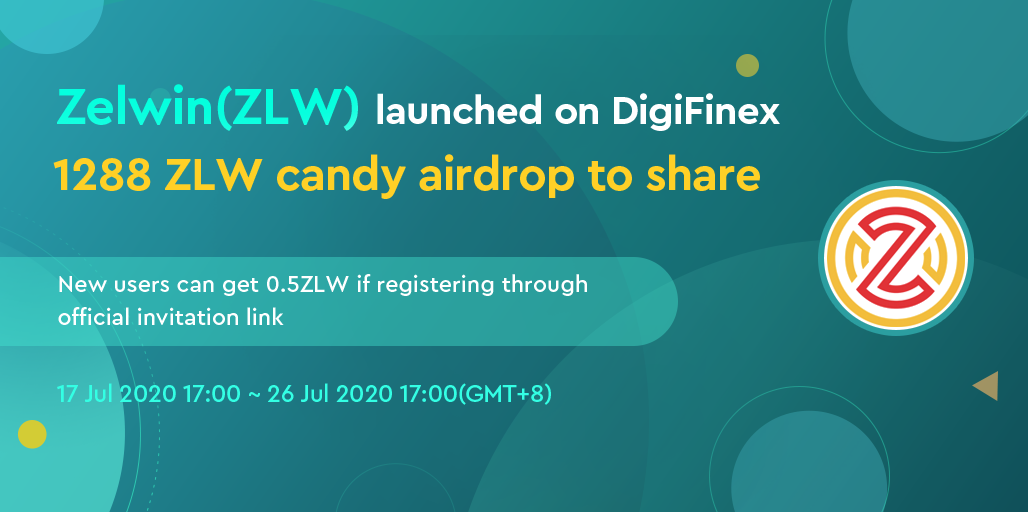 Thanks for your support!
DigiFinex team
16 July 2020
DigiFinex communities:
Telegram Group:https://t.me/DigiFinexcn
Telegram Official Community:https://t.me/DigiFinexEN
Official twitter:https://twitter.com/digifinex
Official Medium:https://medium.com/@digifinex
Official Reddit:https://www.reddit.com/user/DigiFinex/
Official Kakao:https://open.kakao.com/o/giKpLDsb
DigiFinex (digifinex.com)DIGIFINEX LIMITED. reserves all rights of this event, including but not limited to adjustment, explanation and termination at any time.