Dear users:
DigiFinex will launch the FESS Chain (FESS) on May 21, 2020 at 20:00 (GMT + 8) and open the transaction simultaneously. The opening time of coin charging and withdrawal service will be further notified. We will start the activity of "FESS Chain(FESS) has been officially launched in DigiFinex airdropping 350,000 FESS" on May 21, 2020. Specific rules are as follows:
Time: May 21, 2020 20:00, -- June 9, 2020 (GMT+8)
Reward Distribution: 5 working days after the end of the activity
Special reward for trading competition: participants who rank top 3 with FESS net purchase ≥ 1 million will be rewarded BMW 3 Series, Honda Civic 2020 ZX, Apple Macbook Pro respectivly. Click to check details
Stage one: listing airdrop of FESS
Rank top 200 in net purchasecompetition
During the activity, users will be ranked according to FESS net purchase (net purchase = buying volume - selling volume)

Consolation prize for net purchasecompetition
During the activity, users whose net purchase of FESS ≥ 2,000 but who are not in the top 200 will receive 30 FESS, with 15,000 in total for this reward.
Trade FESS
During the activity, users who trade FESS with transaction volume ≥100 FESS will be rewarded 5 FESS, and a total of 10,000 FESS will be rewarded.
Promote FESS
During the activity,you can follow DigiFinex's official Twitter (@digifinex) or Facebook account (digifinex.global) and FESS's official Twitter (@fesschain) and forward any FESS activity posts. Screenshot and register it in the form and you can share 15,000 FESS.
Stage two: FESS Q&A reward
Time: June 2, 2010 10:00 -- June 9, 2010 20:00(GMT+8)
1.Airdrop in FESS communities
Gather your friends and join our Telegram group during the event period in order to gain exclusive access to the passwords required to unlock the red packets!
Telegram group :https://t.me/DigiFinexEN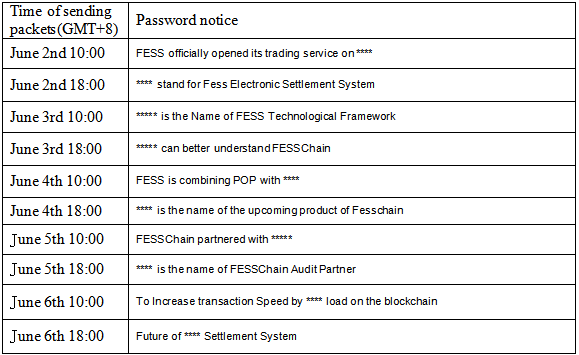 2.H5 page for FESS Q&A
Open H5 page for FESS Q&A to answer the questions. Users who correctly answer all questions can share reward of 60,000 FESS.
The Q&A H5 page will be published on June 1,Please pay attention to the content of the announcement
Note: all the rewards for the stage one and rewards of shared FESS in stage two will be frozen when they are distributed, and 20% of the rewards will be unfrozen every month until all the rewards are unfrozen.
FESS open trade pair:FESS/USDT
FESS official website:https://fesschain.live/
Thank you for your support!
DigiFinex Team
19th May 2020
DigiFinex communities:
Telegram Group:https://t.me/DigiFinexcn
Telegram Official Community:https://t.me/DigiFinexEN
Official twitter:https://twitter.com/digifinex
Official Instagram:https://www.instagram.com/digifinex.global/
Official Facebook:https://www.facebook.com/digifinex.global/
Official Medium:https://medium.com/@digifinex
Official Reddit:https://www.reddit.com/user/DigiFinex/
Official Kakao:https://open.kakao.com/o/giKpLDsb
DigiFinex (digifinex.com)DIGIFINEX LIMITED. reserves all rights of this event, including but not limited to adjustment, explanation, and termination at any time.