Dear users,
We are proud to announce the 20 shortlisted slogans from our Slogan Competition! Shortlisted slogans will receive 10 DFT!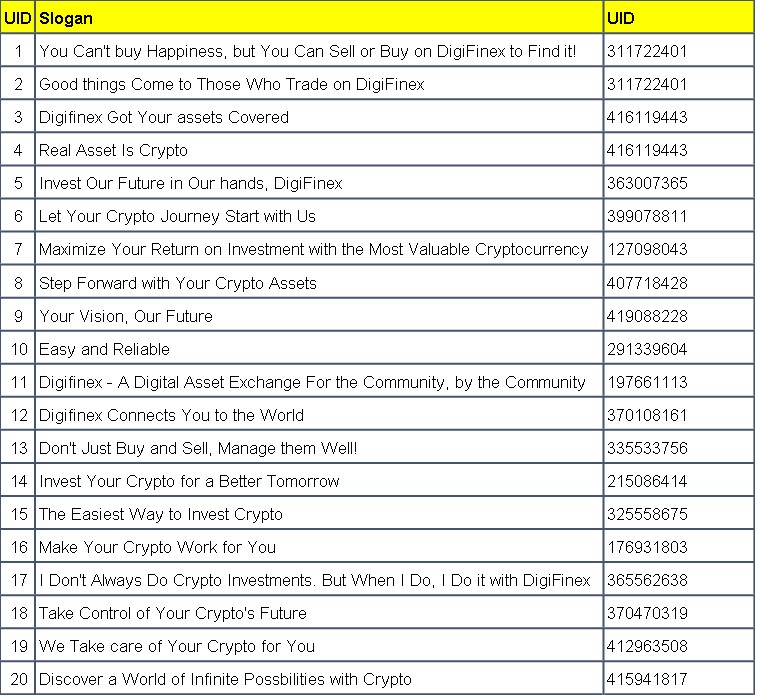 The voting phase of our Slogan Competition has begun! The most popular slogans with the top 3 most votes will win the following prizes:
1st Prize: 100 DFT
2nd Prize: 60 DFT
3rd Prize: 40 DFT
✦Bonus Prize✦
The first 100 users who votes for the Most Popular Slogan (1st Prize) will receive 1 DFT as a reward!
Voting Period: 26 Nov 2019, 16:00 to 1 Dec 2019, 23:59
Terms and Conditions:
- Each DigiFinex ID is only entitled to 1 vote. Subsequent votes using the same UID will be void.
Find out more about DigiFinex's Crypto Asset Management Tool: https://www.digifinex.com/en-ww/notice/626
Follow us on social media for more updates!
- FB: fb.com/digifinex.global
- Twitter: https://twitter.com/digifinex
- Instagram: instagram.com/digifinex.global