Dear user,
In the company of everyone for more than a thousand days and nights, DigiFinex has gone through five years. In order to better feed back the support of our users, we will gradually launch the advanced version of the flexible earning product on December 30, 2022, which will serve as an upgraded version of the original flexible earning. The return and currency available will also be totally upgraded.
Tokens in the first batch will be USDT, BTC, ETH. Other tokens will be added in the following updates.
In the first batch, flexible return of USDT can be up to 10%, BTC and ETH can be up to 5%. The subscription quota is limited and on a first-come first served basis. The subcription quota and interest rate may be affected by market factors and are subject to the product page.
Launch order: The product will be launched on the APP on December 30, 2022, and it will be launched a week later on the PC side.
Special notes:
The original flexible earning products will no longer be open for new deposits, those already deposited will continue to run according to the original policy and will not be affected.

2. For the same amount of money, if you want to participate in the advanced version of flexible earning product, you need to first withdraw it from the original product account, and then deposit it into the new product account. If the platform has subsequent plans to transfer the old product to the new product, it will be notified.

Entrance to original earning product:
APP:on Fund investment page, click Flexi Earn, shown below: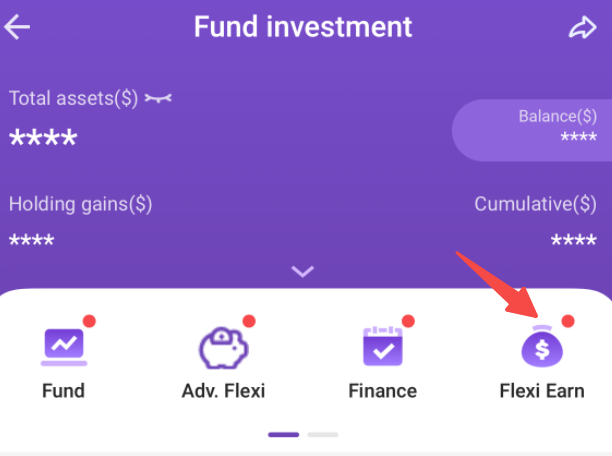 Notes:
It is a flexible earning product, deposite and withdraw anytime and the interests will be calculated per hour.

Quotas of each phase are limited, withdraw and re-deposit will consume the quota. For more details, please check the instructions of the product.
Thank you for your support!
DigiFinex Team Dec,30 2022