The DigiFinex (DigiFinex.com) digital asset trading platform has introduced a variety of transaction fee offers, including DFT discounted fees, Maker, Taker, etc.
Taker:
When you place an order that trades immediately, by filling partially or fully, before going on the order book, those trades will be "taker" trades.
Trades from Market orders are always Takers, as Market orders can never go on the order book. These trades are "taking" volume off of the order book, and therefore called the "taker."
Maker:
When you place an order that goes on the order book partially or fully (such as a limit order placed via the trading screen on binance.com), any subsequent trades coming from that order will be as a "maker."
These orders add volume to the order book, helping to "make the market," and are therefore termed the "maker" for any subsequent trades.
Note: When both the buyer and seller are entrusted at the same price limit, the earlier order belongs to Maker, and the order after that to Taker.
Specific rates are as follows: Click here jump to the Fee structure page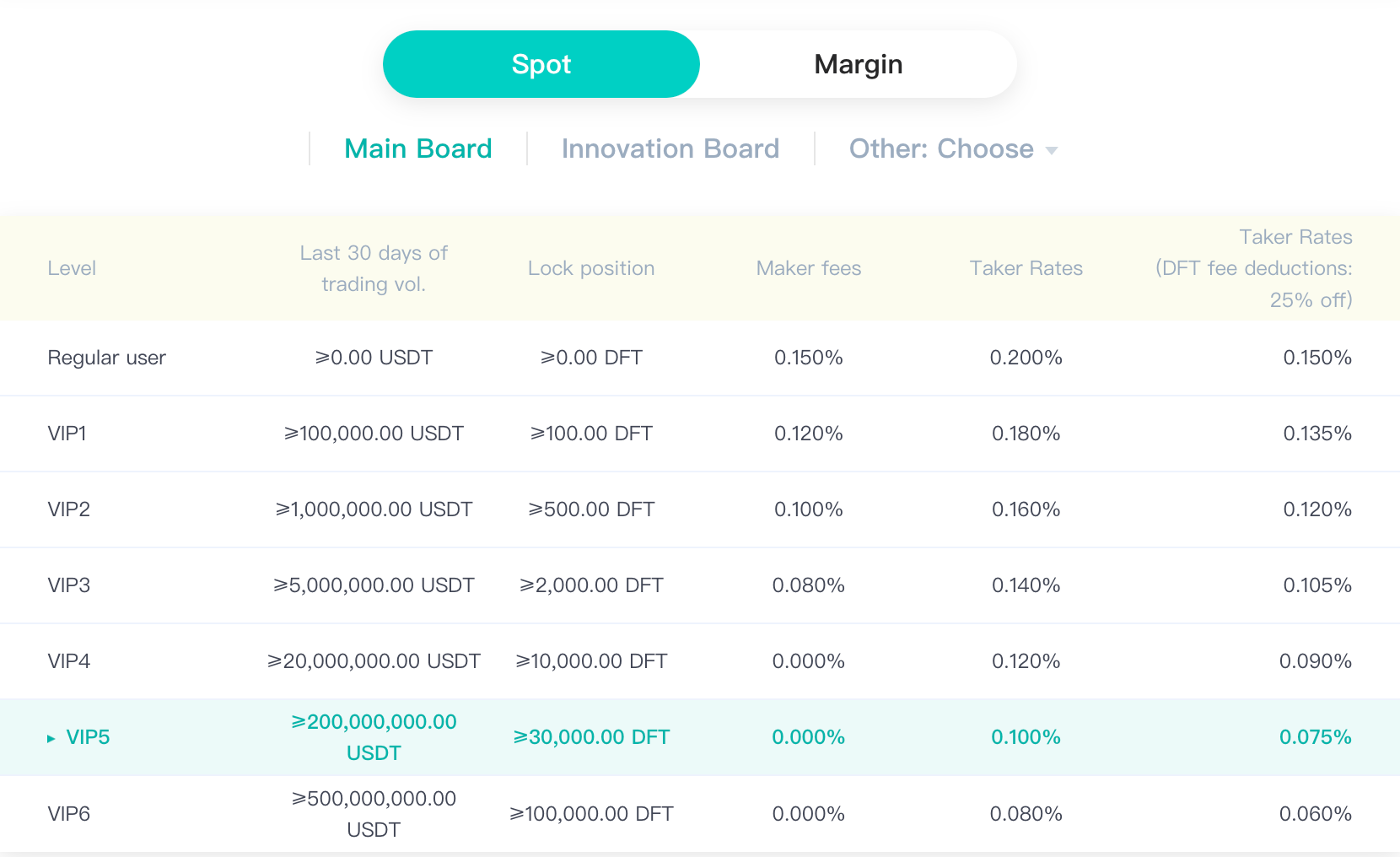 1.How to become a VIP?
Using users' near 30-day transaction volume, users can enjoy different fee discount schemes or at VIP levels according to locked DFT amount.
2.How to become a VIP through locking DFT?
Log in to the app and go to [My] - [Transaction Fee Concession] - [Lock Now] Enter the lock amount - click [Confirm].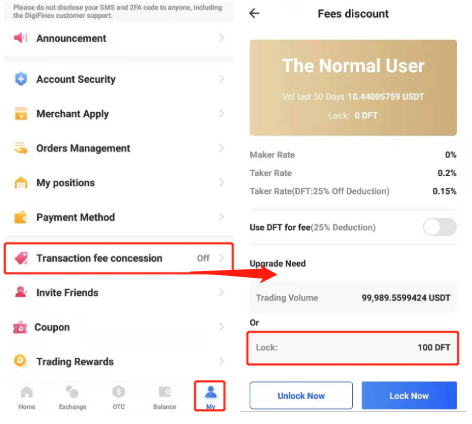 How to ask for help:
Click Here to Get How to Contact Customer Service
Tips, beware of false customer service:
1). Do not provide account password, SMS, Google verification code, WeChat and bank card password to anyone including DigiFinex Exchange Customer Service
2). Please look for the official website: Digifinex.vip & DigiFinex.com
3). Don't click on the unofficial link, beware of computer poisoning information leaks.
4). The DigiFinex exchange staff will not ask you to transfer the payment.
Join our groups!
English Telegram Group: https://t.me/DigiFinexEN
Follow us!
Official Twitter: @DigiFinex
Official Facebook: @digifinex.global
Official Instagram: @digifinex.global
Check us out ;)
Official Blog: https://blog.digifinex.com/
Official Medium: https://medium.com/@digifinex
Official Reddit: https://www.reddit.com/user/DigiFinex/