Dear Customers,
As part of our first-anniversary celebration, DigiFinex has partnered up with CoinUs (CNUS).We will launch a giveaway of 1,200,000 CNUS dividend rewards, and activity details are as follows:
Activity time: December 19, 2018, 10:00 - December 29, 2018 10:00 (GMT + 8)
Rewards will be given out within 5 business days after the event ends.
1、CNUS candy box locks the reward
DigiFinex will set a 200,000 CNUS reward in the candy box. Calculation for CNUS candy award: Locked CNUS number * locked up no. of days *0.2%
In this reward, DigiFinex sets the locked number to 500 CNUS. The lock-up period is 5-10 days. The CNUS candy box rewards a total of 200,000 CNUS, each person to receive up to a maximum of 1,000 CNUS. This segment runs on a first come, first served basis while candies last.
For example, The user locks 10,000 CNUS in the candy box and locks for 10 days. The user will receive a reward of 200 CNUS immediately.
Receiving Guide: Log in to DigiFinex APP--My--Candy Box--Enter the number of locks--get the lockout reward immediately
2、CNUS invites users to share top-up transaction gift
Users are ranked according to their net CNUS deposit amount (Deposit - Withdraw = Net CNUS)

3、Ranking for CNUS trades.
a、During the event, the rank depends on the user's CNUS trading volume.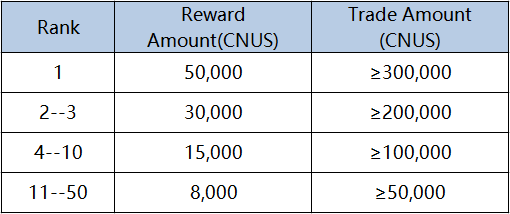 b、Top 50 users who purchase ≥1000 CNUS per day will receive a reward of 132 CNUS.
DigiFinex thanks all for your support.
DigiFinex team
19th Dec 2018
DigiFinex communities:
Telegram Group:https://t.me/DigiFinexcn
Telegram Official Community:https://t.me/DigiFinexEN
Official twitter:https://twitter.com/digifinex
Official Medium:https://medium.com/@digifinex
Official Reddit:https://www.reddit.com/user/DigiFinex/
DigiFinex (digifinex.com)DIGIFINEX LIMITED. reserves all rights of this event, including but not limited to adjustment, explanation, and termination at any time.