Dear Customer,
DigiFinex will officially list XEM on our platform on November 30, 2018 at 10:00 (GMT+8) and will open up deposits on the same day. Withdrawal and trade services will be opened to all on December 03, 2018.
To celebrate, we are launching an exclusive ETH giveaway.
Details are as follows:
Activity time: 10:00 on November 30, 2018 (GMT+8) - 10:00 on December 9, 2018 (GMT+8)
Rewards will be given out within 5 business days after the event ends.
1. Top-up reward
During the event, we will rank according to the XEM net recharge amount. Users with XEM net recharge ≥ 5,000 and the top 50 will share 9.99 ETH according to the user XEM position ratio.p of XEM
XEM net top-up amount will be ranked. Users with ≥ 5,000 of XEM net top-up and top 50 users will share a 9.99 ETH dividend according to XEM's postion ratio.
2. Reward for XEM Highest Net Purchaser
Users' XEM net purchase volume will be ranked. Top 100 users and users with ≥5000 net purchases will receive the following rewards: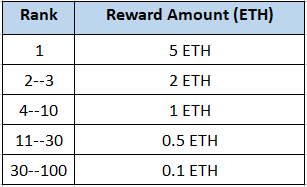 XEM Trading Pairs: XEM/BTC、XEM/ETH
XEM's official website:https://nem.io/zh/
DigiFinex thanks all for your support!
29th Nov 2018
DigiFinex Team
DigiFinex community and official media:
Official telegram group:
https://t.me/DigiFinexEN (English)
https://t.me/DigiFinexcn (Chinese中文)
Official Twitter:https://twitter.com/digifinex
DigiFinex (digifinex.com )DIGIFINEX LIMITED. reserves all rights of this event, including but not limited to adjustment, explanation and termination at any time.