Dear Customers:
DigiFinex will list GXC (GXChain) and open up deposit on November 09, 2018 at 10:00 (GMT +8). Withdrawal and trade service will be opened on November 12, 2018 at 10:00 (GMT +8). To reward our customers for their support, DigiFinex is organizing a USDT and GXC giveaway.
Details are as follows:
Period: 09 November, 2018, 10:00 - November 13, 2018, 15:00 (GMT +8)
Reward will be given away within 5 business days after event ends.
1.Candy box. Lock GXC to be rewarded with USDT
DigiFinex will set a 2000USDT reward in the candy box. Calculation for USDT award: Locked GXC number * locked up no. of days *0.004USDT
In this reward, DigiFinex sets the GXC locked number to be at least 50GXC. The lock up period is 5-10 days. The GXC candy box rewards a total of 2000USDT. This segment runs on a first come, first serve basis while candies last. For example: The user locks 10,000 GXC in the candy box and locks for 10 days, and will receive a reward of 400 USDT immediately.
Receiving Guide: Log in to DigiFinex APP--My--Candy Box--Enter the number of locks--get the lockout reward immediately
2.Encrypted red packet
I.During the activity, 2 red envelope passwords will be set every day. Choose the correct password to receive red packet. First come, first served basis. While stocks last.

II.Password to be given and users are allowed to copy & paste.
9th Nov 18 10:00 GXC的原名是***
9th Nov 18 15:00 " GXC的中文名是***
10th Nov 18 10:00 GXChain ( 公信链 ) 白皮书*.0
10th Nov 18 15:00 GXC项目成立于****年
11th Nov 18 10:00 GXC发行总量是*亿
11th Nov 18 15:00 基于公信链开发的首个应用是****
12th Nov 18 10:00 公信链为****服务
12th Nov 18 15:00 公信链旨在打造****的价值网络
13th Nov 18 10:00 布洛克城首届小应用***大赛火热进行中
13th Nov 18 15:00 公信币凝聚了公信链的****权
Receiving Guide: Log in to DigiFinex Account - Personal Center - Get Coupon - Enter Password - Receive Password Red Packet
Directly get the full password to forward the following event poster to the group of people with a population of ≥200 people and a screenshot of the WeChat group or other social media group, e.x. Telegram, WhatsApp, etc.
Poster: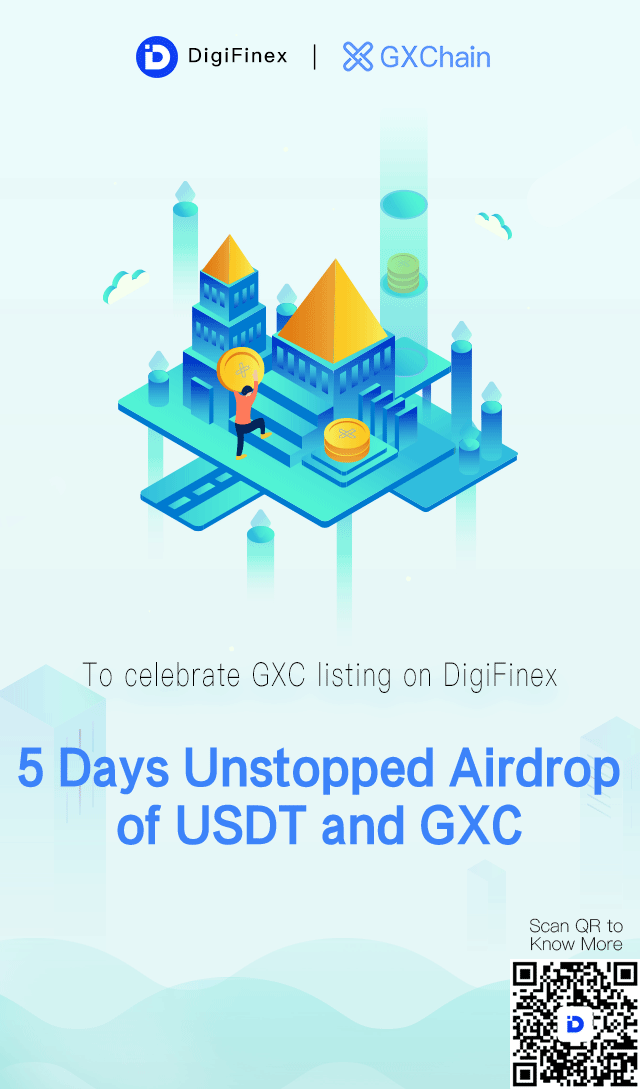 About: GXChain is a public chain mainly for massive data exchange and application development. It is used to establish a trustworthy domain-wide data exchange value network based on blockchain. GXChain has the performance advantages of the graphene underlying architecture based on the DPoS consensus mechanism, and has the supporting functions of G-ID, GVM, BaaS, Blockcity pay and other chains to facilitate various application development. Based on GXChain, Dapp Brock City already has a million real-name users, providing rich data resources for chain applications and partners. The GXChain exchange for enterprise services has also been launched, and the number of service companies exceeds 100. GXChain realizes the safe, credible, free and efficient transaction exchange of data through the blockchain technology, which provides support for the greater use of data application value.
GXC(GXChain)'s official website: https://www.gxb.io/
DigiFinex thanks all for your support!
8th Nov 2018
DigiFinex Team
DigiFinex community and official media:
Official telegram group:
https://t.me/DigiFinexEN (English)
https://t.me/DigiFinexcn (Chinese中文)
Official Twitter:https://twitter.com/digifinex
DigiFinex (digifinex.com )DIGIFINEX LIMITED. reserves all rights of this event, including but not limited to adjustment, explanation, termination at any time.