Dear Customers:
DigiFinex is going to list LendChain(LV) and open up deposit on 03rd Nov, 2018 15:00 (GMT+8). Withdrawal and trade service will be open on 11th Nov, 2018 10:00 (GMT+8). To reward every customer's support, DigiFinex will launch the activity of "To celebrate the launch of LendChain,1.5 Million of LV Candy Giveaway" 03rd Nov, 2018 15:00 (GMT+8). The details of activity are listed below:
Period: 3rd November, 2018 at 15:00 (GMT+8) to 11th November, 2018 at 15:00 (GMT+8)
Rewards distribution period: 7 days after the end of event
1. The LV candy box locks the reward
DigiFinex will set a 500,000 LV Bonus in the candy box during the event, the user gets LV candy number = user lock LV number * locked up no. of days * 0.3%.
In this reward, DigiFinex sets the LV locked number to a minimum of 1000 LV. The lock up period is 5-10days. The LV candy box rewards a total of 500,000 LV. This segment runs on a first come, first serve basis while candies last.
Example: The user locks 10,000 LV in the candy box for 10 days, and will receive 300 LV rewards immediately.
Receiving Guide: Please log in to DigiFinex APP--My--Candy Box--Enter the number of locks--and get the lockout reward immediately
2. Top-up Reward for LV
During the event, the top 100 users who tops up their LV and have a top-up amount of ≥20,000 will receive 1000 LV rewards per person.
3. LV Trading Competition
During the event, the rank depends on the user's LV trading volume.

4. Guess the password in exchange for a Red Packet
I. During the activity, a red envelope password will be set every day. Users are to guess the password to receive the red packet. While candies last. 1 english or 1 chinese character will be considered as 1 word.

II. Password will be given and users are allowed to copy & paste.
03/11 15:00 LV币中文名是__(Hint: 3 words)
05/11 10:00 LV__金融服务平台(Hint: 4 words)
05/11 15:00 LV英文全称是__(Hint: 6 words)
06/11 10:00 LV是基__开发的(Hint:3 words)
Receiving Guide: Please log in to DigiFinex Account - Personal Center - Get Coupon - Enter Password - Receive Password Red Packet
Directly get the full password to forward the following event poster to the group of people with a population of ≥200 people and a screenshot of the WeChat group, including other social media channels. Such as telegram, whatsapp, Reddit etc.
5. During the event, minimum of 1000USDT of transaction amount is required to participate in the lucky draw.
https://www.digifinex.com/notice/zh-cn/1110
6. To receive 0.002ETH + 300 CNY coupon reward, new users are to fill in their full names while registering to pass the identity verification.
https://www.digifinex.com/notice/zh-cn/1112
Poster: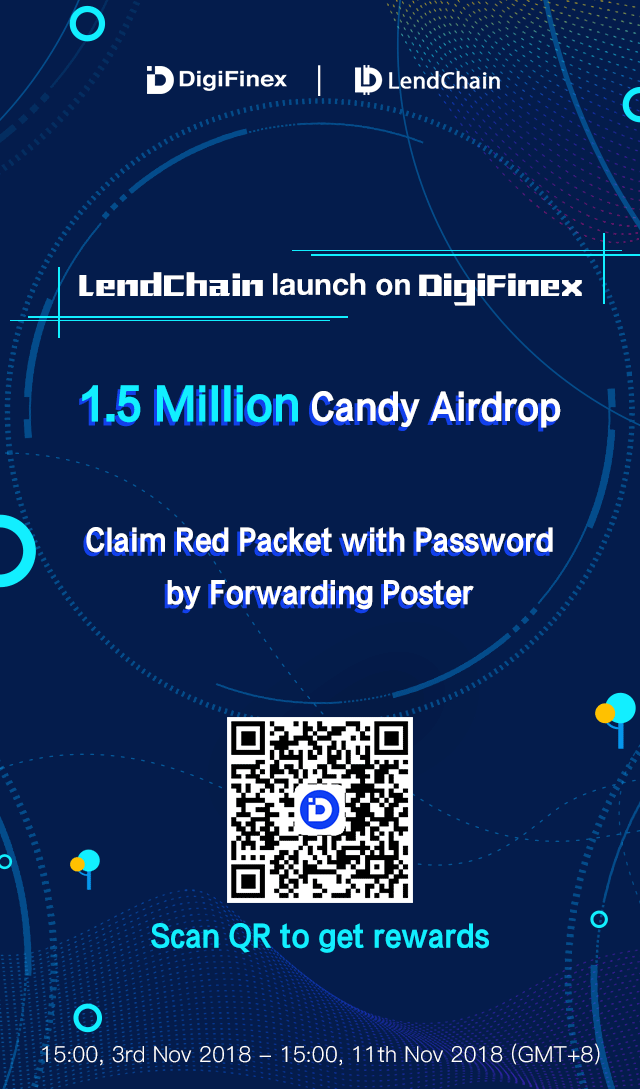 LV open trade pair: LV/USDT
LV: LendChain is a distributed cryptocurrency financial services platform, which provides financing, investment, insurance and other financial services for holders of cryptocurrencies. At the financing side, LendChain provides collateral and credit financing services, covering BTC, ETH, EOS, GXS, QKC and other mainstream cryptocurrencies. At the investment end, LendChain has a professional investment and research team to provide a variety of investment products, such as fixed rate and floating income investment.
LV's official website: https://www.lendchain.io/#/
DigiFinex thanks all for your support!
2nd Nov 2018
DigiFinex Team
DigiFinex community and official media:
Official telegram group:
https://t.me/DigiFinexEN (English)
https://t.me/DigiFinexcn (Chinese中文)
Official Twitter:https://twitter.com/digifinex
DigiFinex (digifinex.com )DIGIFINEX LIMITED. reserves all rights of this event, including but not limited to adjustment, explanation, termination at any time.