Dear Customers:
DigiFinex is going to list Magicstonelink(MCS) and open up deposit on 06th Nov, 2018 10:00 (GMT+8). Withdrawal and trade service will be open on 07th Nov, 2018 10:00 (GMT+8). To reward every customer's support, DigiFinex will launch the activity of "To celebrate the launch of MCS,Worth 200,000 of MCS Candy Giveaway" 05th Nov, 2018 11:00 (GMT+8). The details of activity are listed below:
Period: 06th November, 2018 at 10:00 (GMT+8) to 14th November, 2018 at 10:00 (GMT+8)
Rewards distribution period: 7 days after the end of event
1. TheMCS candy box locks the reward
DigiFinex will set a 30,000 MCS Bonus in the candy box during the event, the user gets MCS candy number = user lock MCS number * lock warehouse days * 0.2%.
In this reward, DigiFinex sets the LV locked number to 500 MCS locks. The lock locks for 5-10days. The MCS candy box rewards a total of 30,000 MCS. This segment runs on a first come, first serve basis while candies last.
Example: The user locks 10,000 MCS in the candy box for 10 days, and will receive 200 MCS rewards immediately.
Receiving Guide: Please log in to DigiFinex APP--My--Candy Box--Enter the number of locks--and get the lockout reward immediately
2. Top-up Reward for MCS
During the event, the top 100 users who tops up their MCS and have a top-up amount of ≥2,000 will receive 88 MCS rewards per person.
3. MCS Trading Competition
During the event, the rank depends on the user's MCS trading volume.

4. Guess the password in exchange for a Red Packet
I. During the activity, a red envelope password will be set every day. Users are to guess the password to receive the red packet. While candies last.

II. Password will be given and users are allowed to copy & paste.
06/11 10:00 魔方链玩魔方赢未来
06/11 15:00 MCS的英文全称是__(Hint: 14 words)
07/11 10:00 MCS__先行者(Hint: 3 words)
07/11 15:00 魔方链应用于青少年__链(Hint: 4 words)
08/11 10:00 魔方链亮相石家庄__(Hint:5 words)
Receiving Guide: Please log in to DigiFinex Account - Personal Center - Get Coupon - Enter Password - Receive Password Red Packet
Directly get the full password to forward the following event poster to the group of people with a population of ≥200 people and a screenshot of the WeChat group.
5. During the event, the transaction will be worth 1000USDT to participate in the round draw.
https://www.digifinex.com/notice/en-ww/56
6. To receive 0.002ETH + 300 yuan coupon reward, new users are to fill in their full names while registering.
https://www.digifinex.com/notice/en-ww/58
Poster: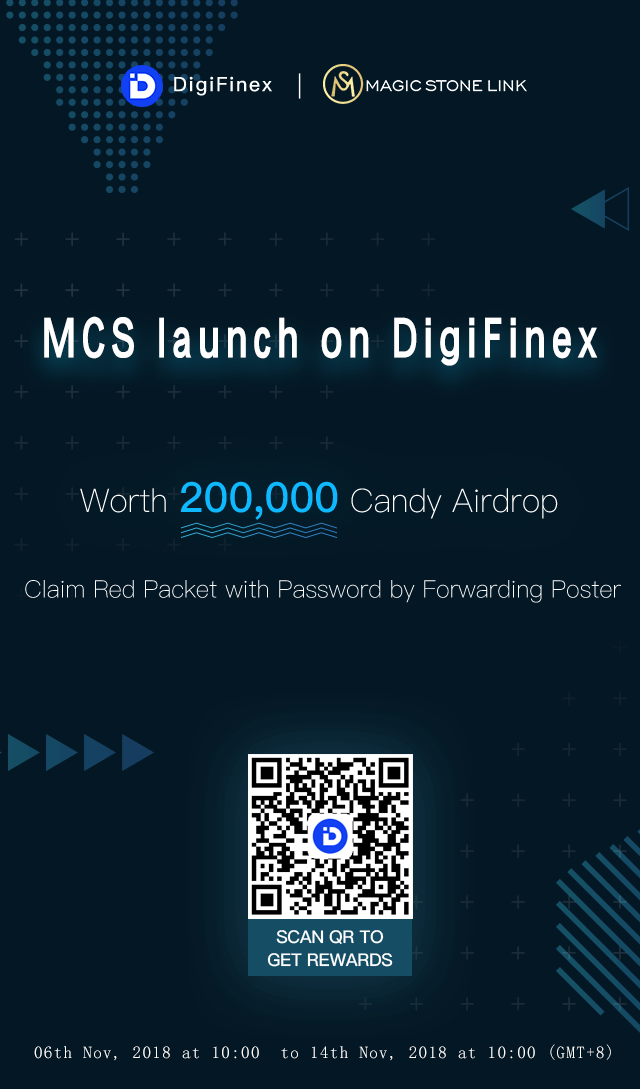 MCS open trade pair:MCS/ETH
MCS:The MCS adopts the original interactive work proof, and it redefines the interactive mode and builds the new production relationship by the blockchain technology. It creates and shares the decentralized credit system and service platform in multiple filed such as education, games and social interaction. It provides every participant all over the world with a safe and borderless new way of life.
MCS's official website: http://www.magicstonefund.com/
DigiFinex thanks all for your support!
5th Nov 2018
DigiFinex Team
DigiFinex community and official media:
Official telegram group:
https://t.me/DigiFinexEN (English)
https://t.me/DigiFinexcn (Chinese中文)
Official Twitter:https://twitter.com/digifinex
DigiFinex (digifinex.com )DIGIFINEX LIMITED. reserves all rights of this event, including but not limited to adjustment, explanation, termination at any time.