Dear Customers:
DigiFinex is going to list DASH and open up deposit on 22nd Oct, 2018 18:30 (GMT+8). Withdrawal and trade service will be open on 23rd Oct, 2018 15:00 (GMT+8). To reward every customer's support, DigiFinex will launch the activity of "To Celebrate DASH Launch on DigiFinex, BTC and ETH Give Away" 22nd Oct, 2018 18:30(GMT+8). The details of activity are listed below:
Event period: 18:30, 22nd Oct 2018 - 15:00, 31st Oct 2018 (GMT+8)
Rewards distribution period: 7 days after the end of event
1. Net DASH Deposit Rewards
During the event, the platform will rank the customers based on the net deposit over 5 DASH. Each of top 80 traders will receive 8.88 ETH rewards proportionally based on the percentage of individual deposit DASH value to the total deposit DASH value.
2. DASH Trading Competition
The platform will rank the customers based on the trading amount ≥ 200 DASH. Top 50 traders will be rewarded as follows: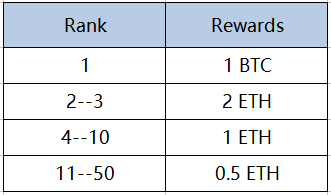 DASH Website:https://www.dash.org/
Thanks for your support!
DigiFinex team
22nd Oct 2018
DigiFinex community and official media:
Official telegram group:
https://t.me/DigiFinexEN (English)
https://t.me/DigiFinexcn (Chinese中文)
Official Twitter:https://twitter.com/digifinex
DigiFinex (digifinex.com)DIGIFINEX LIMITED. reserves all rights of this event includes but not limits to adjustment, explanation, termination at any time.