Dear Customers:
To celebrate SENNO global first launch on DigiFinex, the platform will work with SENNO team to launch the rewards activity of "SENNO Global First Launch on DigiFinex and $1MM SENNO Candy Give Away" at 15th Oct, 2018 18:00.
Details and rules of this event:
Event period: 18:00, 15th Oct 2018 - 18:00, 22nd Oct 2018 (GMT+8)
Rewards distribution period: 7 days after the end of event
1. Net SENNO Deposit Rewards
During the event, the platform will rank the customers based on the net deposit over 1MM SENNO. Each of top 200 traders will receive 1% of net deposit as the rewards.
2. SENNO Trading Competition
The platform will rank the traders based on the net purchasing amount (net purchase = total purchase - total sell)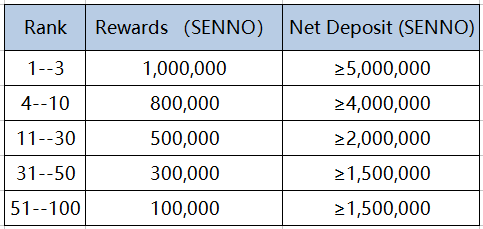 3. Candy Box Locking Prize
During event period, we will place 10MM SENNO in the Candy box. SENNO candy that each user will receive = SENNO lock-up amount * lock-up days * 0.5%
SENNO lock-up amount should be above 10,000. Lock-up period should be 3-10 days. Total SENNO in Candy box is 10MM. The candy box rewards are available on a first-come, first-served basis while candy lasts.
E.g. User locks 100,000 SENNO for 10days. Then user will be rewarded with 5,000 SENNO.
4. SENNO Rewards for Inviting Friends
a. During event period, 2888 SENNO tokens will be rewarded to both referrer and the referral recipient who registers and verifies his/her account via referral link/code. The referral recipient must purchase at least once.
b. During event period, any new user who registers and verifies his/her account and purchases at least once without a referral link/code will be rewarded with 2666 SENNO tokens.
5. SENNO Rewards for Brand Promotion
a. Share DigiFinex & SENNO listing poster to wechat group or telegram group that has more than 200 people. Then snap shot the sharing to wechat customer service(ID: shuzibifans) or DigiFinex telegram admin to claim rewards of 188 SENNO tokens at each time. Everyone can share the listing poster to different groups and claim rewards up to 10 times.
b. Write any article or news or short post about DigiFinex or SENNO launch on DigiFinex, and share it on any media platform where the article can be liked by readers. For every "like" it receives, you will be rewarded with 88 SENNO tokens. Every user's rewards is capped at 50,000 SENNO tokens for each article and the number of "like"should be at least 20. (Send your article link and numbers of like to the same wechat and telegram admin as above. Please make sure you send it before 11:00 GMT+8, 22nd Oct. If your deliverable passes the deadline it will not be counted). (Medium likes would be based on how many people clap instead of how many claps)
Event Poster: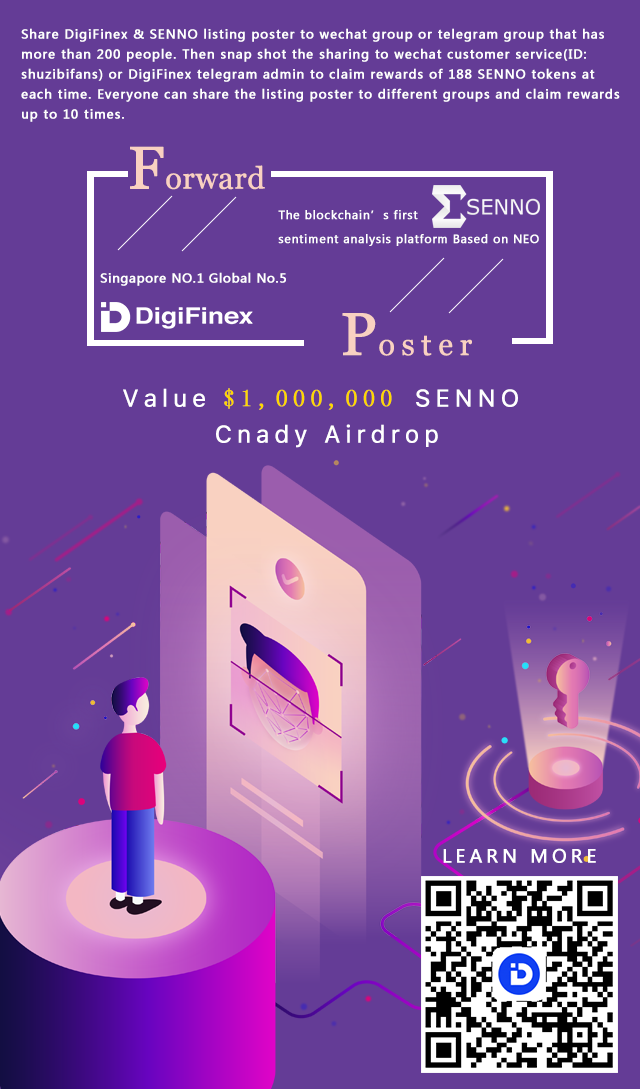 Introduction:
SENNO is the blockchain's first sentiment analysis platform with an open API for 3rd party apps Based on NEO It utilizes distributed sentiment analysis and AI algorithms to create a Real-Time crowd wisdom ecosystem and sophisticated business intelligence analytics. SENNO will revolutionize the way decision making is made in the business and private sector.
SENNO Official Website:https://senno.io/
Thanks for your support!
DigiFinex team
15th Oct 2018
DigiFinex community and official media:
Official telegram group:
https://t.me/DigiFinexEN (English)
https://t.me/DigiFinexcn (Chinese中文)
Official Twitter:https://twitter.com/digifinex
DigiFinex (digifinex.com)DIGIFINEX LIMITED. reserves all rights of this event includes but not limits to adjustment, explanation, termination at any time.