Dear DigiFinex Customers:
To appreciate the supports of DigiFinex customers, DigiFinex starts to airdrop 8 million LPK candy from 10:00 GMT+8, 4th Sep.
Details and rules of this event:
Event period: 10:00, 4th Sep 2018 - 10:00, 13th Sep 2018 (GMT+8)
Rewards distribution period: By the end of 20th Sep.
1. LPK Deposit rewards: top 100 LPK net deposit (deposit-withdraw) accounts are ranked during event period and rewarded 2% of net LPK deposit. And the rewards is capped at 50,000 LPK for each user. E.g. if a top 100 deposit user, made a deposit of 1million LPK token, then this user will be rewarded with 10,000 LPK.
2. LPK trading rewards: top LPK trading account during event period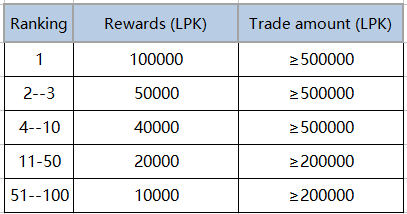 3. LPK purchasing Reward
During the event, any user who purchase LPK (the purchase≥100 LPK) will be rewarded with 100 LPK.
4. Rewards for owning LPK and DFT
Snap shot of user's DFT and LPK amount will be taken daily from 14th Sep till 20th Sep. An average of this 7days amount will be used as the baseline for LPK rewards.
When user has ≥100DFT and ≥10,000LPK, user will be rewarded with 3,000LPK. And this rewards will be locked for 7days then unlock.
LPK Website:https://l-pesa.com/
中文公告:https://www.digifinex.com/notice/1015
Thanks for your support!
DigiFinex
31st Aug 2018
DigiFinex community
QQ group: Click to join
Telegram: https://t.me/DigiFinexEN (English) https://t.me/DigiFinexcn (中文)
Twitter: https://twitter.com/digifinex
DigiFinex (digifinex.com) or DIGIFINEX. PTE. LTD reserves all rights of this event includes but not limits to adjustment, explanation, termination at any time.