Margin trading can be done through the DigiFinex App. Please ensure that you have sufficient funds in your margin account before proceeding to margin trading. Please note that DigiFinex currently does not support funds transfer between margin account and OTC account, only between margin and spot account.
DigiFinex currently supports margin trading with 5 currencies: BTC, ETH, LTH, EOS, and XRP. (However, margin can be accepted in 6 currencies: USDT, BTC, ETH, LTH, EOS, and XRP) with 3-5X leverage.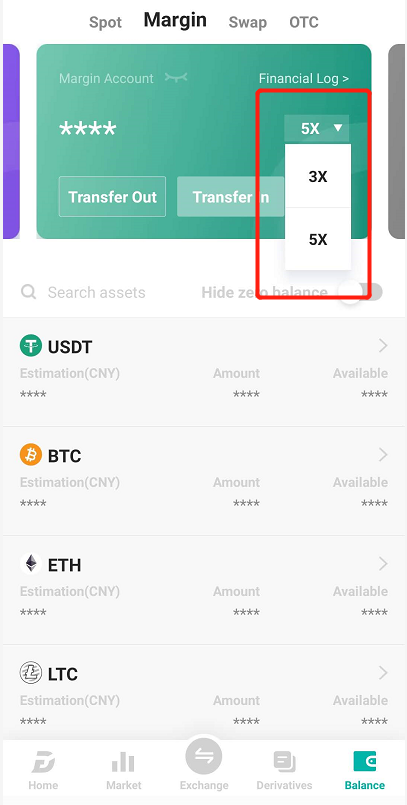 1.Fee Structure:
The transaction fees for margin trading is the same as spot trading - 0.2% per trade. DFT holders may enjoy a 2.5% discount in transaction fees.
Click here to understand DFT discount
Become a VIP user and enjoy a higher discount deals, with transaction fees as low as 0.060%!
Click to know how to become a VIP and reduce the transaction fee
Apart from transaction fees, DigiFinex will also collect additional interest for margin trading.
Click to know the interest fee structure of the Margin Trade
2.How to conduct Margin Trade on DigiFinex APP?
Step 1: Login to the APP
-> Select "Exchange" and Select your currency of choice
-> Select "Buy" or "Sell" to jump into the trading interface
NOTE: DigiFinex currently supports BTC, ETH, LTC, EOS and XRP for margin trading.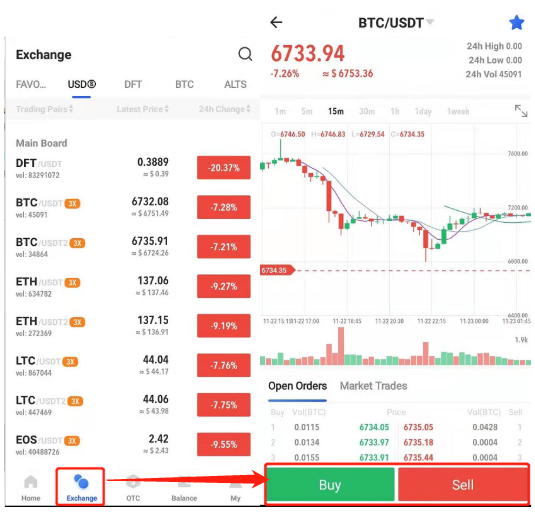 Step 2: Choose between market price and limit price (Note: planned entrustment option is only available on the website)
Click here to understand the meaning of Market Price and Limit Price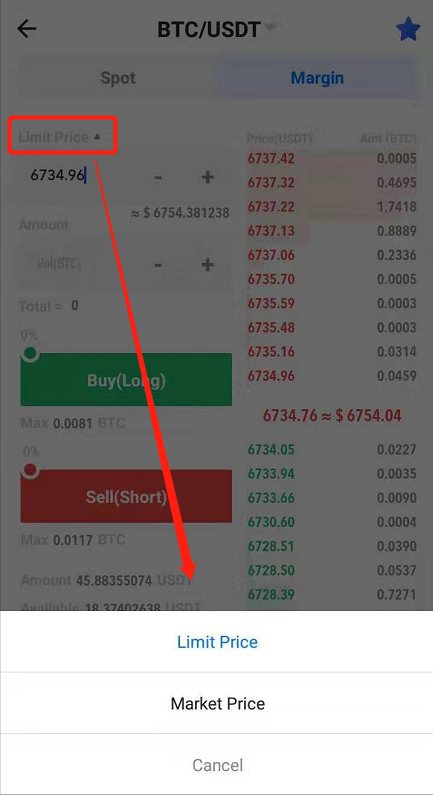 Step 3: Check your total margin and margin rate.
Total margin refers to the total value in your margin account, while the margin rate reflects the status of your current open position. If the ratio of your usable margin rate is less than 30% of the total margin, the position will be automatically liquidated by the system. Auto-liquidation will incur losses, so please take note!
When your margin rate falls below 60%, you will receive a warning notice (through the website notification system and email) to remind you to increase the margin amount, or decrease the number of positions and open orders.
Click here to learn more detail about the forced liquidation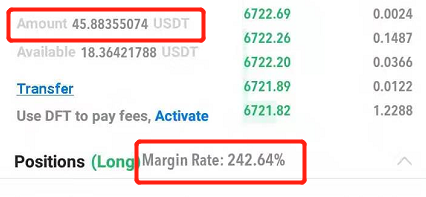 Step 4: Enter your transaction limit price (not necessary for market price) and amount, or slide the progress bar to select your amount according to the position ratio) --> Select "Buy" or "Sell" and confirm.
(NOTE 1) The long selling amount displayed here is the amount after leverage. Please calculate your margin rate carefully before you confirm the order, so as to avoid placing an unintended large order by accident and face an auto-liquidation.
(NOTE 2) Short selling is to borrow assets from the exchange, sell it immediately, and repurchase the assets back to return to the exchange when the price falls. then bought the coins from the market and return to the exchange after the market price falls. Short selling supports 3x-5x leverage too.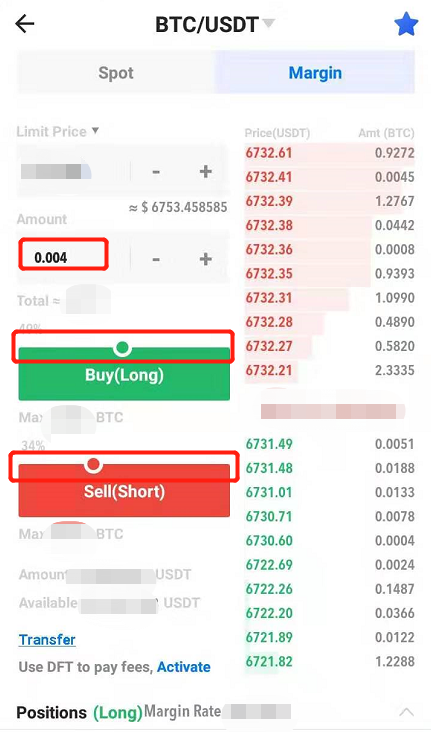 After the order has been placed successfully, the system will display the position details. Concurrently,
interest calculation will begin (click here to check the interest fee structure)
Step 5: Enter the positions page to see all your current positions, direction, margin rate, and P/L. You can close your positions according to the market price here.
Please be reminded that if you chose to go long, then when you reverse the direction to go short, the system will automatically help you to close the position, and only the remaining amount will be used in the short order.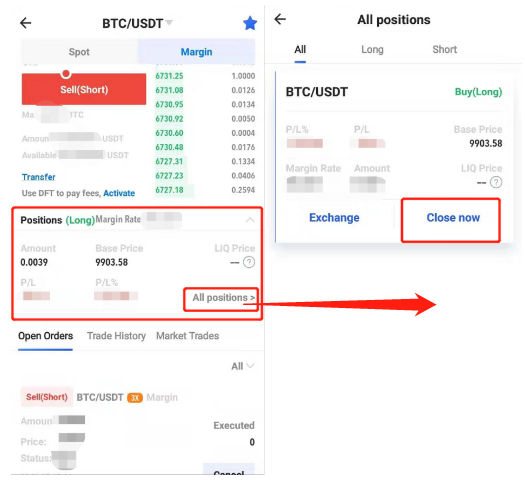 3.FAQ of the Margin Trade:
Q:How can I view and cancel my order?
A:Click the "Head Icon" on the top left corner in the App
-> Click "Order Management"
-> You can check the order and Cancel them.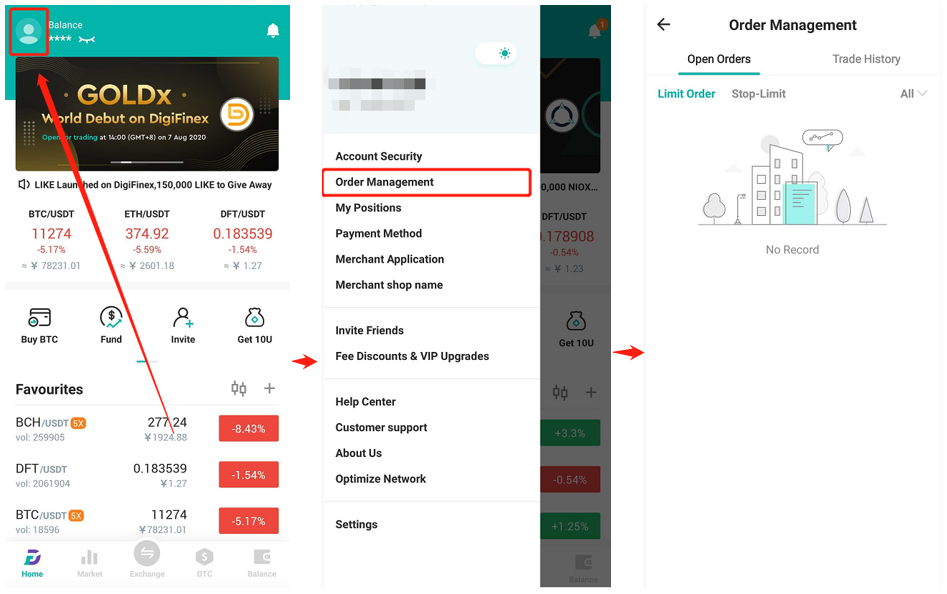 How to ask for help:
Click Here to Get How to Contact Customer Service
Tips, beware of false customer service:
1). Do not provide account password, SMS, Google verification code, WeChat and bank card password to anyone including DigiFinex Exchange Customer Service
2). Please look for the official website: Digifinex.vip & DigiFinex.com
3). Don't click on the unofficial link, beware of computer poisoning information leaks.
4). The DigiFinex exchange staff will not ask you to transfer the payment.
Join our groups!
English Telegram Group: https://t.me/DigiFinexEN
Chinese Telegram Group: https://t.me/DigiFinexcn
Follow us!
Official Twitter: @DigiFinex
Official Facebook: @digifinex.global
Official Instagram: @digifinex.global
Check us out ;)
Official Blog: https://blog.digifinex.com/
Official Medium: https://medium.com/@digifinex
Official Reddit: https://www.reddit.com/user/DigiFinex/