Dear Users,

To celebrate the successful launch of PEPE2 and encourage participation in PEPE2 trading, DigiFinex is holding a 'PEPE2 Trading Competition', with a total of 4,000 USDT to be shared among participants.
Time of opening deposit: July 7th, 2023 07:00 (UTC)
Time of opening trading: June 30th, 2023 10:00 (UTC)
Time of opening withdrawal: July 7th, 2023 07:00 (UTC)
Trading pair: PEPE2/USDT
Event period: From 10:00 on July 6th, 2023 to 10:00 on July 14th, 2023 (UTC).
Reward distribution: Rewards will be distributed within 7 days after the end of the event.

Event details: Participate in PEPE2/USDT trading on DigiFinex, and users with a total spot trading volume (buying + selling) of > 50 USDT are eligible to share a total of 4,000 USDT. The rewards will be distributed according to the spot trading volume ranking, and the participant with the highest trading volume can receive up to 600 USDT in rewards. The reward details are as follows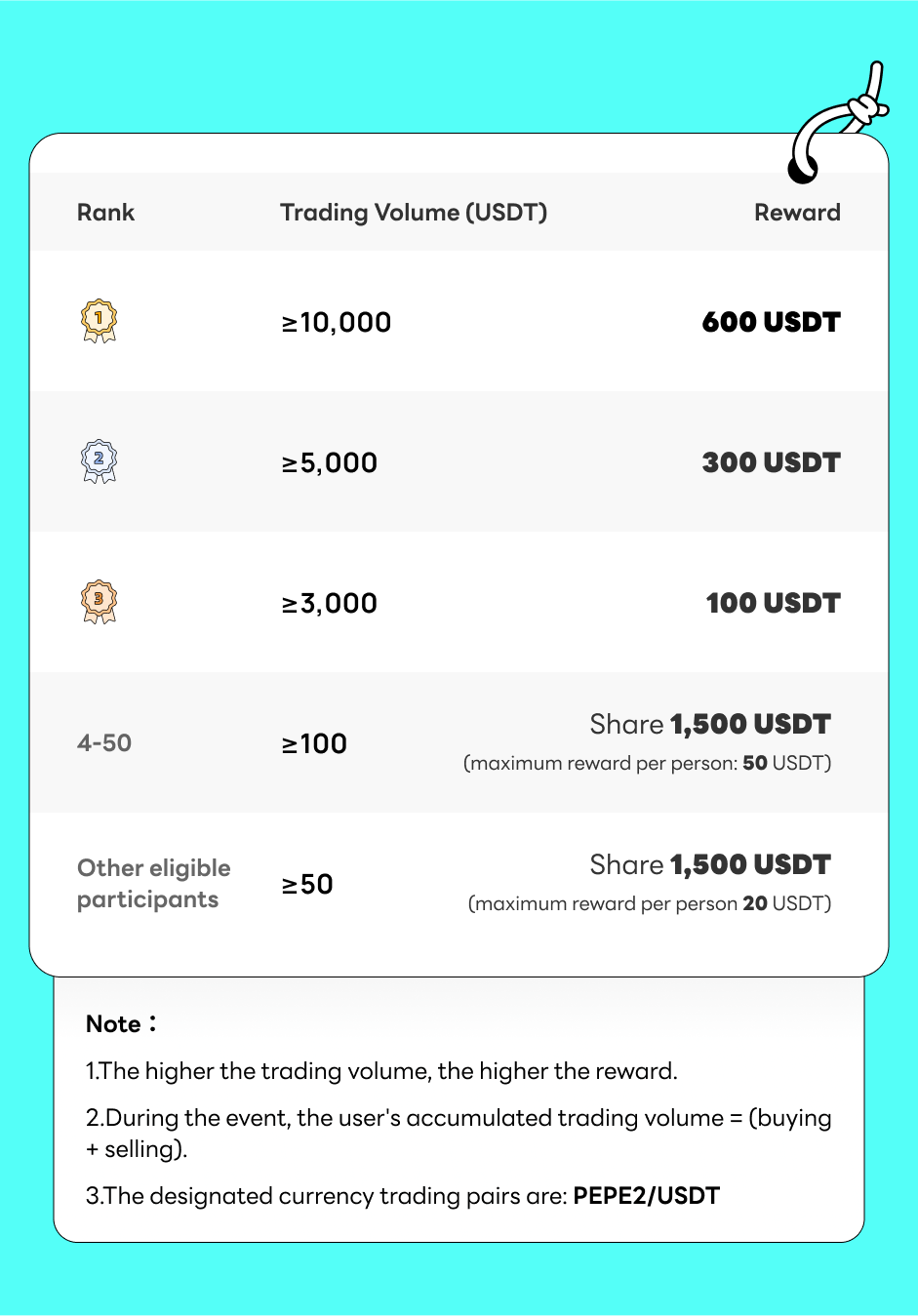 Note:
1. Valid trading volume is purchase and selling volume excluding self transactions.
2. Only parent accounts can participate in this event and claim rewards.
3. During this event, users with dishonest behaviors, including fake volume, bulk registration, self transaction, or matched trading, will be disqualified from this event. Users conducting serious cheating behaviors will get accounts banned.

New project: PEPE2 (PEPE2)
Official website: https://pepe20.vip/
Blockchain explorer: https://etherscan.io/token/0xfb66321d7c674995dfcc2cb67a30bc978dc862ad

Token introduction:
$PEPE knows he made mistakes in the past, blacklisting some investors, launching on a weekend when you were spending time with your family and friends. He wants to make things right and redo his billion dollar run, he's a new version of himself, he is now PEPE 2.0.

Download DigiFinex APP: https://www.digifinex.com/en-ww/download
Official Register link: https://www.digifinex.com/en-ww/from/C9JT9c?channelCode=ljaUPp

DigiFinex Team
July 6th, 2023

DigiFinex communities
Telegram Activity Airdrop:https://t.me/DigiFinexAirdrop365
Telegram Official Community:https://t.me/DigiFinexEN
Telegram AMA Community: https://t.me/DigiFinexAMA
Official Twitter: https://twitter.com/digifinex
Official Facebook:https://www.facebook.com/digifinex.global
Official Instagram:https://www.instagram.com/digifinex.global
Official Medium: https://medium.com/@digifinex
Official Reddit: https://www.reddit.com/user/DigiFinex/

DigiFinex (digifinex.com) DIGIFINEX LIMITED reserves all rights of this event, including but not limited to adjustment, explanation, and termination at any time.