Dear users:
Isolated margin mode is now launched in DigiFinex futures. All users can set the margin mode to isolated/cross mode.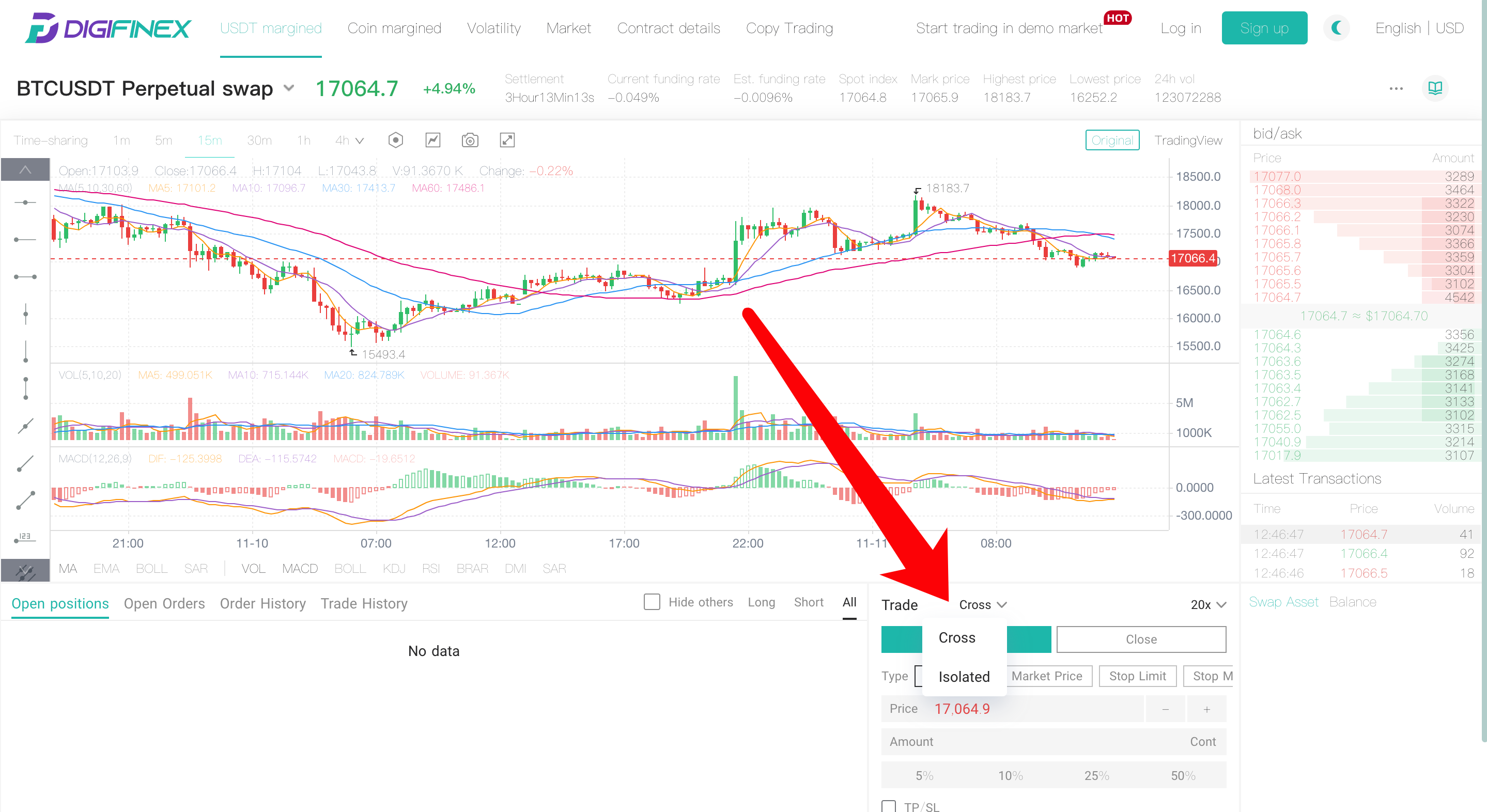 Tutorial: Swap Margin Mode: Isolated/Cross
Experiencing Isolated Margin Mode, Share 10,000 USDT Bonus
Event time: November 11, 2022, 12:00 to November 18, 2022, 11:59 (UTC+8)
Qualification: During the event, complete two isolated margin mode open orders with at least 1,000 USDT trading volume per order.
Instructions:
1. Log in to the DigiFinex swaps. If you do not have a DigiFinex swap account, please click
here to register.
2. Go to Swap Trading, select any USDT swap trading pair, set to isolated margin trading mode and place an open order.
Dynamic Rewards Pool:
The dynamic rewards pool goes up to 10,000 USDT bonus, depending on the number of eligible participants who complete two isolated margin mode open orders with at least 1,000 USDT trading volume per order during the Activity Period.

All eligible participants will qualify to receive an equal share of the corresponding dynamic rewards pool unlocked.
| | |
| --- | --- |
| Number of Eligible Participants | Rewards Pool (USDT Bonus ) |
| ≤ 200 | 1,000 |
| 201 - 500 | 2,000 |
| 501 - 1,000 | 5,000 |
| 1,001 - 2,000 | 8,000 |
| > 2,000 | 10,000 |
Terms & Conditions
The bonus can be used as margin for derivatives trading. The bonus can be deducted for handling fees and trading losses. The bonus cannot be withdrawn, but the income generated by using the bonus for trading can be withdrawn. Please note that any withdrawals will result in bonus to be cleared totally.

Event rewards will be issued within three working days after the event ends.

DigiFinex reserves the right to disqualify trades that are deemed to be wash trades or illegally bulk registered accounts, as well as trades that display attributes of self-dealing or market manipulation.

DigiFinex reserves the right at any time in its sole and absolute discretion to determine and/or amend or vary these terms and conditions without prior notice, including but not limited to canceling, extending, terminating or suspending this Promotion, the eligibility terms and criteria, the selection and number of winners, and the timing of any act to be done, and all Participants shall be bound by these amendments.