1. Isolated and Cross Margin Mode
Isolated Margin Mode: A mode that allocates a certain amount of margin to a position.
Cross Margin Mode: A margin model that uses all available balance in the account for the position.
Isolated
Cross
Diffs
A limited amount of margin will be allocated to a position.
All available balance in account shall be used as margin.
Independent margins will be applied to each position respectively. Profits and losses will not affect each other.
Margin will be shared for all positions. Profit and loss can be hedged between multiple swaps.
Only the margin of related position will be affected, if liquidation is triggered.
All balance in the account will be lost if liquidation is triggered.
Pros
Margin is isolated, which limits losses to a certain range. Suitable for more volatile and high leverage ratio situations.
Profit and loss can be hedged between multiple swaps, reducing margin requirements and increasing capital utilization.
2. How to update
Website: https://www.digifinex.com/en-ww/swap/BTCUSDTPERP
Mobile Applications:
1. Android: Already updated;
For all users who cannot update the application, please click the "isolated" icon on the home page to experience the new function.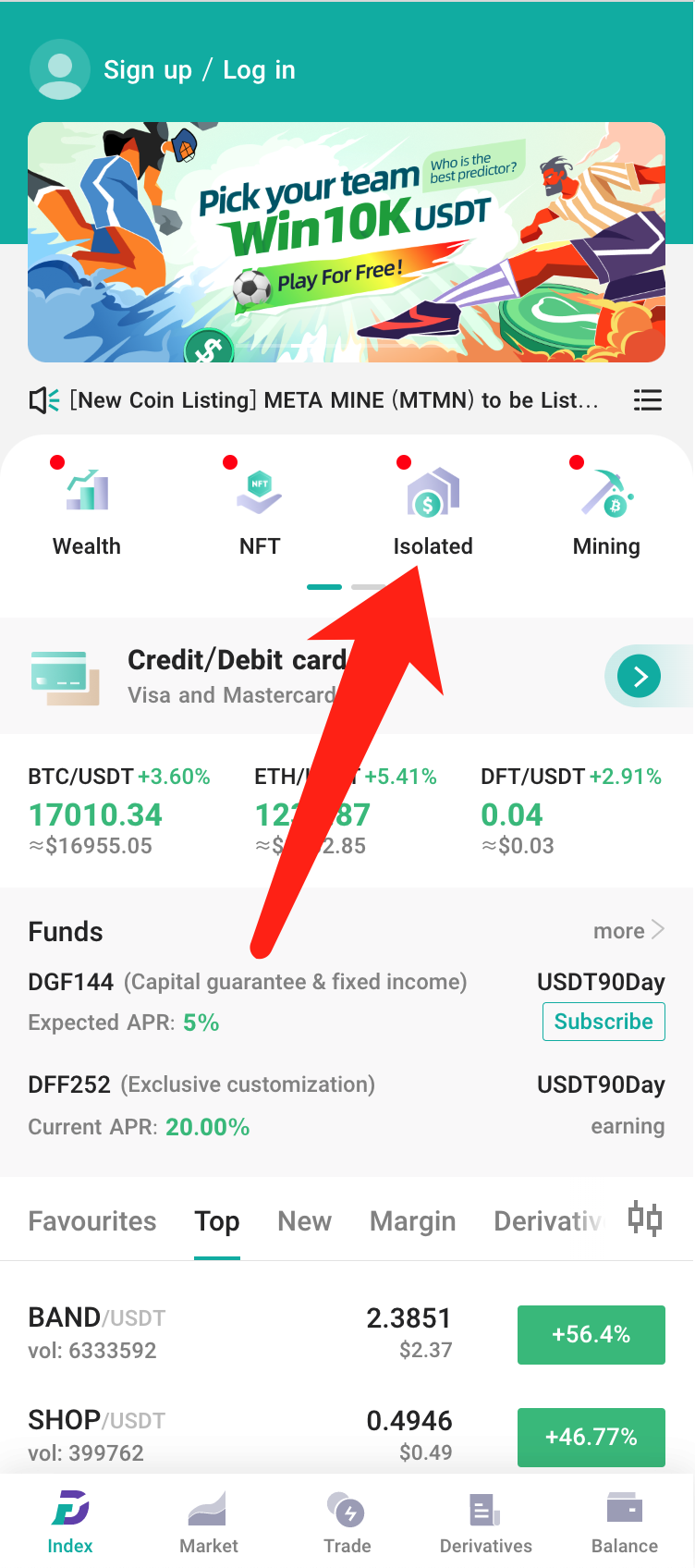 3. How to switch margin mode
3.1 Go to swap trading page, choose isolated or cross margin mode in the area for placing orders.
3.2 In isolated margin mode, different leverage ratios can be applied to both longs and shorts.
Note:
All swaps and positions are defaultly set as "Cross Margin Mode".

Modification of margin mode will ONLY be applied to the current swap trading pair.

Please double check your margin mode before you placing an order.

Modification of margin mode will not be available, if there is any order or position in the trading pair you choose currently.

In cross margin mode, your margin will only be shared by assets of the same kind. Eg. In cross margin mode, USDT in your swap account can be applied to all kinds of USDT-M swaps. BTC can only be applied to BTC-M perpetual swaps.
4. How to adjust margins in isolated margin mode
4-1. In isolated mode, you can click "Edit" sign on "Position" page to adjust the margin you allocate to the current position.
4-2. Choose the margin you want to add or remove and click "Confirm"