Dear users,
DigiFinex will launch the Net Purchase Competition and Staking event of FESS on May 10th at 16:00 (GMT+8). The specific rules are as follows:
Event time: May 10, 2021 16:00 (GMT+8) - May 23, 2021 16:00 (GMT+8)
Reward distribution: rewards will be distributed in 7 working days after this event ends
Event 1: 50% fees rebate
During this event, users who newly registered using the official referral code of FESS: AVIjaH and trade FESS/USDT can have a 50% rebate of fees. Each person can get up to 10 USDT;
Official referral link: https://www.digifinex.com/en-ww/from/AVIjaH?channelCode=ljaUPp
Event 2: Net Purchase Competition
Rules:
1.During this event, users whose net purchase (Net purchase = amount purchased - amount sold) amount of FESS rank the top 25 and meet the the following requirements and share 8,000,000 FESS (Worth about $25,000).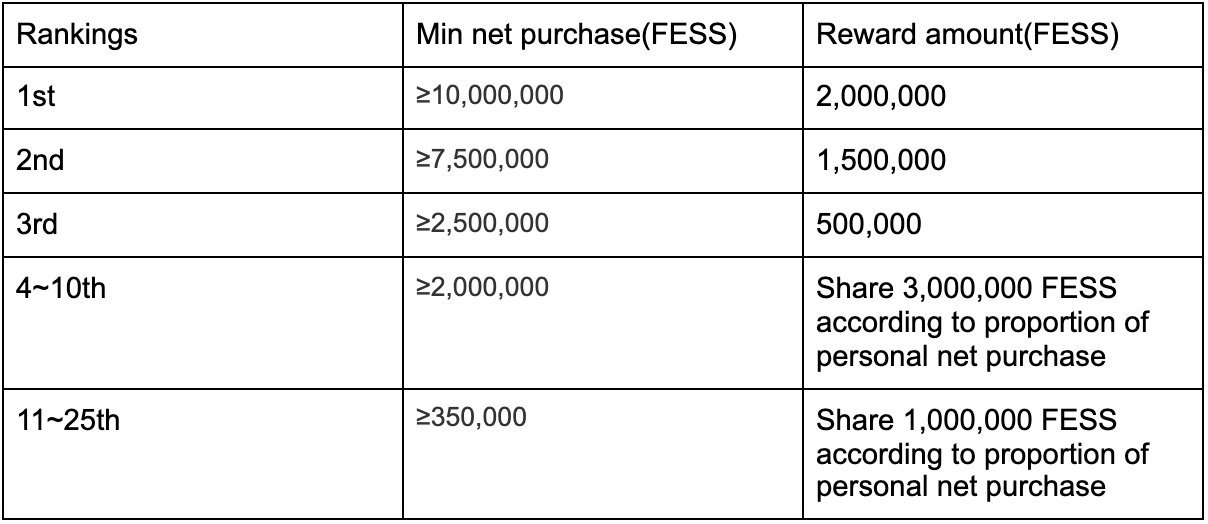 2.During this event, users who are engaged in faking volume, bulk registration, self-transaction or matched orders will be disqualified from this event.
Event 3: Staking FESS to share 3,000,000 FESS
During this event, we will set 3,000,000 FESS(Worth about $10,000) in candy box and users can get interest by locking FESS. Rewards will be distributed on a first come, first served basis.

Reward calculation: Reward of each user = personal locked FESS amount * days of locking * 0.25%
For instance, if you lock 3000 FESS in the candy box for 120 days, you will be rewarded with 900 FESS at last.
Guide: Login DigiFinex App -> Homepage -> Candy Box -> enter lock amount -> claim staking reward
Thank you for your support!
DigiFinex Team
8th May 2021
DigiFinex communities:
Telegram Group:https://t.me/DigiFinexcn
Telegram Official Community:https://t.me/DigiFinexEN
Official twitter:https://twitter.com/digifinex
Official Medium:https://medium.com/@digifinex
Official Reddit:https://www.reddit.com/user/DigiFinex/
Official Kakaotalk Group: https://open.kakao.com/o/gEGFa7uc
DigiFinex (digifinex.com)DIGIFINEX LIMITED. reserves all rights of this event, including but not limited to adjustment, explanation and termination at any time.