Dear users,
The 8th AMA will be hosted next Thursday, October 15th! In this episode, we have invited the Statera (STA) community member and CEO of xBTC, Mark Sgambelluri, to discuss with us both his daily job to reinvent synthetic assets through rebasing at xBTC, while being a strong community advocate for decentralized, autonomous, and asset based cryptocurrencies like the Statera project.
# Guest Introduction
Mark Sgambelluri
Statera Community Member & xBTC CEO
Mark is the CEO of xBTC and an avid digital asset evangelist. He has been a strong supporter in the Statera community and provided much of the structure and content for the Statera Whitepaper and community content. He has consulted with multiple other projects on their litepapers and whitepapers, supporting projects on their journey from half a million to 30 million in market cap. Though his "day job" is reinventing synthetic assets through rebasing at xBTC, he continues to be a strong community advocate for decentralized, autonomous, and asset based cryptocurrencies like Statera.

# About Statera Token (STA https://stateratoken.com/)
Statera (STA) is a smart contract powered Indexed Deflationary Token (IDT), which synergizes with an independent and community driven portfolio of class-leading cryptocurrencies.
Every trade for Statera creates an arbitrage opportunity. Trading attracts liquidity, which in-turn attracts trading. Liquidity ripples and the supply of Statera decreases.
Live Date and Time: 15 October 2020, Thursday 11:00 SGT
Join Webinar: https://zoom.us/j/99481220051
Ticket Registration: https://www.eventbrite.hk/e/124516759981
Watch Facebook Live: https://www.facebook.com/digifinex.global/
# Live Activity Rewards
Period: October 09 18:00 - October 15 10:00(GMT+8)

Share and tag: Share our event post and tag @DigiFinex on Twitter and Facebook.

Submit your screenshots here

with your DigiFinex UID to our Customer Service team to earn a worth of

$0.5 USDT

. Giveaways are on a first come first served basis.

Red Packet Airdrop to Communities: Two packages with a total worth of

$100

USDT tokens will be air dropped at our

Telegram communities

via DigiFinex App during the Live session.

Raise Questions during Live AMA: The chosen audience who raised questions during the interactive live Q&A session will be rewarded with a total worth of

$3 USDT

respectively. Each user will be rewarded once only.
PS: Rewards will be deposited to the respective users' accounts within 7 working days after the event has ended. All users would NEED to complete a compulsory KYC procedure, before collecting rewards within 5 days. Any user who has expired this timeframe would be seen as giving up the reward.
Live Poster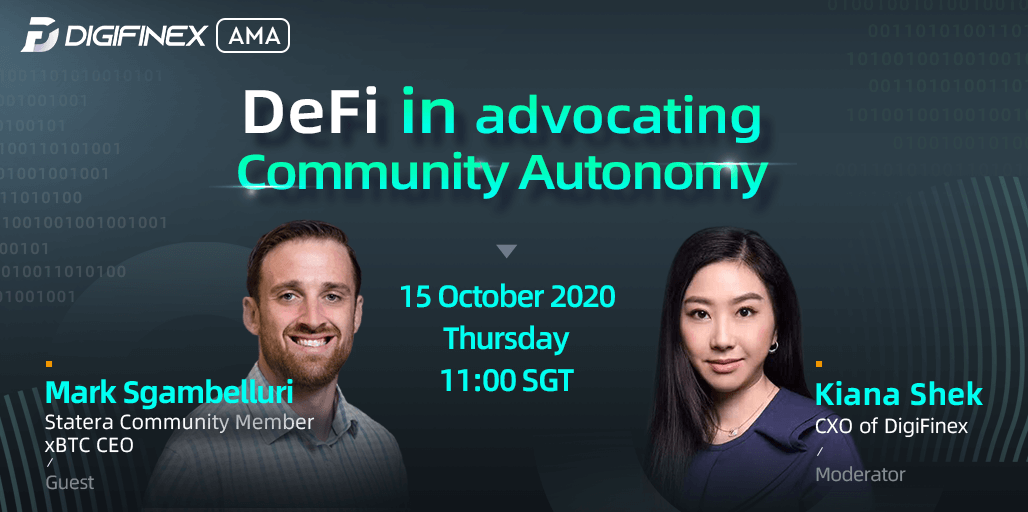 Thank you for your support!
DigiFinex Team
09 October 2020
DigiFinex communities:
Telegram Official Community:https://t.me/DigiFinexEN
Official twitter:https://twitter.com/digifinex
Official Medium:https://medium.com/@digifinex
Official Reddit:https://www.reddit.com/user/DigiFinex/
Official Kakao:https://open.kakao.com/o/giKpLDsb
DigiFinex (digifinex.com)DIGIFINEX LIMITED. reserves all rights of this event, including but not limited to adjustment, explanation and termination at any time.