Dear users,
Our long awaited upcoming AMA is happening on the 31st of August! This time we have invited the CEO of the Sydney Stock Exchange (SSX), Michael Go, to share with us his new strategies for SSX, and open up his point of view as an executive board member on traditional financial industry, in the future of cryptocurrency, blockchain industry's influence on traditional finance, as well as potential risks and challenges regarding the recent hot topic - DeFi Market.
Guest Introduction
Michael Go, CEO of Sydney Stock Exchange
Michael Go is currently the CEO of the Sydney Stock Exchange and has broad experience working in the international financial markets. He is familiar with the challenges and opportunities presented by Australia's financial services, and the changing technology and business models. He has also been involved in start-ups and high growth businesses challenging traditional models.
Prior to SSX, Michael was Head of Trading, in the Asia Pacific market for Thomson Reuters. Previously he was the Global Managing Director and appointed in C-Suite roles overseeing the Operating and Growth strategies of major Global and Domestic Banks with responsibility for developed and emerging markets internationally.
Michael is also involved in several start-ups in the Digital, Financial, Clean Energy, Payments, Agricultural Technology and Fund segments, with an emphasis on supporting the development of the next generation of financial services.
About Sydney Stock Exchange (SSX, www.ssx.sydney)
SSX is the Primary Stock Exchange of Australia. Looking to expand market capacity, SSX has been exploring enterprises in the Asia Pacific with a brand new, flexible plan.
As an exchange centre, SSX offers a competitive platform and exclusive products to its users. Other than companies with high economic growth, SSX also provides unique listed products including properties, pooled investment, fixed interest, bringing variance for Institutional and retail portfolios.
Live Date and Time: 31 August 2020, Monday 15:00 SGT
Join Webinar: https://zoom.us/j/98693782451
Ticket Registration: https://www.eventbrite.hk/e/117216811639
Watch Facebook Live: https://www.facebook.com/digifinex.global/
Live Activity Rewards
Period: August 21 12:00 - August 31 14:00(GMT+8)
Share and tag: Share our event post and tag @DigiFinex on Twitter and Facebook. Submit your screenshots here with your DigiFinex UID to our Customer Service team to earn a worth of $0.4 USDT. Giveaways are on a first come first served basis.

Red Packet Airdrop to Communities: Two packages with a total worth of $100 USDT tokens will be air dropped at our

Telegram communities

via DigiFinex App during the Live session.

Raise Questions during Live AMA: The 6 chosen audience who raised questions during the interactive live Q&A session will be rewarded with a total worth of $3 USDT respectively. Each user will be rewarded once only.
PS: Rewards will be deposited to the respective users' accounts within 7 working days after the event has ended. All users would need to complete a KYC procedure before collecting rewards within 5 days. Any user who has expired this timeframe would be seen as giving up the reward.
Live Poster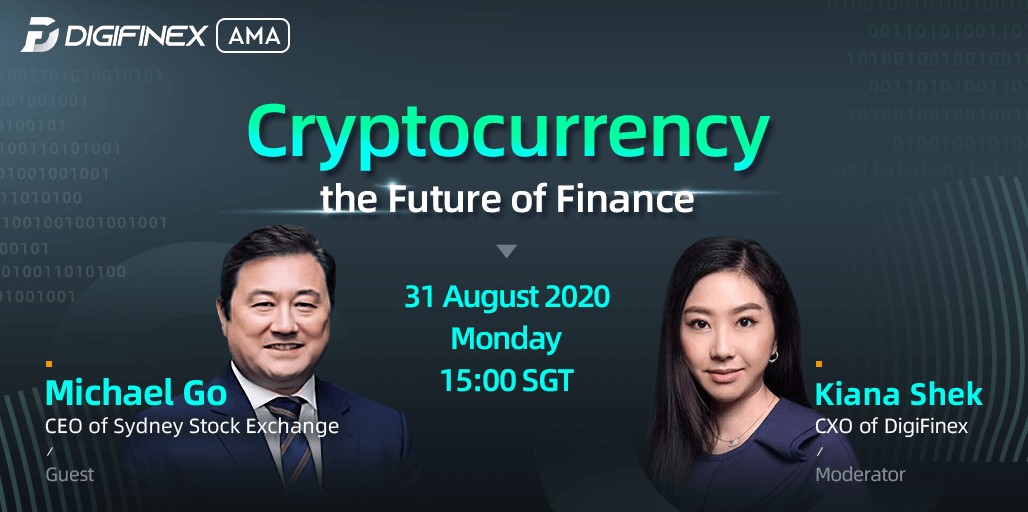 Thank you for your support!
DigiFinex Team
24 August D 2020
Join our groups!
Telegram Official Community:https://t.me/DigiFinexEN
Official twitter:https://twitter.com/digifinex
Official Medium:https://medium.com/@digifinex
Official Reddit:https://www.reddit.com/user/DigiFinex/
DigiFinex (digifinex.com)DIGIFINEX LIMITED. reserves all rights of this event, including but not limited to adjustment, explanation and termination at any time.