Dear users:
DigiFinex and MDT will co-initiate crypto giveaway activity for new users during July 2 00:00 - July 12 23:59 (GMT+8). Users who register in DigiFinex (KYC required) and MailTime during this time can share 200,000 MDT. Details are as follows:
Rules:
Follow the official Twitter account of DigiFinex and MDT.
DigiFinex https://twitter.com/digifinex
MDT https://twitter.com/MeasurableData
Forward activity poster and @MeasurableData @DigiFinex.

Download Mailtime and DigiFinex APP and register (login required to collect rewards).
Mailtime APP: https://mailtime.app.link/c3xI8kd1V6
DigiFinex APP: https://www.digifinex.com/en-ww/download
Fill in the form:

https://forms.gle/PGwPFVSA1re6r4m9A

. Submit DigiFinex account UID (KYC required) + Email address used to register in MDT + Screenshot of forwarding poster.
Activity rewards:
100 MDT reward for finishing this activity tasks.

Limited offer of 200,000 MDT to share. First come, first served.

The first 10 winners of reward 1 can get a random share of 50,000 MDT (equal to 500 USD)!
Activity period: July 2, 2020 - July 12, 23:59 (GMT+8)
Activity poster: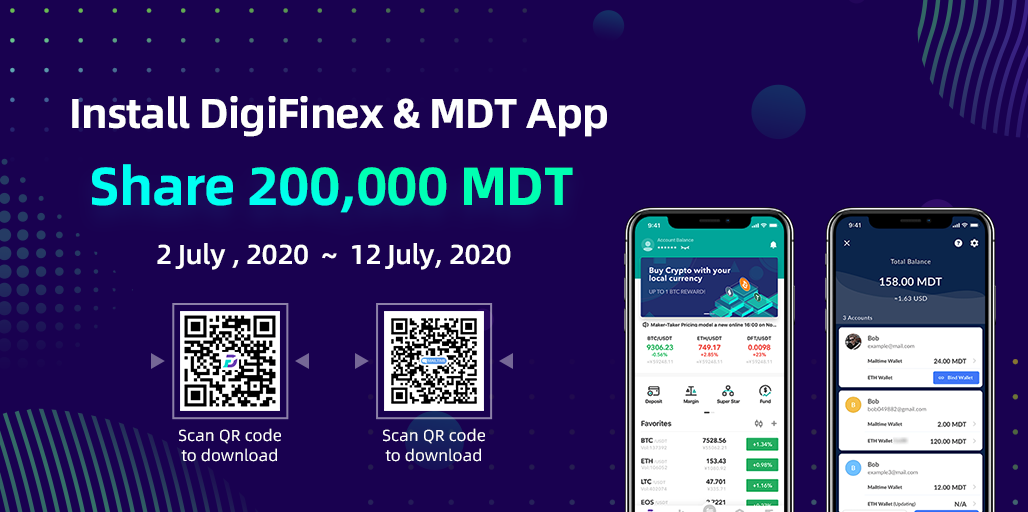 Thank you for your support!
DigiFinex Team
2th July, 2020
DigiFinex communities:
Telegram Official Community:https://t.me/DigiFinexEN
Twitter:https://twitter.com/digifinex
Facebook:https://twitter.com/digifinex
Instagram:https://twitter.com/digifinex
Medium:https://medium.com/@digifinex
Reddit:https://www.reddit.com/user/DigiFinex/
Kakao:https://open.kakao.com/o/giKpLDsb
DigiFinex (digifinex.com) DIGIFINEX LIMITED. reserves all rights of this event, including but not limited to adjustment, explanation, and termination at any time.