Dear users,
Our crypto industry is still in its early stages where most world's money is still in fiat. To accelerate the adoption, there is a need to build a fiat gateway to grow our ecosystem and to increase adoption. It is critical to make the introduction easy and fast with the credit card payments as this allows us to immediately bridge the gap between credit card payments and crypto for traders globally.
AMA Guest: Nimrod Lehavi, CEO of Simplex
About Nimrod
Serial entrepreneur, tech, maker, geek, crypto head.
Nimrod's career spans over more than two decades of entrepreneurship and management experience. His reputation precedes him in the startup scene and blockchain community for his vision, leadership and proven ability to innovate and scale as well as his no BS mentality.
About Simplex
Simplex is an EU licensed fintech company that provides worldwide fraud-free payment processing. With a proven track record in high fraud markets, Simplex's technology enables merchants, marketplaces and crypto platforms to process online payments with complete fraud protection and chargeback coverage.
Live Time: 4 June 2020 20:00 (GMT+8) | 15:00 (GMT+3)
Ticket registration: https://digifinex-ama-simplex.eventbrite.hk
Activity Rewards
Engage with us as follows to earn USDT+DFT candy airdrop.
1. Raise Questions during Live AMA: The 5 users who raises a question that is selected by our moderator during the Live Q&A session will be rewarded with the worth of $5 USD (USDT+DFT). Each user will be rewarded once only.
2. Stay live with us on Zoom:
Follow us on Telegram AMA community and Twitter.

Quote a statement by Nimrod that inspires you during our AMA Live on your Twitter.

Tag @DigiFinex and your buddies with Zoom live link:

https://bit.ly/2AbpIxg

Top 5 users with most RT and likes win $5 USD (USDT+DFT). Counting ends at 23:59 GMT +8 on June 4, 2020.
3. Share and tag: Share the event post and @DigiFinex on Twitter and Instagram. Send screenshots with your DigiFinex UID to our Customer Service (Telegram: @brandietai) to earn the worth of $0.3 USD (USDT+DFT). Each use can be rewarded once only.
4. Candy Airdrop to Communities: a worth of $40 USD (USDT+DFT) will be airdropped at our Telegram communities via DigiFinex App during the Live session.
Reserve a ticket (https://roger-ama-digifinex-2020.eventbrite.hk) and join our Telegram community (https://t.me/DigiFinexAMA) in advance.
5. DigiFinex Waives 1% from Credit Card Fee for Crypto Purchases: to show our support to make crypto easier for all our users, we are waiving 1% of the credit card fee for crypto purchases for all users. Available from 4th June 2020 20:00 GMT+8 to 30th Jun 2020 23:59 GMT+8.
To receive the rewards from above activities, install and register at DigiFinex App:
Apple Store: https://apple.co/2LkQqWK
Google Play: https://bit.ly/2yJEomQ
Reward Deposit: Rewards will be deposited to the respective users' accounts within 7 working days after this event.
Live posters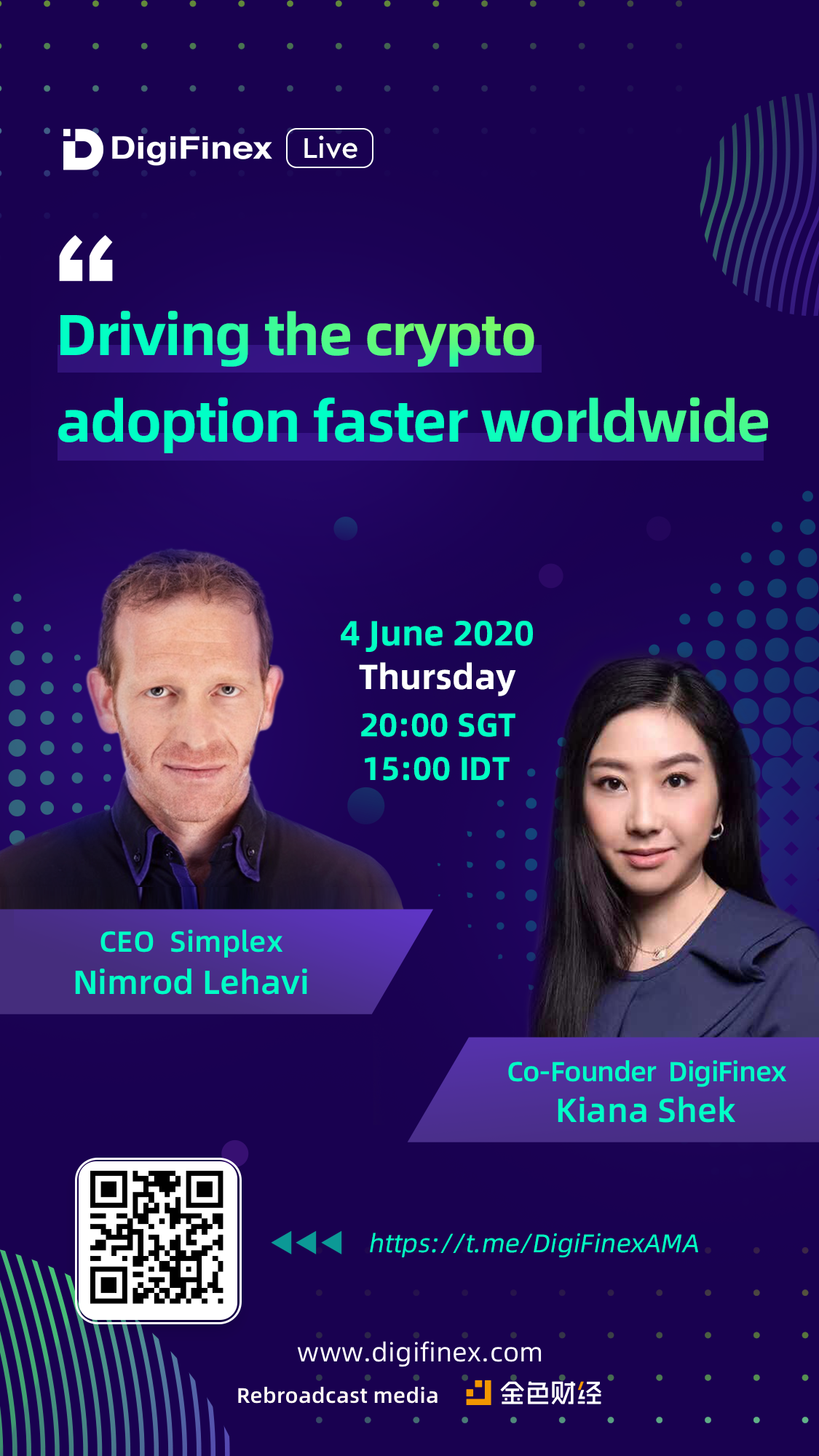 Thank you for your support!
DigiFinex Team
May 28, 2020
DigiFinex communities:
Telegram Official Community: https://t.me/DigiFinexEN
Telegram AMA Community: https://t.me/DigiFinexAMA
Twitter: https://twitter.com/digifinex
Instagram: https://www.instagram.com/digifinex.global/
Facebook: https://www.facebook.com/digifinex.global/
Medium: https://medium.com/@digifinex
Reddit: https://www.reddit.com/user/DigiFinex/
Official Kakao: https://open.kakao.com/o/giKpLDsb
DigiFinex (digifinex.com) DIGIFINEX LIMITED. reserves all rights of this event, including but not limited to adjustment, explanation, and termination at any time.