Dear users,
We believe that community support is crucial for the development of blockchain projects. In order to provide better opportunities for community-based projects, the 14th Round of Community Vote Listing is now open for voting!
Event duration: 19 May 2020 - 24 May 2020 (Please refer to the "vote to list" event page for detailed start & end time)
How to get your tokens listed:
Tokens will be voted by community users and ranked according to the number of votes. The top 3 tokens will be listed for this round.
1st Place: Project enjoys free listing and may choose to trade in any market of choice.
2nd Place: Project may choose to trade in any market of choice after freezing 10,000DFT as margin.
3rd Place: Project may choose to trade in any market of choice after freezing 20,000DFT as margin.
NOTE: The margin DFT will be frozen in the project's own account. If the project token price does not fall below the listing price within the first month, then from the second month onwards, 25% of the margin will be unfrozen each month. The top 3 most upvoted tokens must ensure that its points remains above 3000,000.
How to earn points:
Projects tokens can earn points through 2 ways - DFT up votes & points accumulation:
1. Up votes with DFT
One DFT corresponds to a different amount of points based on the user's status. For each up vote cast by a user, points will be added to the project token accordingly.

1. To qualify as an eligible voter, each user needs to have ≥100 usable DFT.
2. Each user can vote up to a maximum of 1,000 DFT.
3. DFT that are cast as votes will be frozen during the course of the event, and will be returned to the users 3 working days after the voting has ended.
2. Points accumulation via project referral links:
Project tokens can also earn points when users register through the project referral link and complete either of the following action: real-name verification, make a deposit, or trade.
Each action corresponds to a different amount of points, and users who have completed real-name verification will get more points for the same action.

1. Each user can only accumulate a maximum of 10,000 points with real-name verification, and a maximum of 20,000 points with deposit.
2. Trade points can be accumulated daily, and each user have one chance per day.
3. The maximum amount of trade points that can be accumulated for the entire event is capped at 20,000 points per user.
4. The 3 options - real-name verification, trade, and deposit can be done in any order.
5. If the project team has multiple secondary accounts and chose to vote for themselves with all of them, only points from the first vote will be considered.
How will my points get deducted?
1. Down votes with DFT:
One DFT corresponds to a different amount of points based on the user's status. For each down vote cast by a user, the points will be deducted from the project token accordingly.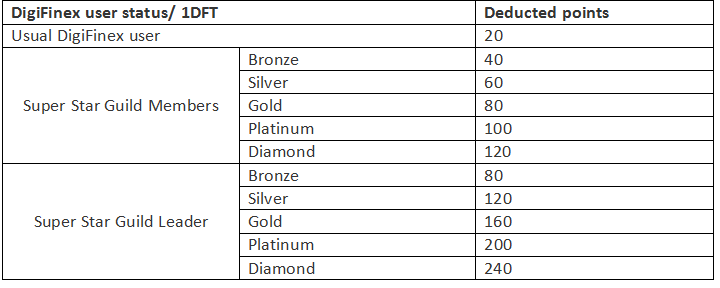 NOTE: To prevent malicious down vote attempts, DFT that are used for down votes will be deducted immediately and will not be returned.
2. Points deduction due to cheating:
We do not condone cheating of any kind, including digital manipulation and exploitation. The voting system is monitored constantly, and any points obtained through illegitimate practices will be deducted immediately.
How to calculate total points for each token?
Project tokens will be ranked by the total points from highest to lowest.
Total points = DFT up votes + Accumulated points - DFT down votes - Illegitimate points
Points transfer & clearance:
Starting from Community Token Listing Round 13 onwards, project teams that are not eligible for token listing can deal with their points as such:
1. If the team is ranked top 10 & if their total points ≥ 1,000,000: the points can be carried over to the next round (if the rules and regulations are not subjected to major adjustments).
2. If the team's total points < 1,000,000: Only points gained through the promotional links can be carried over (points gained via DFT upvotes will be cleared).
If the project team decides to withdraw from the event, all the points will be cleared.
Participation eligibility & disqualification:
If the registered project shows no signs of action 3 days after the event starts, then DigiFinex reserves the right to keep or disqualify the project's participating rights on a case by case basis.
When the event ends, DigiFinex will contact the eligible project teams according to their rankings in the current round.
Thank you for your support!
DigiFinex Team
16 May 2020
DigiFinex communities:
Telegram Group: https://t.me/DigiFinexcn
Telegram Official Community: https://t.me/DigiFinexEN
Official twitter: https://twitter.com/digifinex
Official Medium: https://medium.com/@digifinex
Official Reddit: https://www.reddit.com/user/DigiFinex/
Official Kakao: https://open.kakao.com/o/giKpLDsb
DigiFinex (digifinex.com) DIGIFINEX LIMITED. reserves all rights of this event, including but not limited to adjustment, explanation, and termination at any time.