Dear users,
2020 would be the year of halving with supplies of 8 mainstream cryptocurrencies. To help you explore the intricate market, we have invited Roger Ver, one of the top names in this industry, to share his marketing insights regarding the performance of the popular cryptocurrencies such as BTC and BCH after halving.
First Live theme: Beyond the hype: 'BCH soaring to $1K, resulted by halving.' Roger Ver, aka Bitcoin Jesus, explores.
About Roger:
Roger Ver, a.k.a. Bitcoin Jesus.
After founding several successful companies in Silicon Valley, Roger began his Bitcoin journey in February 2011. Years before traditional venture capital firms became involved, he became the first person in the world to start investing in Bitcoin- related startups, and nearly single-handedly funded the entire first generation of Bitcoin businesses.
His current investments include Bitcoin, Blockchain, BitPay, Kraken FX, and many others. In his free time, he enjoys competing in Brazilian Jujitsu tournaments.
Live Time: 14 May 2020 20:00 (GMT+8)
Live Link: https://zoom.us/j/99516734300
Activity Rewards
Engage with us as follows to earn the worth of $150 USD BCH and DFT.
Raise Questions during Live AMA:The selected 3 users who raised a question during the Live Q&A session will be rewarded with the worth of $5 USD (BCH+DFT) each use.
Candy Airdrop to Communities:a worth of $60 USD (BCH+DFT) will be airdropped at our Telegram communities (whichever exceeds 200 members) via DigiFinex App during the Live session. Reserve a ticket (https://roger-ama-digifinex-2020.eventbrite.hk) and join our Telegram community (https://t.me/DigiFinexAMA) in advance.
To Join the Airdrop Activity, install and register at DigiFinex App:
Apple Store: https://apple.co/2LkQqWK
Google Play: https://bit.ly/2yJEomQ
Share and Tag:Share the event post and @DigiFinex on LinkedIn or Twitter. Send screenshots with your DigiFinex UID to our Customer Service (Telegram: @brandietai) to earn the worth of $0.3 USD (BCH+DFT). Each use can be rewarded once only.
BCH halving activity:DigiFinex will halve the fees of all BCH transactions from now until May 20.
Rewards Distribution: Rewards will be deposited to the respective users' accounts within 7 working days after this event.
Live posters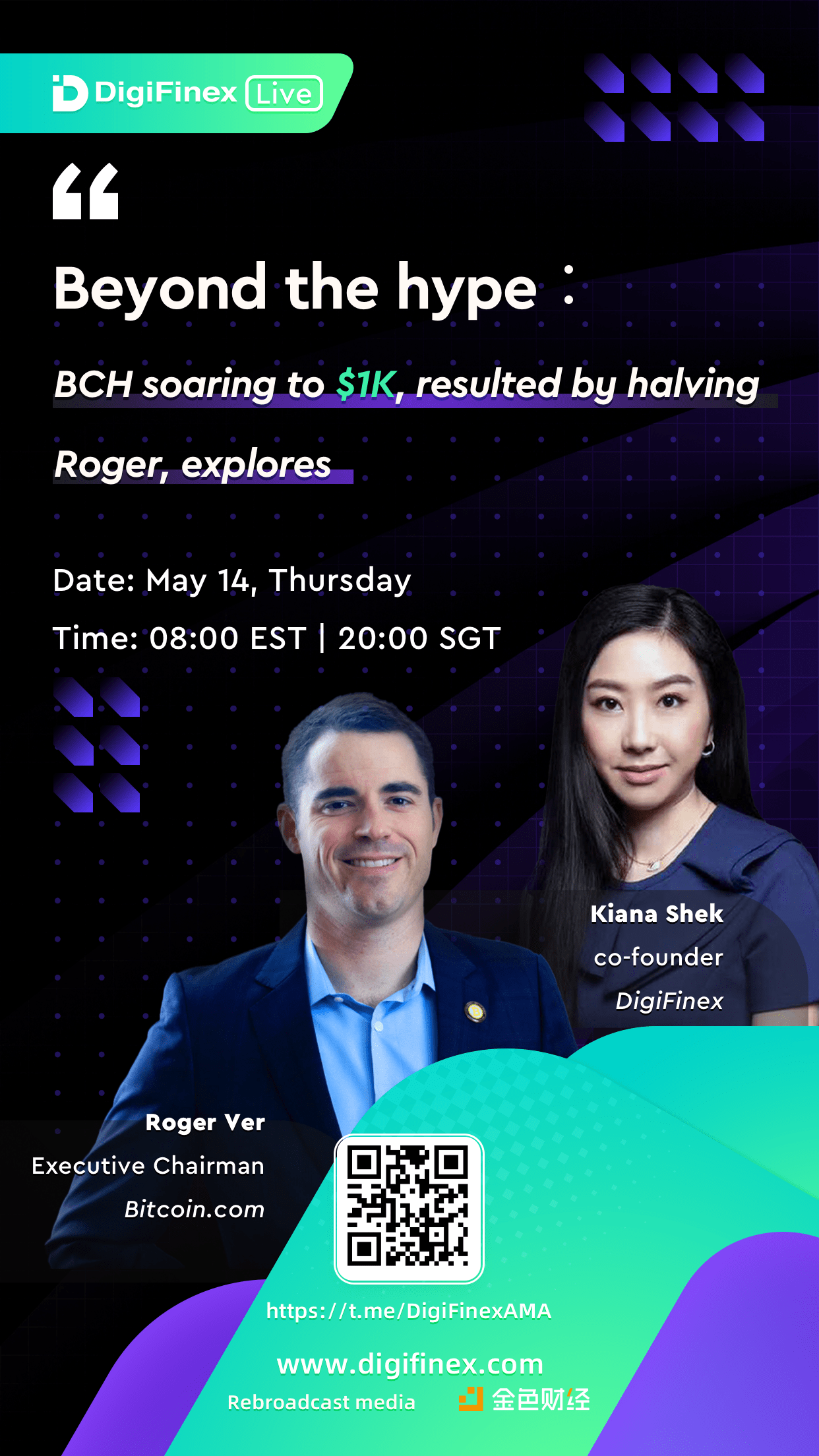 Communities for English rebroadcast: https://t.me/DigiFinexAMA
Thank you for your support!
DigiFinex Team
May 12, 2020