Dear Users:
Since the margin trading function has been launched, it has won the support of a large number of users. In order to thank users for their support to this competition, the DigiFinex platform will launch the activity of"share your yield rate to get DFT rewards".
1.When does it start:
May 6, 2020 10:00 (GMT + 8)-May 18, 2020 23:59 (GMT + 8)
2.How is it played:
During the event, users can save the poster to share it to moments of WeChat or cypto-currency related community (greater than 200 people) and upload the screenshots to the collection form.
After that, you can receive 1DFT for each shared screenshot with 5DFT at maximum for each user. There is only 1000DFT in total. First come first served
Guide for sharing: (The APP version should be updated to 20200428)
Method 1:Homepage ->exchange ->Margin ->Positions ->Share ->Save Image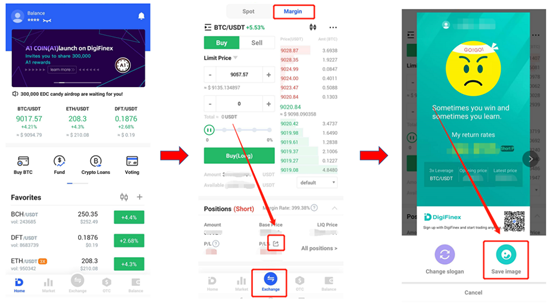 Method 2:Homepage ->Top Left Head Icon ->My Positions ->Share the rates ->Save Image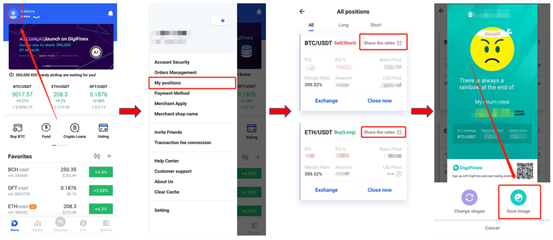 Form to upload you screenshots:
https://forms.gle/Vk6FF8TZukAKKJRT7
Registration form for Margin trading competition:
https://forms.gle/xNhoDzdT2qY9eBj1A
3.How are rewards distributed:
The parent account that has passed the real-name authentication of the DigiFinex platform can receive the above rewards. The event rewards will be distributed to the account within 7 days after the event ends.
Thank you for your support!
DigiFinex Team
6 May 2020
DigiFinex communities:
Telegram Official Community:https://t.me/DigiFinexEN
Official Twitter:https://twitter.com/digifinex
Official Facebook:https://twitter.com/digifinex
Official Instagram:https://twitter.com/digifinex
Official Medium:https://medium.com/@digifinex
Official Reddit:https://www.reddit.com/user/DigiFinex/
Official Kakao:https://open.kakao.com/o/giKpLDsb
DigiFinex exchange (digifinex.com) DigiFinex LIMITED. reserves the rights to adjust and the final interpretation of this activity at any time.