Dear Users:
Homeros (HMR) has been officially launched in DigiFinex on February 26, 2020 .To celebrate, we will be air-dropping 20,500 HMR at 10:00 (GMT+8) on March 10, 2020 candies!The specific rules are as follows:
Details as follows:
Activity time: 10th Mar 2020, 10:00 – 17th Mar 2020, 10:00(GMT+8)
Rewards will be given out within 5 business days after event end
HMR trade reward
A、During the event, users' HMR net purchase amount ≥500 and the top 100 will receive the following rewards.(Net purchase amount =purchased - sold - withdrawn)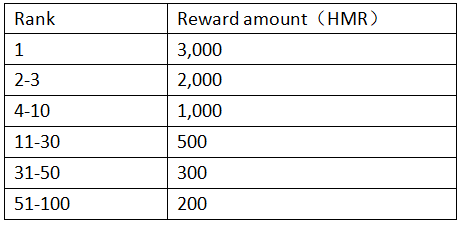 B、 During the event, users will receive 5 HMR rewards for participating in the HMR trade,total 10,000 HMR reward, first come first served.
HMR official website:https://homerosnet.com/
HMR trade pair:HMR/USDT、HMR/ETH、HMR/BTC
Thank you for your support.
DigiFinex Team
09th Mar 2020
DigiFinex communities:
Telegram Group:https://t.me/DigiFinexcn
Telegram Official Community:https://t.me/DigiFinexEN
Official twitter:https://twitter.com/digifinex
Official Medium:https://medium.com/@digifinex
Official Reddit:https://www.reddit.com/user/DigiFinex/
Official Kakao:https://open.kakao.com/o/giKpLDsb
DigiFinex (digifinex.com)DIGIFINEX LIMITED. reserves all rights of this event, including but not limited to adjustment, explanation, and termination at any time.