Dear users,
Playfuel (PLF) has been launched officially on 27 Dec 2019, 16:00 (GMT+8) on DigiFinex, with the following trading pairs: PLF/USDT, PLF/BTC, PLF/ETH. We will be having a New Year celebration with Playfuel and airdrop 30,000PLF candies from 03 Jan 2020, 10:00 (GMT+8) onwards!
Event period: 03 Jan 2020, 10:00 (GMT+8) - 13 Jan 2020, 10:00 (GMT+8)
Airdropped tokens will be released to your account within 5 working days after the event has ended.
PLF net purchase reward
During the event, users' PLF net pruchase amount≥500 and on the top 40 will receive the following rewards.(Net purchase amount =purchased - sold - withdrawn)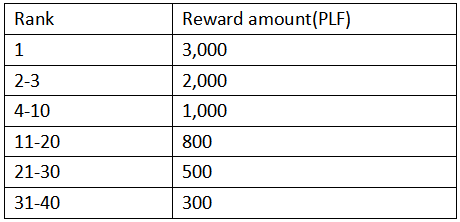 PLF official website:https://playfuel.io/
Thanks for your support!
DigiFinex team
02nd Jan 2020
DigiFinex communities:
Telegram Group:https://t.me/DigiFinexcn
Telegram Official Community:https://t.me/DigiFinexEN
Official twitter:https://twitter.com/digifinex
Official Medium:https://medium.com/@digifinex
Official Reddit:https://www.reddit.com/user/DigiFinex/
Official Kakao:https://open.kakao.com/o/giKpLDsb
DigiFinex (digifinex.com)DIGIFINEX LIMITED. reserves all rights of this event, including but not limited to adjustment, explanation and termination at any time.