Dear users,
As the second part of our 2-year anniversary celebration, we would like to share 2222 USDTwith all of you, while sharing a bit about ourselves through a pop quiz!
Event time: 17 December 2019, 10:00 (GMT+8) - 24 December 2019, 23:59 (GMT+8)
How to take part:
Step 1: Click on the quiz link that will be sent to our Telegram group and all social media platforms.
Step 2: Prove that you're a true #DigiFinexFan and rock those questions!
Step 3: If you get all questions correct, you can login to share 2222 USDT!
Step 4: If you share your achievements with your friends on Facebook/ Twitter/ Instagram, your rewards will be DOUBLED!
NOTE: After you have shared the quiz link on your social media, rewards will be doubled only when the shared link has been opened.
JOIN our Telegram NOW if you haven't: https://t.me/DigiFinexEN
Follow us on Facebook (@digifinex.global), Twitter (@Digifinex), and Instagram (@digifinex.global) to receive the quiz link ASAP!
Terms & Conditions:
1. Only users who have done real-name verification can receive the event prizes.
2. Prizes will be released to the users' accounts 3 working days after the event has ended.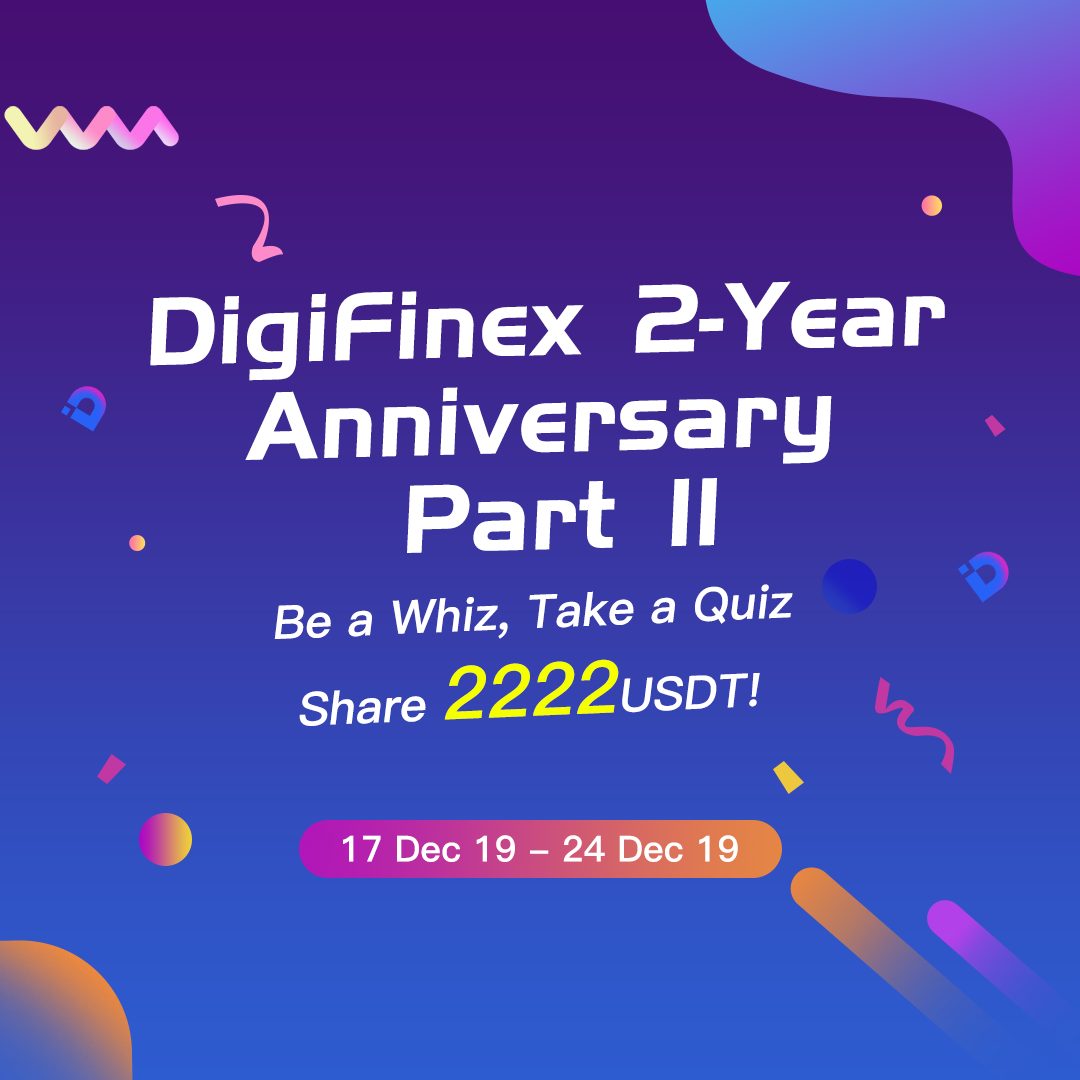 STAY TUNED for Part III:
DigiFinex 2-year Anniversary Part III: Like a Comment & Grant a Christmas Wish!
Thank you for your support!
DigiFinex Team
17 December 2019
DigiFinex communities:
Telegram Chinese Group: https://t.me/DigiFinexcn
Telegram English Group: https://t.me/DigiFinexEN
Official Blog: https://blog.digifinex.com/
Official Medium: https://medium.com/@digifinex
Official Reddit: https://www.reddit.com/user/DigiFinex/
Official Kakao:https://open.kakao.com/o/giKpLDsb
Official twitter: @DigiFinex
Official Facebook: @digifinex.global
Official Instagram: @digifinex.global
DigiFinex (digifinex.com) DIGIFINEX LIMITED. reserves all rights of this event, including but not limited to adjustment, explanation, and termination at any time.