Dear users:
As the first part of our 2-year anniversary celebration, we would like to share 2,222 DFT with all of you!
Event time: 13 December 2019, 10:00 (GMT+8) - 18 December 2019, 23:59 (GMT+8)
How to take part in the event:
Step 1: Follow our twitter (@DigiFinex) or Facebook (@digifinex.global).

Step 2: Like & share our 2-Year Anniversary post on your Twitter or Facebook.

Step 3: In your shared post, write "Happy 2-year Anniversary DigiFinex! UID XXXXXX".
Note: DO NOT comment on our original post! Post the comment on your shared post to be eligible to share DFT!
Terms & Conditions:
1. Only users who have done real-name verification can receive the event prizes.
2. Prizes will be released to the users' accounts 3 working days after the event as ended.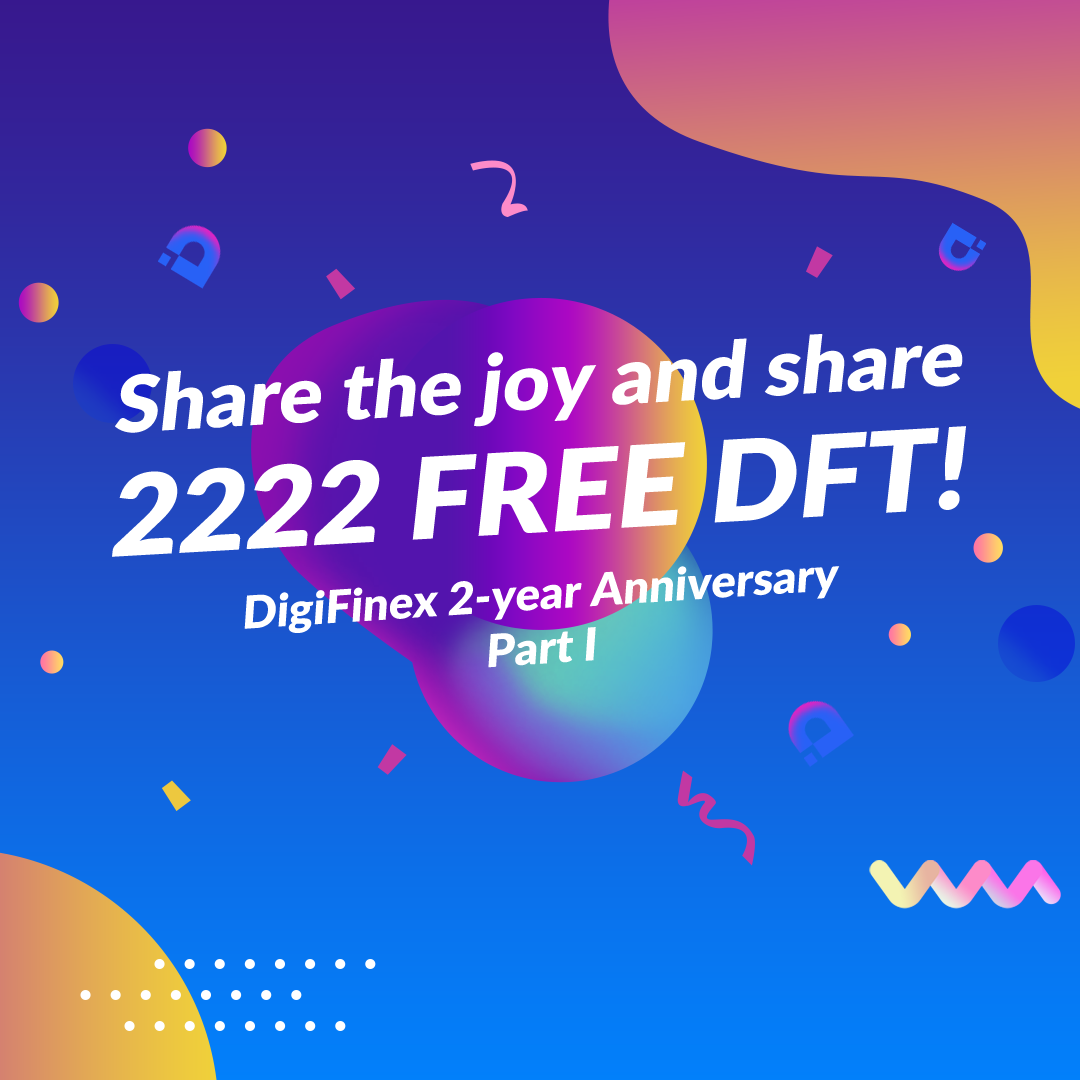 STAY TUNED for Part II:
DigiFinex 2-year Anniversary Part II: Be a Whiz, Take a Quiz & Share 2222USDT!
Thank you for your support!
DigiFinex Team
13 December 2019
DigiFinex communities:
Telegram Chinese Group: https://t.me/DigiFinexcn
Telegram English Group: https://t.me/DigiFinexEN
Official Blog: https://blog.digifinex.com/
Official Medium: https://medium.com/@digifinex
Official Reddit: https://www.reddit.com/user/DigiFinex/
Official Kakao: https://open.kakao.com/o/giKpLDsb
Official twitter: @DigiFinex
Official Facebook: @digifinex.global
Official Instagram: @digifinex.global
DigiFinex (digifinex.com) DIGIFINEX LIMITED. reserves all rights of this event, including but not limited to adjustment, explanation, and termination at any time.