1.What is DigiFinex Fund?
DigiFinex Fund is a product launched by DigiFinex exchange to help users maximize asset utility and trade systematically. As a premium fund among other top-tier funds, it relies on the military grade security and stability on the DigiFinex platform, and is your go-to choice for financial management!
2.Rules for DigiFinex funds purchase application
1)Profit: Users can apply to purchase DigiFinex Funds in the form of cryptocurrency. After the fund period ends, the purchased fund tokens will be deducted and the user's principal balance and profits will be returned in full.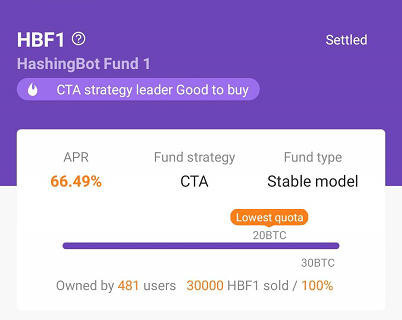 2)Charge rules:
No application, redemption, or management fees will be collected throughout the process. However, a certain fund management fee will be charged after the user is profitable,。
The fund management fee only charge of the actual profit. If it is not profitable, it will not be charged. (Different product have different rate)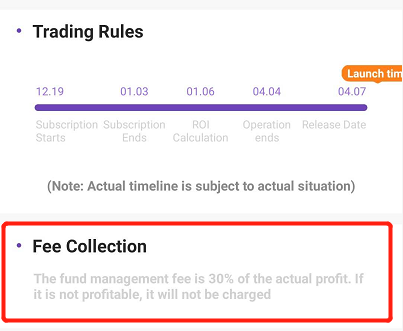 3)Net Worth reports:
You can check your product's real-time NAV Tracker in your DigiFinex APP.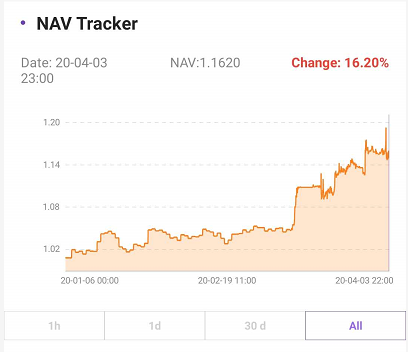 3. How to calculate profits?
DigiFinex currently adopts a crypto-based method to calculate earnings. Which means that your purchased and returned assets will be calculated according to the currency type that you have purchased the funds with.
Let's say you bought a 30-day DigiFinex Fund with 1,000USDT.
After 30 days of operations, you will receive a message detailing the closing NAV of the product.
Final balance = Initial capital * Closing NAV
If the value is greater than 1, it means that you've made a profit!
The greater the value, the higher the profits!
Closing NAV = (apital + P/L)/Capital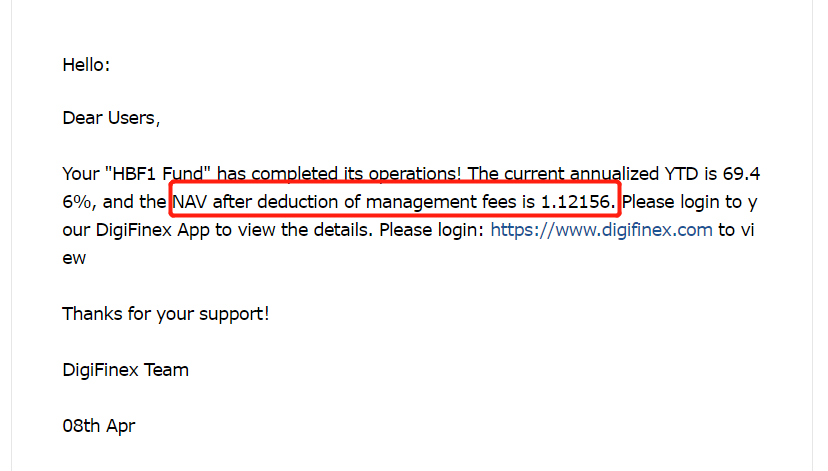 Tips:
Please note that this is NOT a risk-free product.
To ensure your earnings and protect your assets, Please read the
Cryptocurrency Fund Risk Disclosure Statement
before purchase:
4.How to apply to purchase the D-Funds with DigiFinex App?
Step 1: Please download the DigiFinex App at first, Click here to learn how to download the APP
-> Select "Fund" at the Home page
-> Select your preferred fund token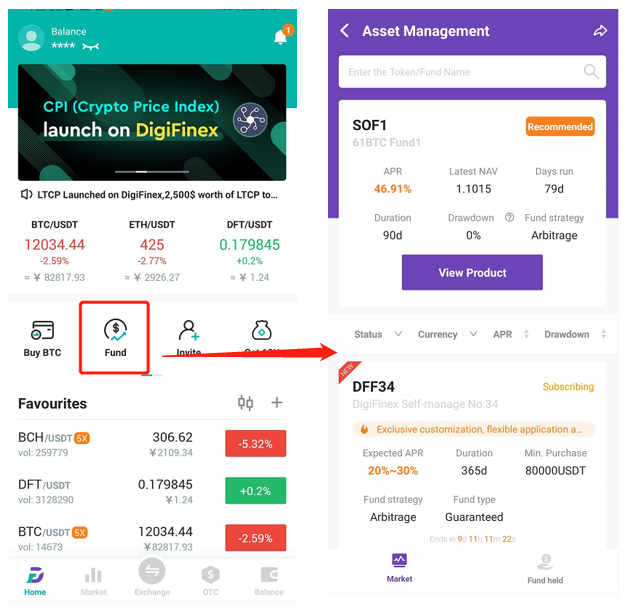 step 2: You can see the detail information in this page, scroll down and you'll see the basic information,strategies,background and the current fundraising situations,to facilitate your judgment.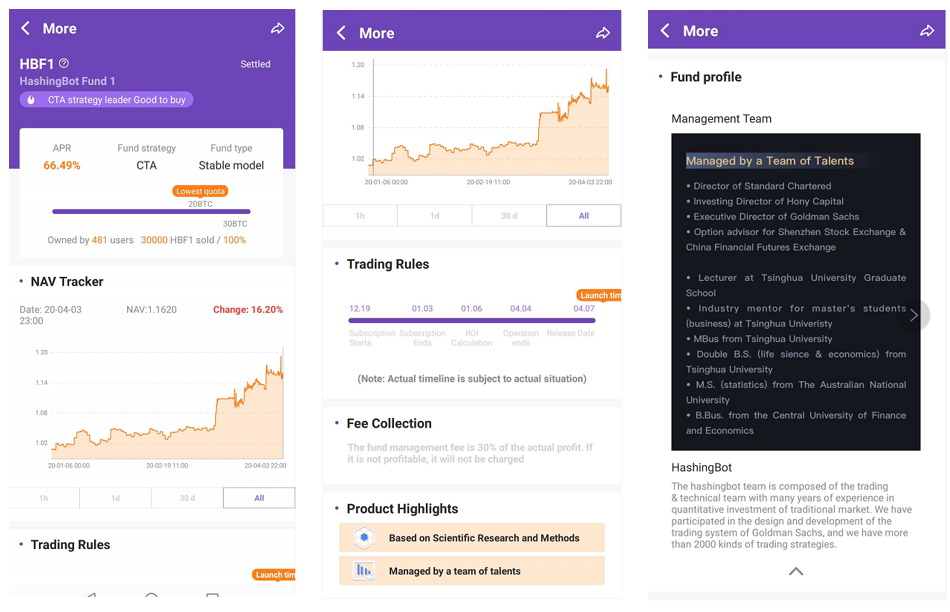 Step 3: Select "Apply Now"
-> Enter or slide the scroll bar to select the quantity ,then Select "Apply"
-> Confirm the purchase informations,and when the product is sold, the revenue will be calculated
Tips:Please note that this is NOT a risk-free product.
Please read the Cryptocurrency Fund Risk Disclosure Statement before you purchase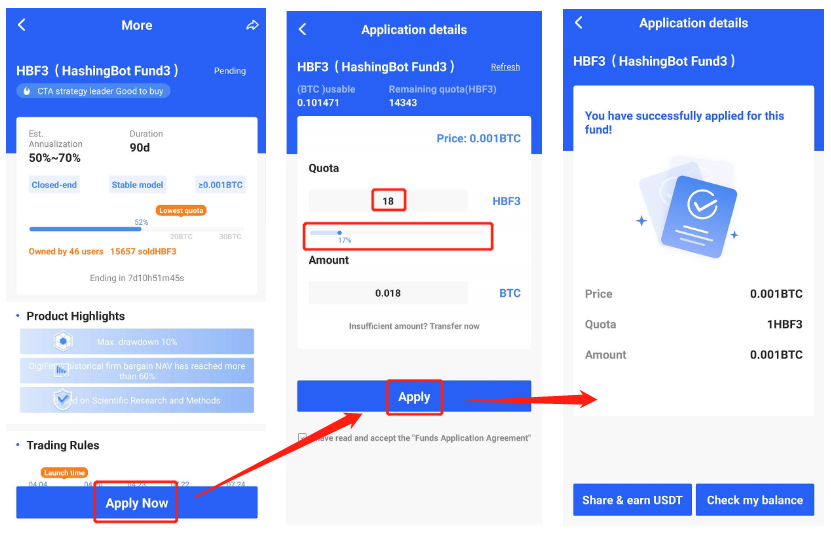 Step 4: Click "Share&earn USDT"
-> Generate an event sharing poster and send it to your friends. after your friend successfully subscribes, you can get an equivalent USDT of 1% -4% of the amount you invited the friend to purchase as a rebate!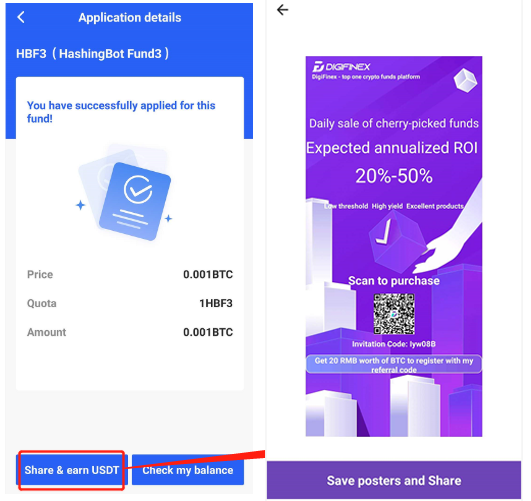 5.FAQs
1)Can my assets be redeemed,transferred,or resold during the fund period?
Our funds are closed-ended, so we do not support redemption, transfer, and resale during the fund period.
2)When will my ROI calculations start?
When the product is sold, the ROI will be calculated
3)How to check and require my invired rewards?
Click the "My shares" in the top right corner
-> You can check and require your rewards at here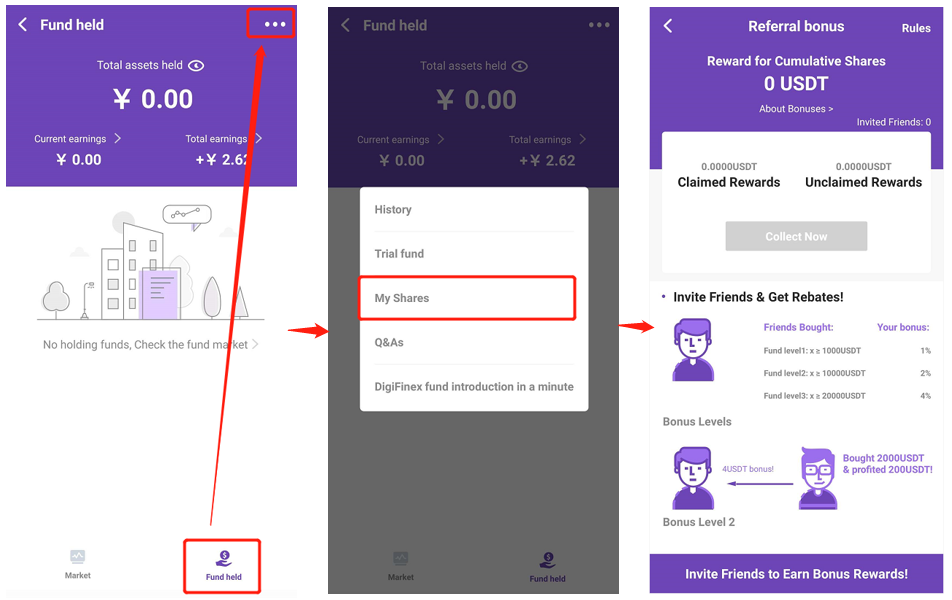 4)How to check my current fund assets and history?
Click the "Blance" in the bottom right corner
-> You can check the balance and profits in this page, Click the "Form icon"
-> You can check the purchase history at here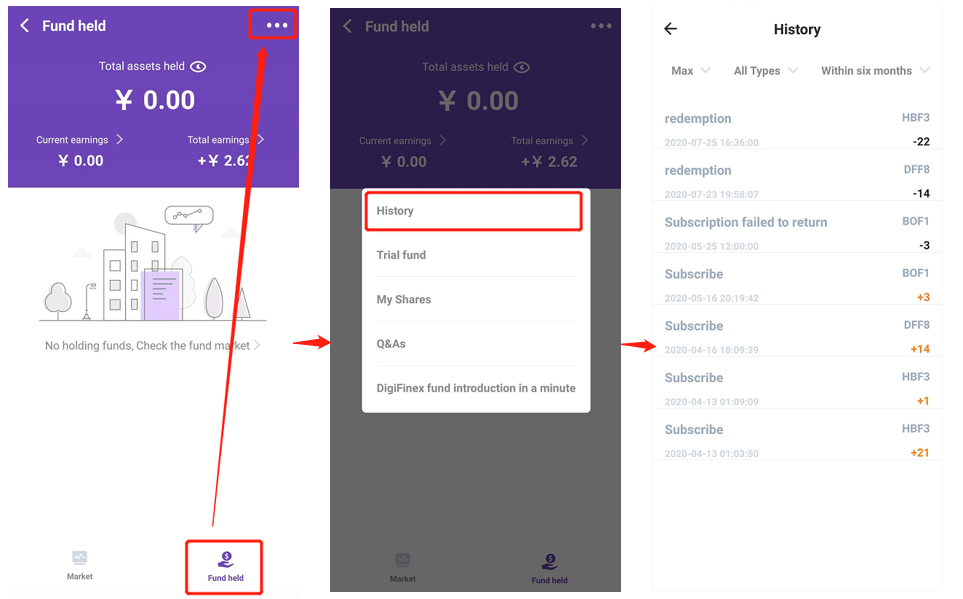 How to ask for help:
Click Here to Get How to Contact Customer Service
Tips, beware of false customer service:
1). Do not provide account password, SMS, Google verification code, WeChat and bank card password to anyone including DigiFinex Exchange Customer Service
2). Please look for the official website: Digifinex.vip & DigiFinex.com
3). Don't click on the unofficial link, beware of computer poisoning information leaks.
4). The DigiFinex exchange staff will not ask you to transfer the payment.
Join our groups!
English Telegram Group: https://t.me/DigiFinexEN
Chinese Telegram Group: https://t.me/DigiFinexcn
Follow us!
Official Twitter: @DigiFinex
Official Facebook: @digifinex.global
Official Instagram: @digifinex.global
Check us out ;)
Official Blog: https://blog.digifinex.com/
Official Medium: https://medium.com/@digifinex
Official Reddit: https://www.reddit.com/user/DigiFinex/
Official Kakao: https://open.kakao.com/o/giKpLDsb