Dear users,
DigiFinex supports crypto standard and Usdt standard perpetual contract services. In order to thank everyone for your support, the third round of contract events will be launch immediately. After opening the contract, you will receive 10USDT and group reward events.
To claim the reward, please contact the customer manager thru telegram: https://t.me/DigiFinexDing
Event rules
Events within the community (all telegram groups are qualified):
1、After entering the community, and send the screenshot of your contract holding status, you will receive a 1-66U random reward once a week by contacting the group admin.
2、The highest and lowest ranker in the group, according to the contract revenue chart, will receive a 2-88U random reward once a week.
3、The three most active users in the group will be given a 3-99U random reward once a week. The selection criteria are those ones who have the most interactions in the group and post the most profitable screenshots.
4、If you post the profitable screenshots everyday in a week or hold the position for more than 5 days, you will get an extra 1u-2u bonus.
Group reward events:
1、Contact the customer manager to join the contract trading group for free by providing UID. DigiFinex invited professional trading analysts to build a team for all customers.
2、Contact the customer manager to get 1-88USDT random rewards for the first contract trading by providing UID.
3、Contact the customer manager to get a random reward of 1-60USDT after first-time joining the group by providing UID.
4、Contact the customer manager to get 10USDT rewards after passing the authentication as well as your spot account balance is over 200U.
Receiving method: Homepage→10U bonus→ receive reward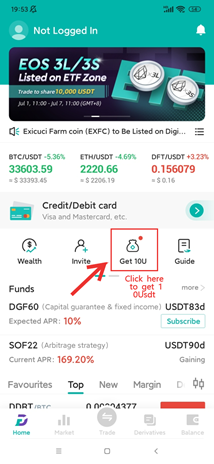 Instructions on the use of experiential funds issued by events
The event is issued once a week ;
Experience funds can be traded as contract assets to deduct commission, losses, and capital costs ;
The experience fund can be withdrawn for any account's accumulated transaction amount exceed 50,000 USDT ;
DigiFinex reserves the right to interpret the event and the right to deal with the cheating behavior of users participating in the event.
The above event rewards can be effective simultaneously!
thank you for your support!
DigiFinex team
July 5, 2020
DigiFinex community:
Contract Customer manager: https://t.me/Jennie_digifinex
Contract Chinese Telegram telegram exchange group: https://t.me/DigiDerivCN
Contract English telegram communication group: https://t.me/DigiDerivEN
Twitter: https://twitter.com/DigiDeriv
Instagram: https://www.instagram.com/digideriv/
Reddit: https://www.reddit.com/user/DigiDerivGlobal/?sort=hot
DigiFinex (digifinex.com) exchange DIGIFINEX LIMITED reserves the right to adjust and interpret this event at any time.