Dear Customers:
DigiFinex is going to list Theta(THETA ) and open up deposit on 24th Jan, 2019 10:00 (GMT+8). Withdrawal and trade service will be open on 25th Jan, 2019 10:00(GMT+8).To celebrate, we will be air-dropping 300,000 THETA candies!
Details as follows:
Activity time: January 24, 2019, 10:00 - 2019, February 02, 10:00
Rewards will be given out within 5 business days after event end
1. THETA candy box locks the reward
DigiFinex will set a 100,000 THETA reward in the candy box. Calculation for THETA candy award: Locked THETA number * locked up no. of days *0.3%
In this reward, DigiFinex sets the locked number to 100 THETA. The lock-up period is 5-10 days. The THETA candy box rewards a total of 100,000 THETA, each person to receive up to a maximum of 1,000 THETA. This segment runs on a first come, first served basis while candies last.
For example, The user locks 10,000 THETA in the candy box and locks for 10 days. The user will receive a reward of 300 THETA immediately.
Receiving Guide: Log in to DigiFinex APP--My--Candy Box--Enter the number of locks--get the lockout reward immediately
2.Ranking for THETA trades.
During the event, the rank depends on the user's THETA trading volume.

3. DigiFinex invites you to share the New Year red envelope rain
Encrypted red pockets will be set everyday from 3rd February to 10th February 2019. Each encrypted red pocket has 2000 copies to be given away on a first come, first served basis. While stocks lasts.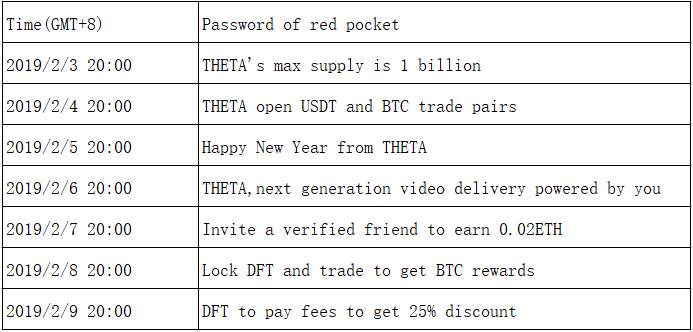 Receiving Guide:Download DigiFinex APP and log in --Home--Red Pocket--input Key password to collect--Click "open"
THETA open trade pair:THETA/USDT、THETA/BTC
THETA official website:https://www.thetanetwork.io
Theta is a decentralized video delivery network powered by users, built on a new blockchain and protocol. Users can earn tokens as a reward for sharing their excess bandwidth and computing resources. Working with partners like SamsungVR and CJ Hello, Theta drives new media and entertainment revenue models for video platforms and reduces their costs to deliver content to users.
Thanks for your support !
DigiFinex Team
23rd Jan 2019
DigiFinex communities:
Telegram Group:https://t.me/DigiFinexcn
Telegram Official Community:https://t.me/DigiFinexEN
Official twitter:https://twitter.com/digifinex
Official Medium:https://medium.com/@digifinex
Official Reddit:https://www.reddit.com/user/DigiFinex/
DigiFinex (digifinex.com)DIGIFINEX LIMITED. reserves all rights of this event, including but not limited to adjustment, explanation, and termination at any time.