Dear Customers:
DigiFinex is going to list Olestars(OLE) and open up deposit on 17th Jan, 2019 10:00 (GMT+8). Withdrawal and trade service will be open on 18th Jan, 2019 10:00(GMT+8).To celebrate, we will be air-dropping 15,000,000 OLE candies!
Details as follows:
Activity time: January 17, 2019, 10:00 - 2019, January 27, 10:00
Rewards will be given out within 5 business days after event end
1. OLE candy box locks the reward
DigiFinex will set a 3,000,000 OLE reward in the candy box. Calculation for OLE candy award: Locked OLE number * locked up no. of days *0.3%
In this reward, DigiFinex sets the locked number to 100 OLE. The lock-up period is 5-10 days. The OLE candy box rewards a total of 3,000,000 OLE, each person to receive up to a maximum of 5,000 OLE. This segment runs on a first come, first served basis while candies last.
For example, The user locks 10,000 OLE in the candy box and locks for 10 days. The user will receive a reward of 300 OLE immediately.
Receiving Guide: Log in to DigiFinex APP--My--Candy Box--Enter the number of locks--get the lockout reward immediately
2. OLE net purchases(buying amount - selling amount - withdrawal amount) rewards
During the event, the rank depends on the user's OLE net purchases

3. Ranking for OLE trades.
During the event, the rank depends on the user's OLE trading volume.

4. Token holding balance reward
During event period, we will take a screenshot of user's OLE token balance for an unlimited amount of time each day and use the average token balance over a random 7-day period. Users with OLE token balance above ≥ 50,000 will each receive 2888 OLE rewards. According to this rule over a random 7-day period, a total of 3 million of OLE rewards will be given away until reward depletes.
5. DigiFinex invites you to share the New Year red envelope rain
Encrypted red packets will be set everyday from 3rd February to 10th February 2019. Each encrypted red packet has 2000 copies to be given away on a first come, first served basis. While stocks lasts.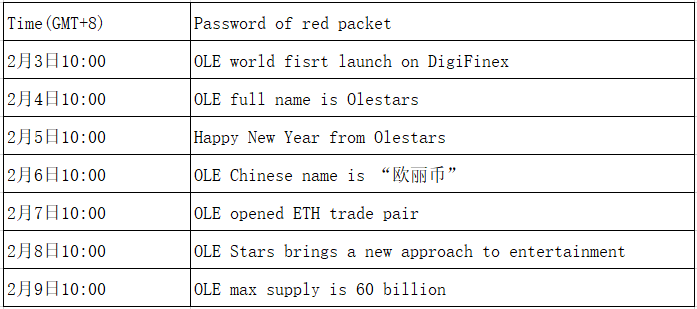 Receiving Guide:Download DigiFinex APP and log in --Home--Red Pocket--input Key password to collect--Click "open"
6. Each time a user invites a new party who registers with authenticated name, both parties will receive a reward of 0.02 ETH + worth¥300 coupon.
Activity rules as follows:https://www.digifinex.com/notice/en-ww/109
Coupon Guide: Log in to DigiFinex APP--My--Coupon--Enter the promo code to get coupon
OLE open trade pair: OLE/BTC
OLE Official Website:http:www.ole-stars.com
OLE Token ecosystem is developed in such a way that constant demand for the OLE token will be generated and managed. Since the participants in the platform can support new artist directly or by buying artist merchandise only using Shining coin that is acquired using OLE tokens, the demand for the OLE is expected to grow exponentially as it's used, as the number of agencies & artist increase we in turn expect the total number of users joining the community to grow, and strengthen the community.
Thanks for your support !
DigiFinex Team
16th Jan 2019
DigiFinex communities:
Telegram Group:https://t.me/DigiFinexcn
Telegram Official Community:https://t.me/DigiFinexEN
Official twitter:https://twitter.com/digifinex
Official Medium:https://medium.com/@digifinex
Official Reddit:https://www.reddit.com/user/DigiFinex/
DigiFinex (digifinex.com)DIGIFINEX LIMITED. reserves all rights of this event, including but not limited to adjustment, explanation, and termination at any time.