Dear Customers:
DigiFinex is going to list ST Foundation(IST) and open up deposit on 14th Jan, 2019 10:00 (GMT+8). Withdrawal and trade service will be open on 15th Jan, 2019 10:00 (GMT+8).To celebrate, we will be air-dropping 10,000 IST candies!
Details as follows:
Activity time: January 14, 2019, 10:00 - 2019, January 24, 10:00
Rewards will be given out within 5 business days after event ends
1. IST net purchases(buying amount - selling amount-withdrawal amount) rewards
During the event, the rank depends on the user's IST net purchases ,users will receive 1% of the IST net purchase amount as reward, each user to receive up to a maximum of 80 IST. A total of 8000 IST will be rewarded, while stock last.
2. IST invites you to share the New Year red envelope rain
Encrypted red packets will be set everyday from 3rd February to 10th February 2019. Each encrypted red packet has 1800 copies to be given away on a first come, first served basis. While stocks
lasts.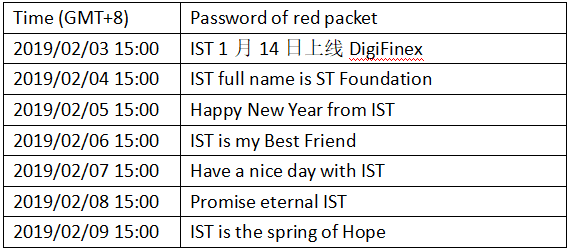 3. Each time a user invites a new party who registers with authenticated name, both parties will receive a reward of 0.02 ETH + worth¥300 coupon.
Activity rules as follows:https://www.digifinex.com/notice/en-ww/109
Coupon Guide: Log in to DigiFinex APP--My--Coupon--Enter the promo code to get coupon
IST open trade pair:IST/BTC
IST official website:http://stfoundation.com/
The ST project seeks to real-world users who are not investors but who are speculators based on messenger and crypto-PGs to use Cryptocurrency in the real economy. It provides a streaming service that can be broadcasted in real time with the performance of a general messenger such as WeChat and is implemented so that it can be actually used in games, online markets, and duty-free shops.
Thanks for your support.
DigiFinex team
12th Jan 2019
DigiFinex communities:
Telegram Group:https://t.me/DigiFinexcn
Telegram Official Community:https://t.me/DigiFinexEN
Official twitter:https://twitter.com/digifinex
Official Medium:https://medium.com/@digifinex
Official Reddit:https://www.reddit.com/user/DigiFinex/
DigiFinex (digifinex.com)DIGIFINEX LIMITED. reserves all rights of this event, including but not limited to adjustment, explanation, and termination at any time.