Dear Customers:
"To Celebrate Time Space Chain(TSC) Launch on DigiFinex, Millions of TSC Give Away" was successfully held on DigiFinex from 10:00, 26th Oct 2018 - 10:00, 4th Nov 2018 (GMT+8). The activity has officially ended and rewards result is shown as follows (Only top 10 traders from the rank will be listed, other lucky traders please login to the official website and check your notifications).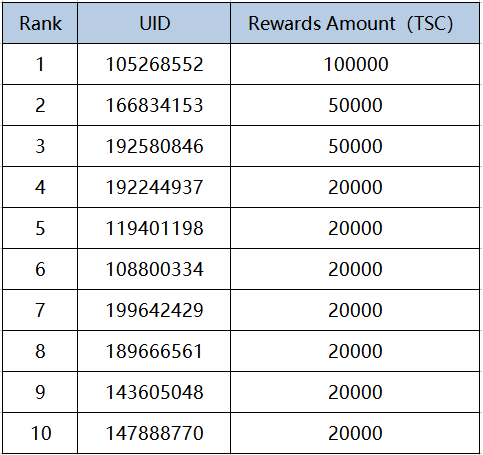 "Millions of TSC Give Away":https://www.digifinex.com/notice/en-ww/61
Thanks for your support!
DigiFinex team
05th Nov 2018
DigiFinex community and official media:
Official telegram group:
https://t.me/DigiFinexEN (English)
https://t.me/DigiFinexcn (Chinese中文)
Official Twitter:https://twitter.com/digifinex
DigiFinex (digifinex.com)DIGIFINEX LIMITED. reserves all rights of this event includes but not limits to adjustment, explanation, termination at any time.