Dear Customers:
In order to return your favor and support, DigiFinex and ETZ team invite all users to join "ETZ Halloween event - no trick but treat in the candy box!". Here is the rule:
Event period: 10:00, 30th Oct, 2018 to 15:00 01st Nov, 2018 (GMT+8)
Event:
1. Candy box token-locking rewards:
During the event, we will set 6666 ETZ in the candy box as rewards. The amount of ETZ rewards = the amount of ETZ token locked * locking days * 0.5%.
The minimum amount of ETZ for locking rewards required is 500, the locking period is 5-10 days. The total amount of the prize in the candy box is 6666 ETZ and will be served in first come first serve basis.
For example, if a user lock 10,000 ETZ in the candy box for 10 days, 500 ETZ will be rewarded to him.
2. Guess password and claim reward
(1). During the event period, one password will be set each day. Guess the password and claim rewards. The reward will be given in a first come first serve basis until all rewards are given out.

(2). Password (For text copy)
30/10 10:00 ETZ英文全称是______ (9 words)
30/10 15:00 ETZ是独立的底层______ (2 words)
30/10 17:00 ETZ是在______交易所全球首发 (9 words)
31/10 10:00 ETZ的共识机制是______ (4 words)
01/11 10:00 ETZ______正在招募
(3). How to claim
① Copy the password question and fill in the blank
② Log in the official website, on the "user center" page, click "Get the discount" or log in the mobile APP, click "My" -> "Coupon"
③ Write your whole "password" at "my coupons" and claim the reward by clicking confirm. If the password is correct, you will receive your reward immediately. You can also check the reward in "Financial Log"
(4). After promoting this event, you can send messages (screenshot evidence) to admins on Telegram to get the password
Poster: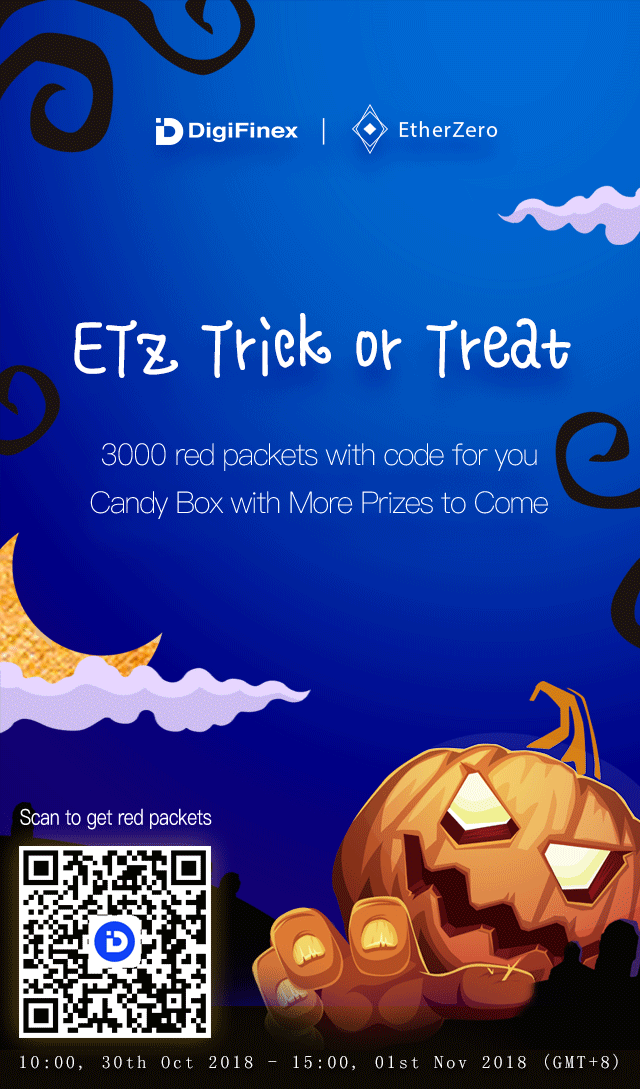 Thanks for your support!
29th Oct, 2018
DigiFinex community and official media:
Official telegram group:
https://t.me/DigiFinexEN (English)
https://t.me/DigiFinexcn (Chinese中文)
Official Twitter:https://twitter.com/digifinex
DigiFinex (digifinex.com) or DIGIFINEX. PTE. LTD reserves all rights of this event including but not limits to adjustment, explanation, termination at any time.