10 million candy free airdrop Free cruise ticket waiting for you!
Dear DigiFinex Customers:
SEED deposit was available from 05:00 GMT+0 (13:00 GMT+8), 29th June 2018 on DigiFinex (DigiFinex.com). SEED withdrawal and trade were available from 09:00 GMT+0 (17:00 GMT+8), 29th June 2018 on DigiFinex (DigiFinex.com).
DigiFinex and Superbloom work together to upgrade the bounty program including 10 million candy air drop and free cruise trip.
Superbloom focuses on providing best investment option for users. To support Superbloom and give back to DigiFinex users, DigiFinex will start DFT airdrop. Customers can enjoy both DFT and SEED airdrop.
Details and rules of this bounty program:
Bounty Program 1: Hold your SEED to win DFT airdrop
29th June 2018 - 8:00, 2nd July 2018 (GMT+0): simply by holding your SEED, you will win free DFT airdrop. Every 388 SEED will be entitled for 1 DFT airdrop. Minimum holding 1 SEED will be qualified for this bounty program. All the DFT airdrop will be distributed on 6th July.
How to hold your SEED:https://www.digifinex.com/notice/780
Bounty Program 2: Trading SEED to win free cruise trip+ airdrop
1. Top 3 SEED traders according to trading volume from 29th June to 5th July 9:00 GMT+0 will be given free high class cruise trip package including flight and hotel+SEED/DFT airdrop.
Top 3 SEED traders will get:
a. 2 round flight tickets to Shanghai no matter where you are
b. 2 Nights St Regis hotel stay in Shanghai
c. 5D4N high class cruise trip from Shanghai to Japan with a balcony room
d. Dinner at Michelin starred restaurant with Superbloom team in Shanghai
2. Meanwhile 2 lucky draw winners picked randomly will be give 5D4N high class free cruise trip tickets from Shanghai to Japan with sea view room.
3. DFT and SEED airdrop: for top SEED traders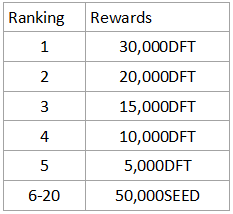 This is an independent bounty program from the "8 Million SEED airdrop"program. You can participate both bounty programs at the same time.
SEED introduction: Superbloom's goal is to be a global crypto investing platform enabling users to supersede political and state based fiat systems. It is a platform designed to make buying, managing, and selling tokens simple, secure, and compliant with prime broker level liquidity — for anyone (not just large institutional buyers). An experienced team of founders and engineers from Silicon Valley and Y-Combinator. Superbloom's partners includes Bancor , Stellar etc.
DigiFinex
29th June 2018
DigiFinex社区
QQ群:点击加入
Twitter:https://twitter.com/digifinex
DigiFinex(digifinex.com)或DIGIFINEX。PTE。LTD保留此事件的所有权利,包括但不限于调整,解释,随时终止。