Dear Users:
The 7th Round of Community Token Listing registration was official ended on 25th Aug, 2019 24:00 (GMT+8).SCB won the second place in this event,DigiFinex is going to list SCB and open up deposit/withdrawal on 04th Sep, 2019 15:00 (GMT+8). Trade service will be open on 05th Sep, 2019 15:00 (GMT+8).To celebrate, we will be air-dropping 10,000 SCB candies!
Details as follows:
Activity time: 04th Sep 2019, 15:00 – 12th Sep 2019, 15:00(GMT+8)
Rewards will be given out within 7 business days after event end
1.SCB trade reward
During the event, users' SCB trade amount ≥10,000 and the top 10 will receive the following rewards.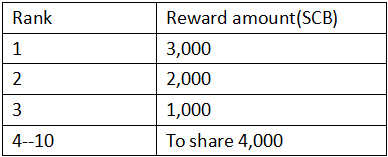 2.Friend invitation reward
Enjoy 10% two-tiered commission + 0.02ETH + 300 CNY coupon incentive when you invite your friends
10% two-tiered commission + 0.02ETH + 300 CNY coupon incentive : Download and login to APP --mine --friends' invitation to view details of your reward
300 CNY coupon reward collection: Download and login APP -- mine -- get coupon -- enter coupon code
SCB open trade pair:SCB/USDT
SCB official website:http://scbchain.cn/
SCB is committed to creating a public chain platform to protect the rights and interests of consumers and drive car enterprises to continuously pursue excellence, so as to establish a high-quality
Shared car display platform that millions of people can trust,promote the rapid spread of high-quality cars of high-quality enterprises, and let inferior cars have no place to hide.
DigiFinex Team
03rd Sep 2019
DigiFinex communities:
Telegram Group:https://t.me/DigiFinexcn
Telegram Official Community:https://t.me/DigiFinexEN
Official twitter:https://twitter.com/digifinex
Official Medium:https://medium.com/@digifinex
Official Reddit:https://www.reddit.com/user/DigiFinex/
Official Kakao:https://open.kakao.com/o/giKpLDsb
DigiFinex (digifinex.com)DIGIFINEX LIMITED. reserves all rights of this event, including but not limited to adjustment, explanation, and termination at any time.will launch on DigiFinexecological "gem mine" and subsequent "chain reform mine", which is a new innovative value sharing platform.