Dear users,

In order to give back to users, DigiFinex and Mercuryo jointly organized the Cash Back event for credit card purchases. During the event, if you first Deposit USDT over $150 through Mercuryo on DigiFinex, you will get 5 USDT cash back.

Activity Period: Oct 20th, 2023 08:00 (UTC) to Nov 20th, 2023 8:00 (UTC)
Reward Distribution: Every Friday distribute the rewards for the previous week.
Conditions of participation
Only for the DigiFinex users who buy USDT through Mercuryo for the first time;
Transaction volume over 150 USDT
The total prize pool is 1,000$, only for the first 200 users!
How to participate?
Step1: Click Credit/Debit Card on the homepage (as shown below)




Step2:Entering the page and select [Mercuryo] in the payment channel to purchase at least 150 USDT
Page Link-https://www.digifinex.com/en-ww/charge/credit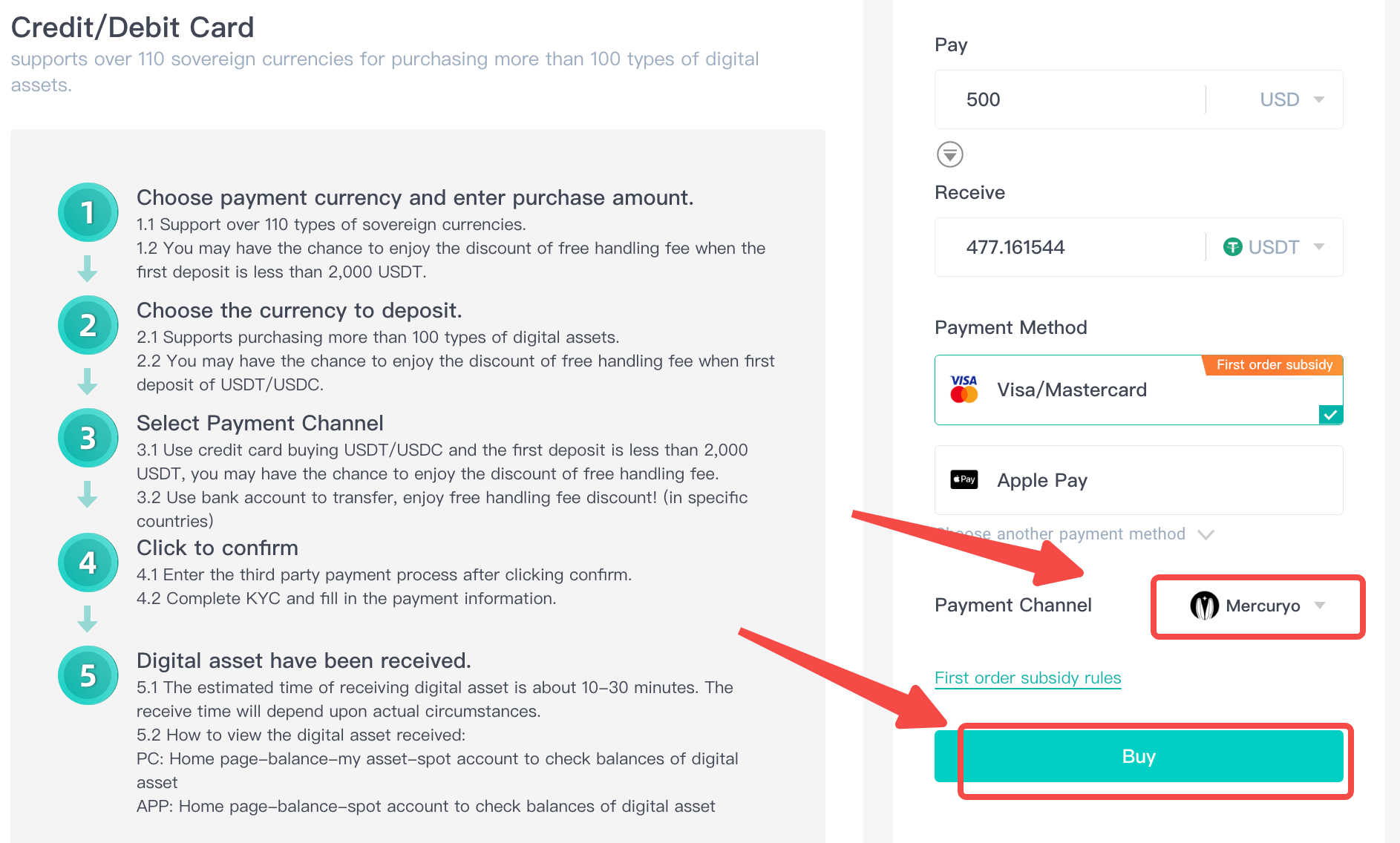 Step3:Participate successfully, you will receive 5 USDT next Monday, which can be viewed in your spot account.


The final interpretation of this activity belongs to the DigiFinex platform.

Thank you for your support!

DigiFinex Team
Oct 19th, 2023

DigiFinex communities
Telegram Activity Airdrop: https://t.me/DigiFinexAirdrop365
Telegram Official Community: https://t.me/DigiFinexEN
Telegram AMA Community: https://t.me/DigiFinexAMA
Official Facebook: https://www.facebook.com/digifinex.global
Official Twitter: https://twitter.com/digifinex
Official Instagram: https://www.instagram.com/digifinex.global
Official Medium: https://medium.com/@digifinex
Official Reddit: https://www.reddit.com/user/DigiFinex/

DigiFinex (digifinex.com)DIGIFINEX LIMITED reserves all rights of this event, including but not limited to adjustment, explanation, and termination at any time.