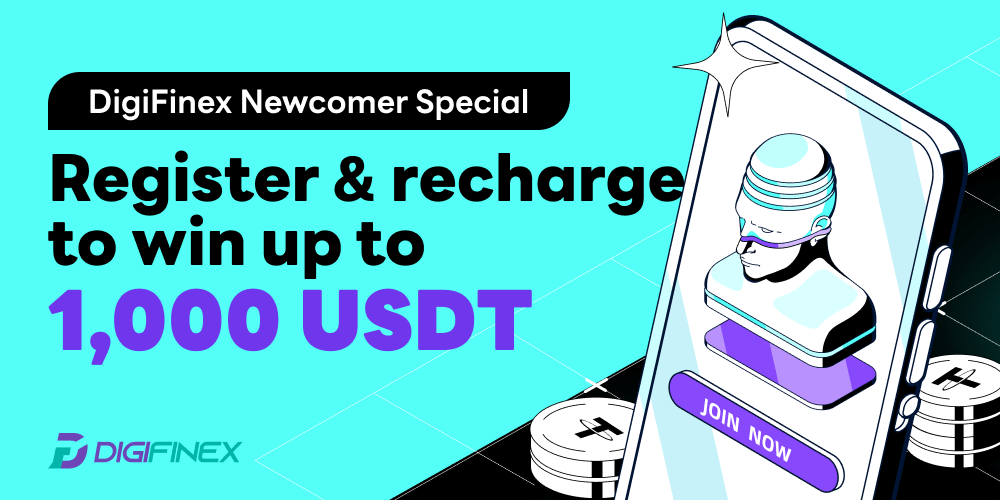 DigiFinex introduces "Newcomers Special Benefits," where new users can receive up to 1,000 USDT upon registration and recharge!
Reward Program:
Upon completing their first-time deposit/purchase of coins (limited to USDT), new users have a chance to receive a random USDT reward, ranging from 0.1 to 1000 USDT. The more they deposit/purchase, the higher the probability of obtaining a larger reward!
Eligible Users:
New users who register on DigiFinex after July 27, 2023, 08:00:00 (UTC+8) can participate and claim the "Newcomers Exclusive Benefits." Register Now>>
Currency Requirement:
Currently, only recharging with USDT will be eligible for rewards.
Deposit Methods:
Recharge or buy coins through on-chain deposit, credit card purchase, or OTC purchase to qualify for the reward. Rewards won't be counted for on-platform transfers or participation in other activities.
Reward Distribution Time:
The USDT reward will be distributed within 10 working days after the recharge deposit and will be directly sent to the user's spot account.
Risk Control:
If there are any USDT withdrawals/transfers within 7*24 hours after the deposit, the qualification for this reward will be canceled, and the deposit reward won't be given.
If the registered account is identified as a robot registration or obtained rewards through other violations, the qualification for this reward will be canceled.
Sub-accounts are not eligible to claim the "Newcomers Exclusive Benefits."
The "Newcomers Special Benefits" are a one-time reward and can only be claimed once.
DigiFinex has the final interpretation right for this event. If you have any questions, please contact our customer service team.
DigiFinex Team
July 27, 2023