We are delighted to announce that Worldcoin (WLD) is now available on DigiFinex. Recharge or trade for a chance to win $10,000 in rewards!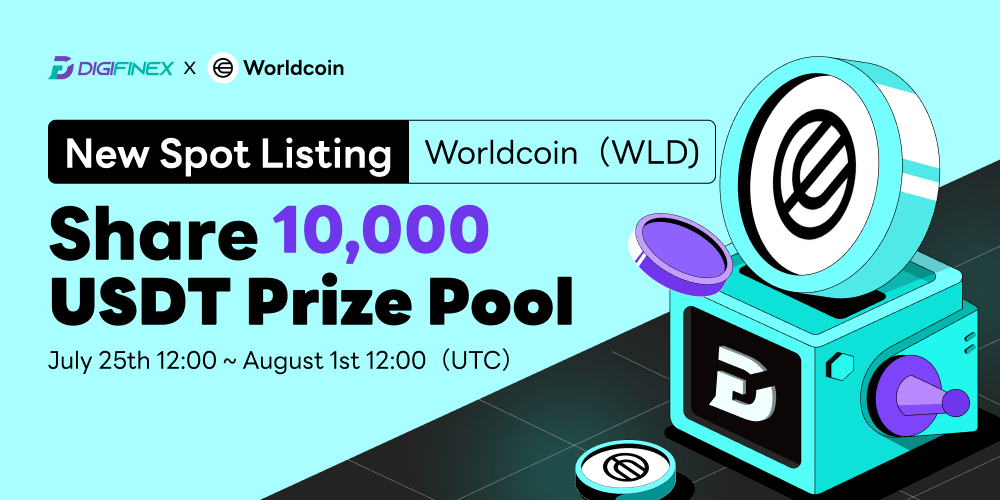 Event Period: July 25th, 12:00 - August 1st, 12:00 (UTC)
Event One: Register & Deposit and win $5,000 worth of WLD

Event Two: Trade WLD and share $5,000 worth of WLD

During the event, net buy at least 100U worth of WLD on DigiFinex to participate in sharing the prize pool. Click here to trade >>
Rewards will be distributed based on the ratio of individual users' net WLD/USDT buying amount to the total net WLD/USDT buying amount from all participating users.
Terms and Conditions:
Rewards will be credited to the winners' spot accounts within 3 business days after the event ends.
The actual token reward value will depend on DigiFinex's market price at the time of reward calculation.
Market-making accounts cannot participate in this event.
The event is limited to the main account only. Sub-accounts will be disqualified and ineligible for rewards.
All participants must strictly abide by DigiFinex's terms and conditions.
In case of any fraud, use of multiple accounts to claim rewards, or other violations, DigiFinex reserves the right to disqualify the user from the event and confiscate the rewards.
DigiFinex reserves the right to change, amend, or cancel the event at any time without prior notice.
DigiFinex has the final interpretation right for this event. If you have any questions, please contact our customer service team.
Disclaimer:
Despite the high growth potential of cryptocurrencies, they also carry significant market risks and volatility. Users are strongly advised to conduct their own research and invest at their own risk.
DigiFinex Team
July 25, 2023