Dear users,

Starting today, DigiFinex will hold a Summer Trading Party, where you can enjoy a colorful array of rewards and a 10,000 USDT bonus to fuel your summer festivities. The bonus is limited, so act fast while supplies last.

Event Time: June 21, 2023, 10:00 - July 11, 2023, 10:00 (UTC)

Event 1: New user trading rewards!
During the event, new users who register with DigiFinex and complete their first spot trade within 7 days with a trading volume ≥ 50 USDT will receive a reward ranging from 1 to 30 USDT. The higher the trading volume of the first spot trade, the higher the reward, with a maximum reward of 30 USDT.


Event 2: Share 4,000 USDT in cash prizes through trading!
During the event, users who participate in spot trading (designated currency) on DigiFinex and accumulate a trading volume > 1,000 USDT will be eligible to enter the top 50 ranking. Participants will be ranked according to their spot trading volume, with the highest trading volume participant receiving a reward of up to 1,000 USDT. The reward details are as follows: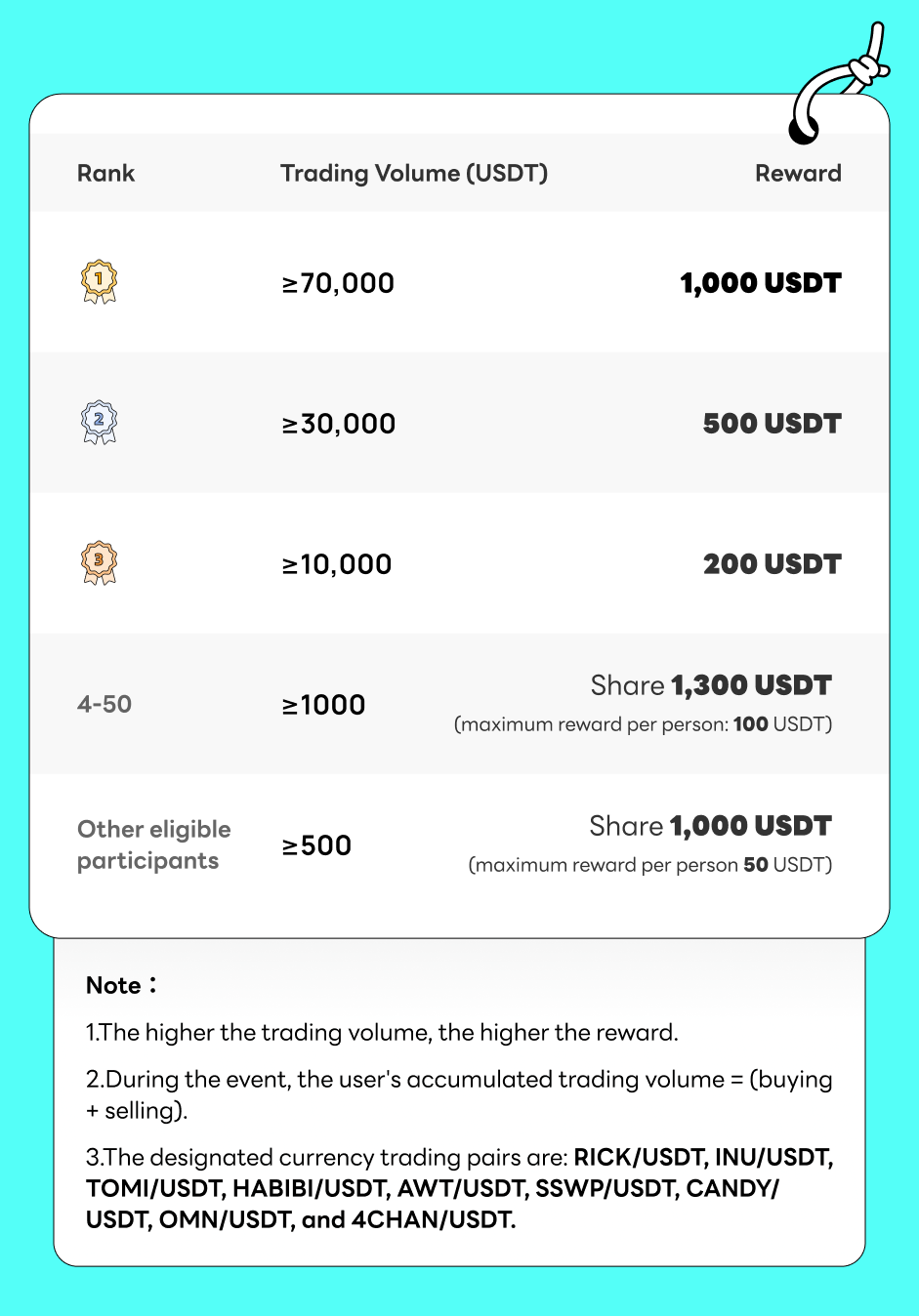 To Trade:

How to claim the event rewards?
Step 1: Click on the event page to learn about the event details.
Step 2: New users complete their first spot trade within 7 days of registration.
Step 3: New and existing users participate in designated currency trading pairs.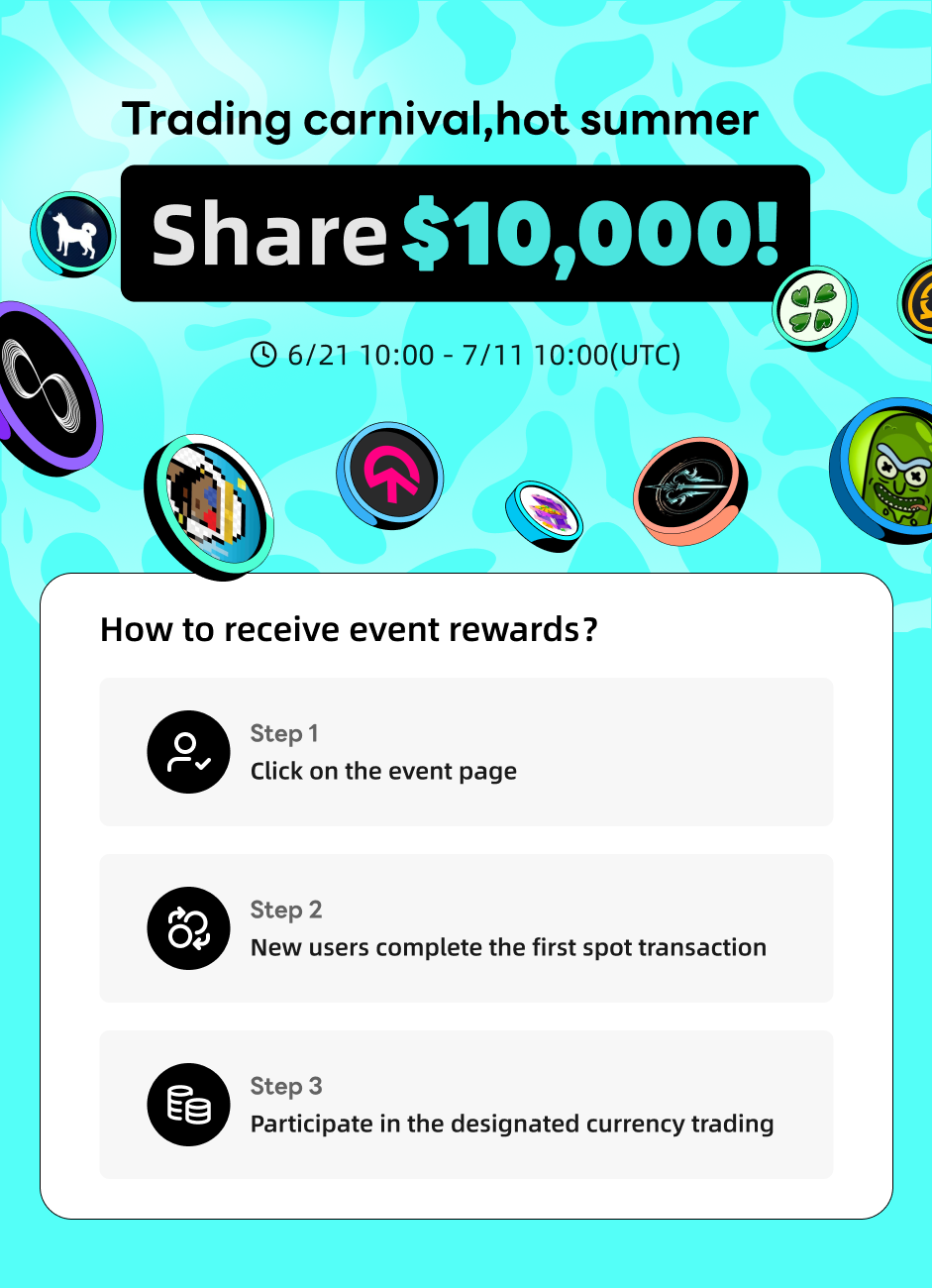 Event Supplementary Notes:
1.The event is only open to registered DigiFinex users, and each user can only participate with one account. Sub-accounts are not considered as separate accounts for the event.
2.The prize pool totals 10,000 USDT tokens, and the reward for the new user event will be distributed within 5 business days after the new user completes their first trade. The rewards for the trading competition will be distributed within 7 business days after the event ends, and the total token prizes are limited. The rewards will be deposited into the spot trading account.
3.Spot trading includes spot and margin trading. The designated trading pairs for the competition are RICK/USDT, INU/USDT, TOMI/USDT, HABIBI/USDT, AWT/USDT, SSWP/USDT, CANDY/USDT, OMN/USDT, and 4CHAN/USDT.
4.Trading volume generated from API trading will not be counted towards the ranking.
5.Market maker accounts and institutional accounts are not eligible for the ranking.
6.Any user who obtains event rewards through improper means is prohibited. If a user violates relevant risk control rules or engages in any cheating behavior, the rewards obtained by cheating users will be deducted, and the user's eligibility for the event will be cancelled. Users who engage in serious cheating behavior may face account suspension or other measures as appropriate.
7.During the event, malicious trading behavior, registration of multiple accounts, self-trading, and other cheating behaviors will result in disqualification from the event and no rewards will be awarded.
8.DigiFinex has the final interpretation right for this event. If you have any questions, please contact official customer service.


Thank you for your support!
DigiFinex Team
June 21, 2023

DigiFinex communities